VA publishes very little about Voc Rehab beyond the basics. Think I'm lying? Any guides you may find are about 3 pages long. These all leave you high and dry.
So, I put this kit together for you because, as you probably know, there is more to the story. I fought for years to get my benefits – 10 years in fact.  After being approved for an undergrad at Northwestern University and law school at the University of Minnesota, I decide to create a kit to give you the tools you'll need to succeed.
This all started off with a basic PDF guide for vets. But readers requested more – a kit with videos, templates, the guide, and more. Here's what you get: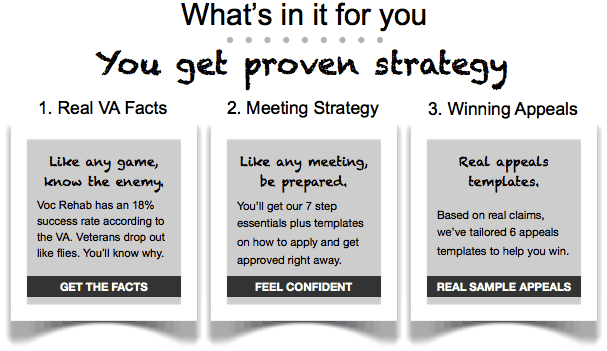 Here's why you need to read this kit – it's a full blown online course plus eBook and templates. We'll even through in a 30-day free subscription to our Online Veterans Resource Center. The 100+ page guide plus templates is set up as an eBook, loaded with research hyperlinks to make your claims process streamlined. This is not like any other guide, it's a Veterans' Benefits kit. It will equip you to get your benefits.
 Testimonial
Thank you so much you website has been a blessing to me. I had almost given up. If it hadn't been for your website I would have been unprepared for my 4th attempt. I followed your advice and was approved for Voc Rehab to finish my MSW degree.

On the night of July 7th I came across you website again and read 3 times before buying the manual. I thought "what if this is just basic information about the VA and testimonials that I have already read." After about three hours I decided to purchase it and stayed up until 3 am reading it and preparing for my appointment the next day.

Your guide helped me to avoid the appeals process.

Many, many, blessings,

Kat D.
Make the rules work FOR YOU
All to often, we as veterans think the rules are there to just beat us down. Not so. Once you understand how the rules apply, you'll be able to use them to your advantage. Many times, counselors assume veterans don't know the rules. When you get denied, the counselor hopes you will merely disappear. Not you. Armed with the facts and rules, you will blow through the roadblocks.
Testimonial
I purchased your survival guide about three weeks before my initial interview with my Voc-Rehab counselor. I have to say that your step by step guide to getting your desired Voc-Rehab employment track is worth it's weight in gold.

My appointment went off without a hitch. Every time he said that he wouldn't be able to allow me an educational track for my Master's in Social Work resulted in me proving him otherwise…

The purchase of this book was the wisest money I have ever spent and will surely be somewhat responsible for the well-being of my family and an increase of income over my professional career.

Your book and step by step advice helped me develop a reasonable plan and made it hard for the counselor to say no. Motivation was certainly a key to getting approval, but showing the counselor that you are there to work and wouldn't contribute to the 80% attrition rate for the Voc-Rehab program.

This book should be MANDATORY reading for every individual leaving the US Armed Forces. As we are all seeing, the American public wants spending cuts and they are targeting Veterans benefits. It's up to ALL of us Veterans to not let this happen and to use these benefits to the highest degree possible.

Sorry for the long email,

Many Thanks!

Brad H.
Here's an overview of the kit:
PART ONE: The Voc Rehab Survival Guide
Over 100 pages of strategy and research
Step by step process to develop your initial claim
Research guidance on documentation
Templates to assist appeals and applications
PART TWO: Instructional videos
Videos introducing each section
Explanation of background issues
PART THREE: Exercises and Contact
Quizes to sharpen your memory of key regulations
Quick contact directly to me for strategic questions
Testimonial
Hi Ben,
We spoke before about getting a Masters paid for by VR&E. I'm back to tell you I started this semester. I am working on a Masters of Fine Art! Thank you for your guidance and help.

It is nice to have someone on the veteran's side!

Karie E.

P.S. I just purchased your book so it will become my VR&E Bible!!!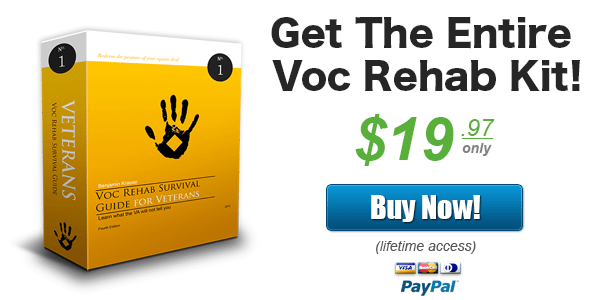 Still Unconvinced?
One of the questions I have asked before buying Veterans Benefits guides is this, "is the information in here worth the money?" I can assure you, the answer here is "Yes." I am so confident that this guide will add value, that you have 30 days from the date of purchase to review it to ask for a refund.
That's right. If you do not find this guide to be helpful, then ask for a refund. In the marketing world, we call that 0 risk. Take a look. For $9 you could end up with thousands of dollars more in benefits than you otherwise would have received.
How do I know this? Because I came up with these strategies myself for my own claim. Had I not implimented the strategies myself, I would not have received full payment for my law degree.
How much is a law degree? Only around $130,000, depending on where you attend. So, these strategies have allowed me and others to access thousands of dollars of benefits well beyond what Voc Rehab wanted to pay for.
Did they want to pay for my law degree? No way. I was actively discouraged and denied after having previously used 48 months to get my undergraduate degree. In turn, I had to appeal my claim. And I won.
Testimonial
Ben,

I have emailed you before regarding a question of VR&E entitlement towards law school. As of today, I have been approved for VR&E benefits applicable to all three years of law school at Washington University in St. Louis, thanks in part to your advice and website. Thank you for all of the info you have provided in the past.
It's time to gear up
Here is where you help me help you. Buy this guide to set yourself apart from other veterans. Buy this guide to get the training you deserve. Buy this guide because you need the information in it.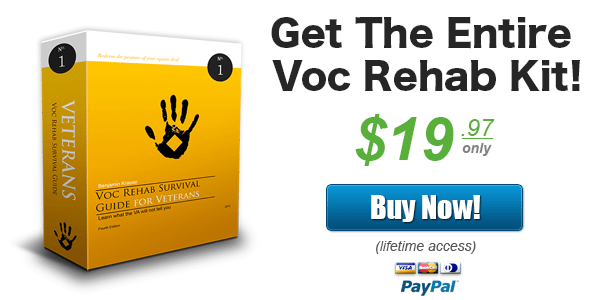 Our Guarantee
Refund Policy: Your purchase helps us keep this operation going. Armo Press, LLC and www.disabledveterans.org were started with my disability back pay. We are trying to bring a Square Deal to every veteran, whether the Washington D.C. bureaucrats and politicians like it or not. The word "Armo" is latin for "to equip," and that is exactly what we are trying to do.
If you feel we have not done this with our guide, and are unsatisfied with your purchase FOR ANY REASON, email or mail us within 30 days from the date of your purchAfter reviewing your request, we will refund of your purchase price within 10 business days:
info@armopress.com
Armo Press, LLC
225 Portland Ave South
Unit 416
Minneapolis, MN 55401
(888) 669-ARMO
*Please read our Terms & Conditions and Privacy Policy before purchasing this guide. By pressing the "Buy Now" button, you are certifying that you have read this.