Last Updated: April 14, 2019
I put this website up in 2010 to build a community for disabled veterans to get their square deal. The square deal consists of the benefits we were all promised from the Department of Veterans Affairs.
To this point, I have paid for it with my disability compensation money and with your contributions from purchases of our Voc Rehab Survival Guide or membership.
That said, the FTC requires bloggers to provide disclosures whenever there could be hidden interests or unspoken biases related to recommendations. Since this blog is growing and taking on more heavyweight investigative issues (which will require funding from sponsors because it is expensive to do advocacy out of your own pocket), I thought it was a good time to write a disclosure page.
First, the obvious: I am a veterans advocate and investigative journalist. I am not providing legal advice on this blog or within the materials offered here for free or for purchase. The intent of this blog is to provide insight based on my own experiences and the experiences of others with the hope that other veterans will benefit from reading it.
Second, the less obvious: Per the FTC rules, if I interview someone and they grab the bill for lunch, I would need to specify this. Ditto if I use an Amazon link that gets me 8 cents instead of an Amazon link that gets me 0 cents. If someone gives me a comfy t-shirt with a logo and I wear it in a photo, same deal. Disclaimers all over the place.
This would be tedious for me and a continual eye sore for readers. But rules are rules.
To cover my butt and preserve your reading experience, please assume that, for every recommendation, link, and product I use, the following all hold true: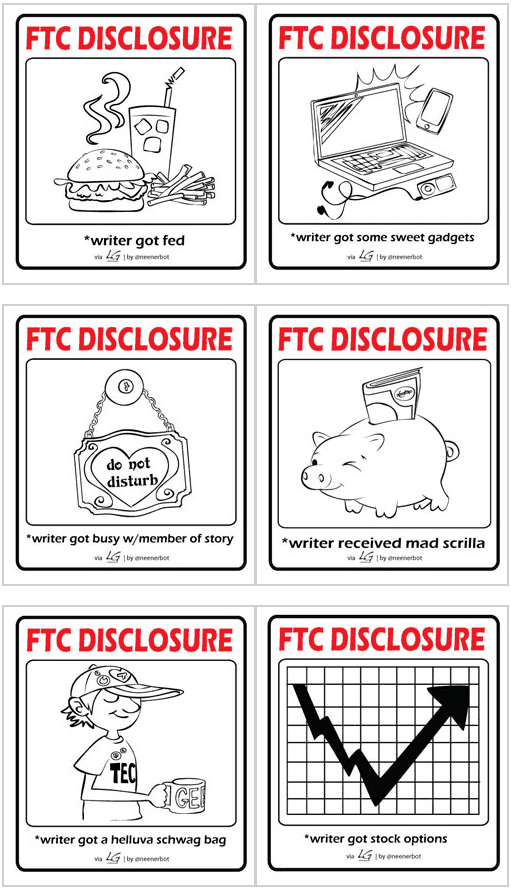 I borrowed some of this test from Tim Ferriss on his blog, Four Hour Work Week.
He didn't think there was any reason why each blogger should have to reinvent the wheel and approved any other blogger's use, so long as we give proper attribution.
Thanks to Tim, Louis, and Jeannine.
(Illustrations courtesy of Louis Gray and Jeannine Schafer)