Read a sampling of what people write to tell Ben every day!
Here are some reviews from disabled veterans who have used the Voc Rehab Survival Guide. We included both email reviews and Facebook reviews. Veterans have used the guide for years and have received the benefits they were promised – obstinant counselors and VA employees be damned.
Check some of these out and contact us with any questions.
Dental school approved – Lorenzo will earn $4 million more than VA wanted.
I contacted you earlier this year with a question about Voc Rehab, and now have some great news. 
I used the GI Bill to pay for a bachelor's degree in chemistry, which I graduated with 2 weeks ago, and was hoping to use Voc Rehab to pay for dental school, which I have already been accepted to and starts this Fall, since I only have 9 months of GI Bill left. I spent weeks of my free time reading your Survival Guide over and over again earlier this year putting together a three ring binder with all the information you recommend having and documentation to counter any arguments a counselor might use to disqualify me. During my appointment with the counselor I heard all the same excuses that everyone else hears about the 48 month rule, and that dental school being too expensive, but I persisted and would tactfully provide a printed out and pre-highlighted copy of title 38 for every road block he put in front of me. 
It has been five months since my first Voc Rehab appointment, and many tests, emails, and appointments later, but I have finally received my rehabilitation plan. My program goal states "To obtain and maintain employment as a dentist." Voc Rehab is going to pay for all $200,000+ of my four year dental school, plus books, fees, and equipment while I will be receiving GI Bill BAH all thanks to your help. Nothing would have stopped me from reaching my goal of becoming a dentist, but it was your Survival Guide, and reading about your story that gave me hope that it could be paid for by the Voc Rehab program that I knew I qualified for.  
I appreciate your help and the work you have done more than I could every put into words.
Thank you,
— Lorenzo
Medical school approved – Heather will become the doctor she always dreamed of becoming.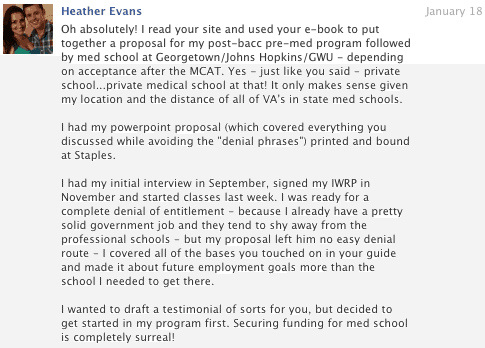 Rich was approved for Masters Degree in Social Work.
I just wanted to let you know that I was accepted into the program. The caseworker said that I was one of the most prepared and organized applicants that she has seen. All thanks to you for that… The VA form 28-8606 she gave me states Masters Degree in Social Work as the proposed program. I was in shock of the whole situation and did not think to ask her about how long my entitlement was. I have researched MSW before and know that it could take six years to complete.  Well, I just wanted to let you know how it went and say thank you again.
— Rich
Independent Living: BriGette got the care she needed after 3 denials.

Springfield Vet Center after I published, "The Truth About Voc Rehab."
On behalf of the Vet Center and our vets – THANKS for all of the assistance you offer to our fellow veterans! "I got your back", goes well past the time we take off the uniform.
— Springfield Vet Center
Jeff was approved for schooling to become an Accountant.

Greg was approved for Commercial Flight School after years of denials.
This has really been heavy on me. I will rest better tonight. Thank you so much for taking this time with me on Christmas Eve. I wont ever forget what you have done. I will keep an eye out for your follow up. I'll run my letter by you before I submit it to the case manager…
— Greg
Game Changer: the guide gave Jay the confidence he needed to succeed.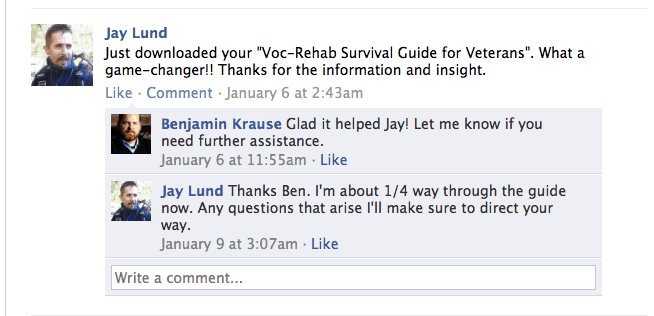 "Voc Rehab is one of the best-kept secrets out there,"  Veteran Services Coordinator, Ohio
I want to thank you for the very informative articles!!! They are great. I am a Veterans Services Coordinator with the State of Ohio. The information you have provided will assist me with informing our veteran population. Voc Rehab is one of the best-kept secrets out there. It amazes me that VA does not do a better job of disseminating this information to our veterans. I am a firm believer in this program and strongly encourage my vets to take advantage of this program. Once again… thanks for some great articles!!!!
— Bob
Norman will go into his Appeal Process armed with the facts.

Kamal pushed for grad school after being told "Voc Rehab won't pay for grad school."
Let me start by saying that I appreciate your commitment to helping veterans like myself who without your invaluable service would be resigned to navigating that foreboding bureaucracy that we call the Department of Veterans Affairs. After reading your web page from beginning to end I decided that I too could be eligible for graduate school through VR&E.
— Kamal
It's time to make a decision.
If you have read this far, you are now aware that a battle may await you for the benefits you have earned. If you want years of work and experience on your side, buy your copy of the Voc Rehab Survival Guide today.