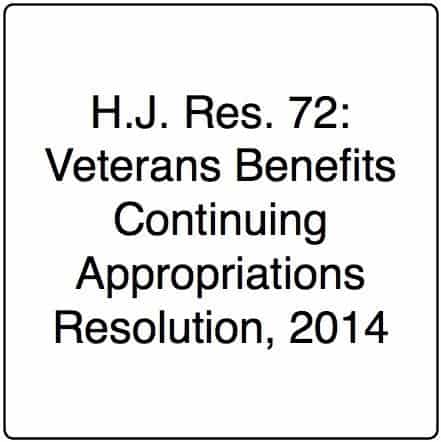 Today, the House Committee on Veterans' Affairs will hold a hearing, "The Effect of Government Shutdown on VA Benefits and Services to Veterans." It can be viewed live at 10:30am EST from the Committees website: https://thomas.loc.gov/video/house-committee/hsvr00. VA Secretary Eric Shinseki is scheduled to testify. Perhaps he will be able to answer the question we've been hearing from many veterans — when will veterans' benefits run out during the shutdown?
At this time, we support full funding of VA through H.J.Res. 72: Veterans Benefits Continuing Appropriations Resolution, 2014. Its passage will fund the administration of Veterans Benefits until the nation sorts out the partisan issues plaguing it. The bill has passed through the House and is waiting for the Senate to pick it up.
The Obama Administration has stated it strongly opposes this bill and would veto it. The Administration believes that the shutdown of services impacts issues critical to all "small businesses, women, children, seniors, and others across the Nation." For that reason, it believes all services should be funded equally. The Administration has clearly concluded that funding for Veterans is not essential to National Security.
We disagree. Like a business, funding should be prioritized based various criteria. We believe the Military and its Veterans are the backbone that protects all other groups within this country. Since the Nation relies on the sacrifices of those men and women who served so bravely, the same Nation should take care to not default on its obligations to those same heroes.
Defaulting on this obligation will erode confidence in how the Nation will care for its wounded after service, and impinge on its ability to recruit strong leaders for tomorrow's fighting forces.
Tell Congress what you think here in time for the hearing today.
What supporters of H.J.Res. 72 are saying:
Support H.J.Res. 72: Veterans Benefits Continuing Appropriations Resolution, 2014

Dear Sen. John Boozman and Sen. Mark Pryor:

I support H.J.Res. 72: Veterans Benefits Continuing Appropriations Resolution, 2014 because…appropriations should be piecemeal, so they can be examined and reviewed in detail, instead of giant documents that no one, including in Congress, read and understand what they are voting on, i.e., ObamaCare which even the sponsors in the Democratic Party didn't know what was in it because they never read it.

laf2010
Arkansas's 2nd district
Support H.J.Res. 72: Veterans Benefits Continuing Appropriations Resolution, 2014

Dear Sen. Timothy Kaine and Sen. Mark Warner:

This should be the way all funding is done, one bill for each department or sub-department. No more monolithic bills no one has the time to read. Keep it short and simple.

Cory.Sutliff
Virginia's 3rd district
Support H.J.Res. 72: Veterans Benefits Continuing Appropriations Resolution, 2014

Dear Sen. Daniel Coats and Sen. Joe Donnelly:

I support H.J.Res. 72: Veterans Benefits Continuing Appropriations Resolution, 2014 because… Before we spend any money all veterans programs will need to be fully funded before anything else no matter what!

Bill-Of-Rights
Indiana's 4th district