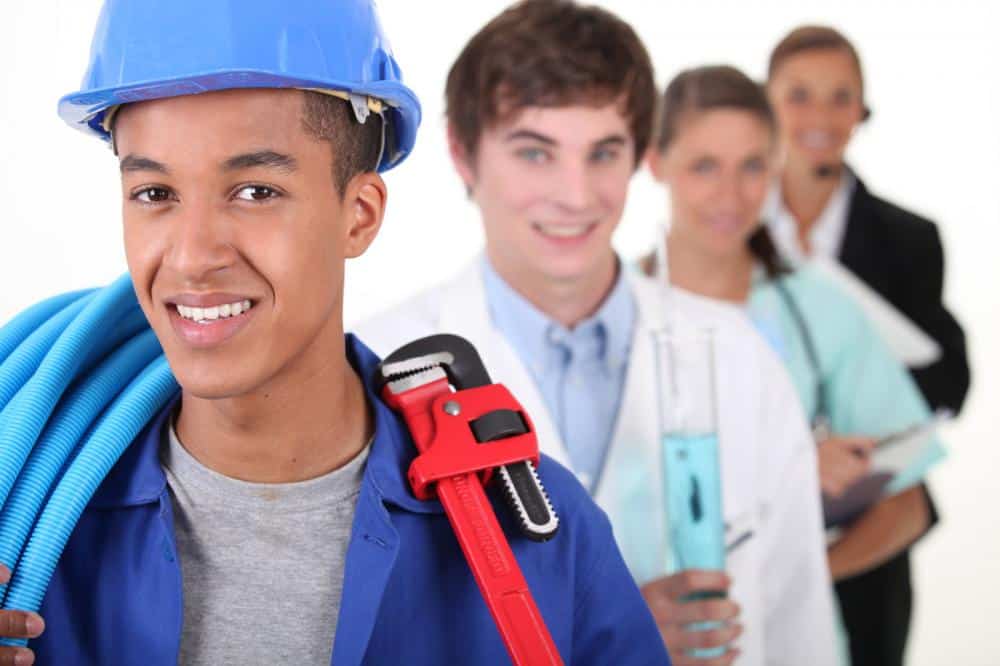 Veterans using Vocational Rehabilitation and Employment (VA Voc Rehab) will receive one or a combination of services from any of five unique Veteran Employment Tracks.
Generally, veterans with service-connected disabilities seek vocational services from VA Voc Rehab for retraining to a new career or for self-employment support. But those are not the only options.
After a veteran files their VA Voc Rehab application, they will likely be scheduled for an appointment to meet with a Vocational Rehabilitation Counselor. That counselor will make a decision as to whether the veteran is qualified for services, ie approved for VA Voc Rehab.
From that point, the counselor and veteran will work together to select an appropriate path for rehabilitation depending on what track is most appropriate for the veteran.
The five VA Voc Rehab Veteran Employment Tracks are:
Track 1 – Reemployment
Track 2 – Rapid Access to Employment
Track 3 – Self-Employment
Track 4 – Employment Through Long-Term Services
Track 5 – Independent Living
I personally received benefits through a combination of Track 4, two times, and Track 5. The program paid for me to receive my undergraduate degree and a law degree to become an attorney. It then paid for the startup costs related to my law firm that helps veterans sue the Department of Veterans Affairs.
That path did not come without a lot of pushback, and I wrote an article about a few of my observations called Biggest Lies Voc Rehab Tells to help veterans like you avoid the pitfalls of deceptive counselors.
RELATED: Screwed By VA? Top 5 Must-Reads For Smart Veterans
VA Voc Rehab Veteran Employment Tracks
Vocational Rehabilitation Counselors (VRC) and Employment Coordinators (EC) are VA employees veterans normally interface with when getting VA Voc Rehab services.
These professionals help veterans and servicemembers find suitable careers who suffer from with service-connected disabilities that create barriers to employment. This sort of barrier is called an "employment handicap" or a "serious employment handicap."
Your Vocational Rehabilitation Counselor will provide vocational counseling, refer you to appropriate opportunities and services specific to your needs, and help you reach your employment goals.
If you are entitled to VA Voc Rehab benefits and services, you will work with a Vocational Rehabilitation Counselor to develop a personalized rehabilitation plan following one of five tracks or a combination of more than one.
Track 1 Reemployment
When possible, VA Voc Rehab helps veterans and servicemembers return to work with a former employer. VA Voc Rehab accomplishes this by supporting the employer's efforts to provide workplace accommodations. Those workplace accommodations enable the veteran to continue the same or similar career path.
Examples of workplace accommodations could include:
Ergonomic desk
Ergonomic chair
Diction software
Assistive typing or reading software, etc
Traditionally, Vocational Rehabilitation Counselors have been poor at helping with workplace accommodations due to a lack of training. Veterans in Track 1 may experience greater success seeking accommodations from their employer than VA Voc Rehab in instances where the counselor is not helpful.
In instances where the counselor is adequately trained and helpful, veterans should enjoy a variety of supportive systems to make daily tasks more comfortable.
Track 2 Rapid Access to Employment
VA Voc Rehab helps veterans and servicemembers who are ready to enter the workforce. The program helps these individuals find, apply for, and secure suitable jobs. Some services VA Voc Rehab may include professional job placement assistance, job accommodations, and other specialized support.
The program often pushes disabled veterans into Track 2 if the veteran already possesses an undergraduate degree regardless of the veteran's qualifications or occupational goal. This is often done in error and veterans seeking additional training should pushback prior to agreeing to this track.
Track 3 Self-Employment
Self-employment can be fulfilling and may offer the flexibility a veteran with service-connected disabilities needs. VA Voc Rehab may help disabled veterans with limited access to traditional employment or those who have the skill and interest to start a business become entrepreneurs.
For this track, Voc Rehab helps the veteran analyze the proposed business plan. It may also provide training on how to market and operate a small business.
RELATED: Rehab Program Blocks Entrepreneurial Veterans
Veterans approved for this program will be placed into one of two categories:
Category 1 veterans are the most severely disabled veterans where self-employment is the only option for employment available. This track provides additional supports not available to Category 2 veterans. These veterans all have a serious employment handicap and are eligible for training, supplies, and other resources beyond what Category 2 veterans receive.
Category 2 veterans have either an employment handicap or a serious employment handicap who are not the most severely disabled veterans. While this group gets support for their business, it is not as robust.
Self-employment is becoming more feasible than in the recent past where veterans were qualified for this benefit but erroneously denied. Often, Vocational Rehabilitation Counselors have an incorrect understanding of the qualifications required for the benefit.
These counselors frequently deny the benefit falsely stating self-employment is only for the most disabled veterans. Such an assertion is a mistake and likely due to poor training or a lazy counselor. Approval of self-employment requires a great deal of paperwork that many counselors do not enjoy and instead avoid.
Track 4 Employment Through Long-Term Services
VA Voc Rehab will provide long-term training services for veterans and servicemembers who require additional skills or training to find competitive, suitable employment. The vast majority of veterans using the program receive benefits through Track 4 for training to help them qualify for suitable employment.
RELATED: Get Over $300,000 For Your Education
Suitable employment is not merely a job. It is employment in an occupational goal that is consistent with the veteran's aptitudes, abilities, and interests that is not precluded by the disability.
For these individuals, VA Voc Rehab will provide assistance that may include education benefits, on-the-job training, work-study, apprenticeships, or other job preparation programs to help them to obtain appropriate employment.
Occupational goals under Track 4 may require training types that include:
Medical school
Business school
Law school
Advanced or graduate level training
Vocational training
Vocational Rehabilitation Counselors are pushing back more than ever against veterans achieving vocational goals that require graduate or professional training than in the past.
Veterans seeking professional careers need to be prepared for pushback from their counselor. If the counselor refuses a particular goal type, veterans can opt to fight for their benefits through an appeal. Veterans denied can receive retroactive induction payments (backpay) if they continued with training despite a denial and later won their benefits on appeal.
RELATED: Veterans Get Full Student Loan Forgiveness
Track 5 Independent Living
Some veterans and servicemembers are unable to currently return to work but may benefit from VA Voc Rehab assistance to become more independent in their daily living. These veterans may qualify for Independent Living services.
VA Voc Rehab helps them with access to community-based support services, the use of assistive technologies and accommodations, and independent living skills training.