VA Police Brutality: Victim Gets Settlement In Excessive Force Lawsuit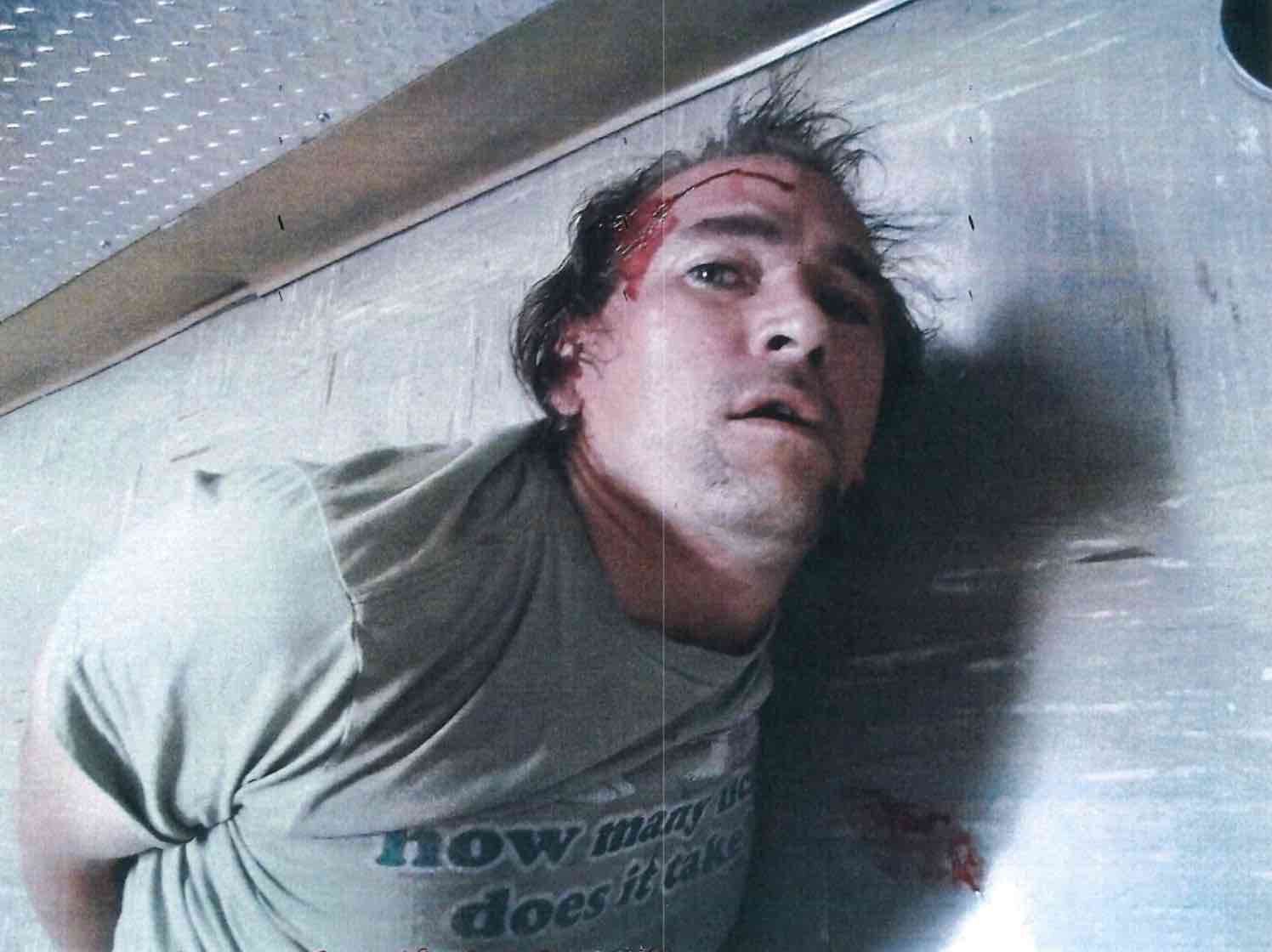 The Phoenix VA Medical Center settled an excessive force lawsuit with one veteran who was the victim of VA police brutality caught on video.
The veteran, Errick Hathaway, served multiple tours in Kosovo but received a bad conduct discharge in 2005. That discharge resulted in Hathaway being ineligible for mental health care he needed in 2015 when attacked by VA police at Phoenix VA Medical Center.
Just last year, lawmakers changed the preclusion allowing veterans like Hathaway to receive some mental health care. The US Armed Forces frequently discharged service-members suffering from PTSD without diagnosis using bad conduct discharges as a means to evade taxpayer accountability through disability benefits and health care, later.
Hathaway occasionally sought care from Phoenix VA for his mental health, which he sometimes received based on humanitarian grounds decided by local clinicians or administrators.
Hathaway VA Police Brutality
So, when he tried to get care at Phoenix VA on September 9, 2015, his presence at the medical center was not unusual. As covered by The Intercept, what followed appears to be par for the course for many veterans nationwide.
One hospital staffer accused the veteran of trespassing at the medical center dedicated to serving veterans. Three VA police officers were alerted to the accusation and attempted to arrest Hathaway, who resisted.
Resisting arrest is not great. In fact, it is illegal and likely will result in additional charges beyond what a person is already going to get charged with following an arrest, such as what followed.
In the ensuing scuffle, Hathaway allegedly kicked the officers and bit the thumb of one, which could be a consequence of untreated mental illness.
Once handcuffed, the three officers in an apparent rage continued the altercation, much of which was caught on video.
The veteran was forced into a wheelchair while handcuffed.
He was then hauled into a holding cell at the hospital where two officers slammed his body and head into a wall and then the floor. Hathaway says one of the officers then tried to strangle him leaving a red mark around his neck.
RELATED: Did VA Police Beating Cause Veteran's Death?
The body slamming and strangulation, if true, are examples of police brutality.
The video does not clearly show the strangulation, but images of Hathaway's injuries are undeniable. He suffered a two-inch gash on his forehead after being restrained and possible strangulation marks on his neck.
The agency filed five criminal charges against the veteran who was convicted of felony aggravated assault of a police officer.
Hathaway served 16 months in prison following his conviction.
RELATED: VA Shuts Down Longterm PTSD Therapy Program
Once released from prison, Hathaway reportedly filed a lawsuit against the VA for use of excessive force in the altercation aka police brutality. The agency ultimately settled for $25,000 without admitting fault according to the veteran's lawyer, Charles Piccuta.
Again, resisting arrest is a poor idea, generally speaking. However, attacking any person once they are fully restrained, as Hathaway was, is also illegal. VA police officers should avoid this practice, too.
Excessive Force
In case you are wondering what the legal definition is of "excessive force" and how it might apply to your situation, I grabbed the definition from USLegal:
Excessive force by a law enforcement officer(s) is a violation of a person's constitutional rights. The term 'excessive force' is not precisely defined; however, the use of force greater than that which a reasonable and prudent law enforcement officer would use under the circumstances is generally considered to be excessive. In most cases, the minimum amount force required to achieve a safe and effective outcome during law enforcement procedures is recommended.
Police brutality is a violation of the law. "Cruel and unusual punishments" by the state (police) are prohibited by the Eighth Amendment to the U.S. Constitution. The Fourteenth Amendment provides further protection to individuals, prohibiting the state from depriving "any person of life, liberty, or property, without due process of law".
Police brutality is a form of misconduct where a police officer uses excessive force meaning force that is "greater than that which a reasonable and prudent law enforcement officer would use under the circumstances".
Did the VA police use excessive force, here? Based on the allegations, they most certainly did by physically abusing the restrained veteran while he was detained in a cell.
In this instance, the agency settled the lawsuit without admitting fault.
It seems possible, and even likely, that the agency settled to avoid any embarrassing exposure as to how leadership handled the physical abuse of the restrained veteran given that it was captured on video.
But for the video, you can rest assured VA likely would not have settled the matter.
The agency generally preserves video for at least a few days. If an incident occurs, veterans would be well served to request copies of area video immediately using FOIA before the recordings are deleted or recorded over.
Previous VA Police Brutality
The Hathaway incident was not the first rodeo for at least one of the officers that may have occurred under the leadership of the "Queen of cover-ups" Kathleen Fogarty who headed VISN 18 following exposure of the Phoenix VA wait time debacle.
Monday, I wrote about Fogarty's cover-up of a subsequent battery at the hands of VA police at Kansas City VA resulting in the death of that elderly veteran in 2018.
RELATED: Elderly Veteran Death By VA Police Obfuscated By 'Queen Of Cover-Ups'
A couple of months before the Hathaway incident, back in 2015, a VA whistleblower reported having witnessed the same officer allegedly choking Hathaway choke a different patient. In that instance, the veteran was a patient who said he was suicidal but "wasn't being disruptive" or behaving in a violent manner justifying strangulation.
The whistleblower, a former VA police officer himself, said, "His eyeballs were popping out of his head; he was turning another color."
Is strangling suicidal veterans an approved suicide prevention technique?
RELATED: VA Pays $300k In Sepsis Death
The incident of police brutality was reported to VA OIG that failed to interview the whistleblower who reported the attack. When asked by The Intercept for comment, OIG refused to even admit it investigated the matter, as if the investigation itself is some national secret.
Meanwhile, the officers implicated in Hathaway's VA police excessive force incident still work for the agency.
The Intercept covered Hathaway's story and those of other veterans who were body slammed by VA police over the years. VA admits it lacks adequate training and staffing for VA police that is at least partly to blame for the poor treatment of veterans.
RELATED: VA Executives Cover-up Deadly Bacteria At Hospital
Fogarty is now implicated in another incident of possible VA police brutality
Disruptive Behavior Committee
I've been covering Disruptive Behavior Committees for some years, and it seems the agency is not backing down on its treatment of veterans in those circumstances.
Rather than improve training, the agency is apparently running the other way, at least when it comes to body slamming veterans.
Therapeutic Containment
It is worth noting VA's use of "therapeutic containment" against veterans supposedly deemed threats to themselves or others at medical centers.
RELATED: VA Paints Veterans As Crazed Psychos
Yes, that's a thing.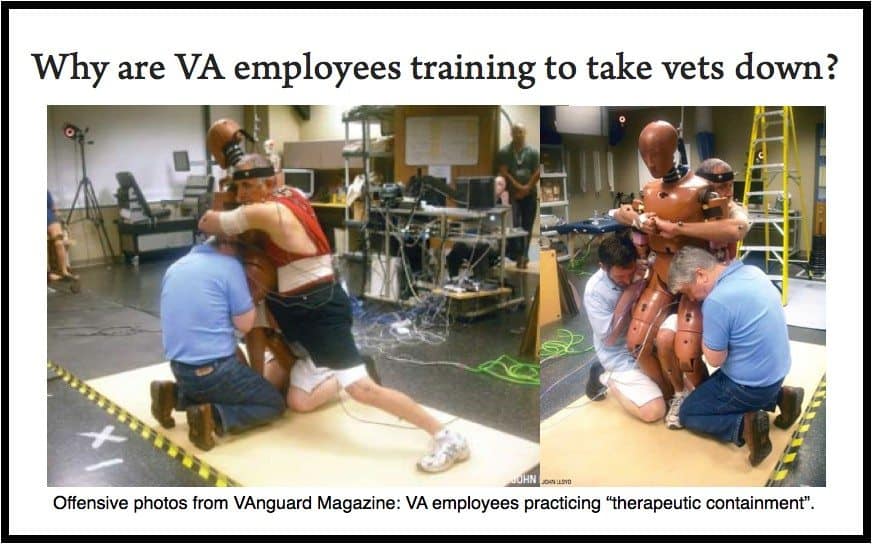 For those of you who are new to the concept of Disruptive Behavior Committees, here is some information to make you aware of "disruptive behavior" according to VA.
DOWNLOAD: VA – Prevention & Management Of Disruptive Behavior
The following is straight from a Word document published by the VA Eastern Colorado Health Care System – – this is the same VA system that erroneously told veterans that their smartphones were banned items along with weapons like guns and knives.
Yes, that also happened, and VA later rescinded the ban once we exposed it here.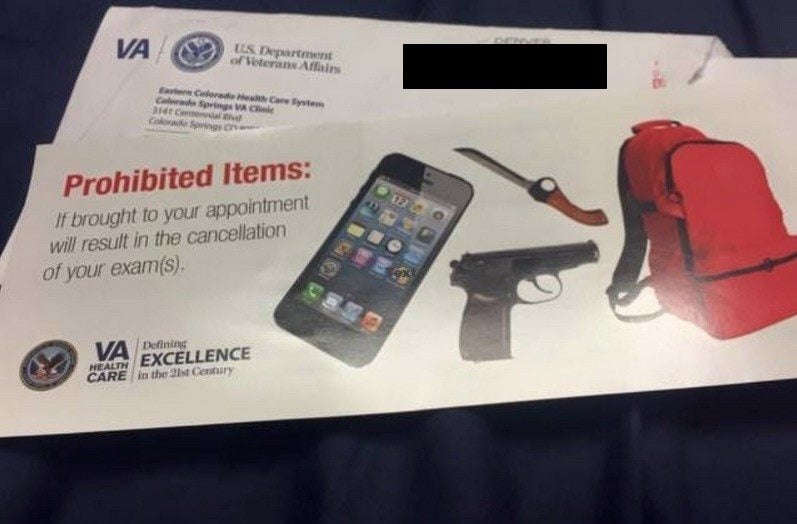 What Is Disruptive Behavior?
The following excerpt in italics is a quote from VA:
Definition of Disruptive Behavior: Any unacceptable behavior that causes the routine operations of the VA Eastern Colorado Health Care System (ECHCS) to be interrupted, impeded, or result in an unsafe environment.
• All threatening and/or inappropriate behavior
• Verbal or non-verbal
• With or without an intent to inflict harm
• Use of physical force to violate, damage, or
abuse another person or property
• Use of weapons or other instruments to threaten or inflict bodily harm
• Can take the form of sarcasm, profanity, threats, loud & belligerent verbalizations, refusal to follow reasonable requests or the use of physical force or violence
Sarcasm? Reasonable Requests?
Some on this list seem obvious but the last bullet on the list seems excessive. It seems VA wants practically any display of emotion while in a bad mood to be a punishable offense.
But "sarcasm"? How about "refusal to follow reasonable requests"?
Would Jerry Seinfeld be banned from VA for biting sarcasm? Maybe not Jerry, but definitely Newman.
How about farting or making fart noises? Is farting sufficiently disruptive to deserve a patient flag? I guess it depends on who decides.
Do we not have a Constitution that allows sarcasm as protected speech? Who decides what a "reasonable" request might be? Does a veteran not have a right to refuse such a request since we are Americans?
Did we somehow lose our rights as citizens when we became soldiers?
In that Word document, VA says it has zero tolerance for disruptive, threatening or violent behavior.
Veterans who exhibit any of the above "disruptive" behaviors will immediately be investigated. "Clinical, administrative, and possibly, legal action will be taken as warranted."
Is this the United States of America?
RELATED: MISSION Act Urgent Care Expansion Raises Eyebrows
Victims Excessive Force, Police Brutality
Veterans willing to talk about their experience with VA police and excessive force should comment below. By creating a record that VA OIG cannot obfuscate, we begin to paint a picture that better resembles the truth rather than what the agency tells Congress and the news media.
Also, the Hathaway story gives us some insight into how the agency is handling excessive force allegations when caught on tape.
Your take away should be two-fold.
Make a recording of your interactions with VA police so long as the recording is legal if you believe you are in danger. If you are the victim of a battery, you may be able to file a lawsuit against the agency for your injuries.
Be sure to request copies of VA video if the incident occurs in a commons area like a lobby or outside main entrances. If you can see a camera, VA likely was recording, but the agency does not keep recordings indefinitely unless a formal incident is under investigation.
Problems faced by VA Police and veterans interacting with them are now front and center in the policy arena. Reforms to how the agency trains and recruits its police officers should result but do not hold your breath just yet.