Trump May Pick 40-Year VA Insider To Run Veterans Health Administration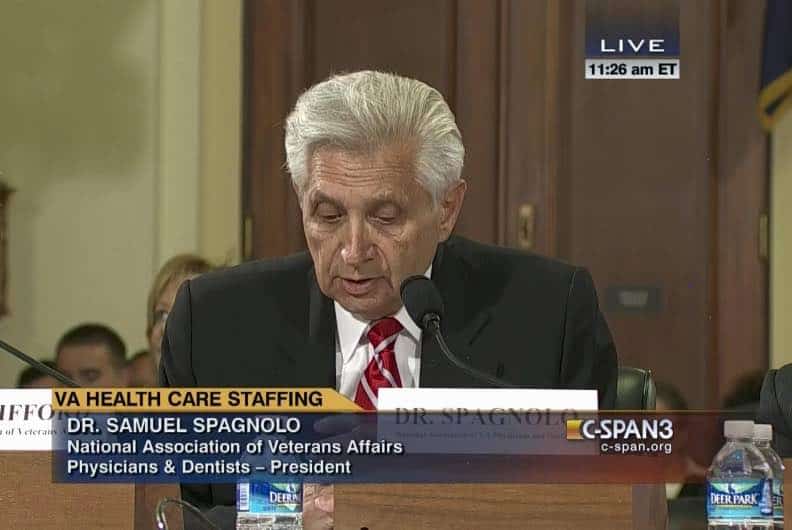 President Donald Trump may pick the head of VA medical doctors as the new head of Veterans Health Administration who has been at the agency for over forty years. Veterans may get to know Dr. Samuel Spagnolo veteran well in the near future.
Dr. Spagnolo, the president of the National Association of Veterans Affairs Physicians and Dentists (NAVAPD), will meet next week with White House staff to discuss the vacancy. Dr. Spagnolo was a Harvard fellow who became board certified in Internal Medicine and Pulmonary Diseases who graduated from Temple University Lewis Katz School of Medicine in 1965.
He notably is reported to have served as former President Ronald Reagan's chief chest doctor following the 1981 assassination attempt. In addition to being president of NAVAPD, he served as an attending physician at Washington DC VA Medical Center and as professor of medicine at George Washington University.
RELATED: Veteran Refused Healthcare, Accused Of Using Cocaine By Mistake
NAVAPD Dr. Samuel Spagnolo Biography
For some additional background, according to Dr. Spagnolo's biography:
Since 1972 Dr. Spagnolo has held many academic and administrative appointments at both the Department of Veterans Affairs and George Washington University and he continues to commit himself to the University, the VA Medical Center, and also the surrounding community. For five years he was Associate Chairman of the Department of Medicine and for nearly twenty years was the Director of the Division of Pulmonary Diseases and Allergy. His ongoing involvement in numerous professional and community associations and university health science functions, and his exceptional research and publication efforts emphasize the focus of an individual dedicated to training and continuing education for all.
As a clinician, Dr. Spagnolo has a worldwide reputation as a therapist and consultant. In 1981, he served as the medical chest consultant in the care of President Ronald Reagan following the attempted assassination. His involvement was reviewed in Mortal Presidency by Robert Gilbert, Basic Books, New York, NY, 1992. As a medical consultant, he serves an international patient community in Europe and the Middle East. His consulting activities are numerous and have included the Will Rogers Institute and the Walter Reed Army Medical Center. He has also served as a consultant to the White House physicians, Drs. Burton Lee and Lawrence Mohr, Jr. during the presidency of George Bush. As a teacher, he has personally directed the training of nearly 100 pulmonary specialists and critical care specialists and is an active lecturer on the subject of pulmonary and critical care medicine. As a researcher, he has directed major research projects funded by foundations and grants, supervised the publication of numerous medical journal publications, three textbooks and a number of book chapters.
Dr. Spagnolo's leadership responsibilities have been significant. He has served as President of the District of Columbia Thoracic Society, President of the National Association of Veterans Affairs Physicians & Dentists, and served for five years as the American College of Chest Physicians (ACCP) Governor for the District of Columbia. He served on the editorial Board of CHEST, the official journal of the ACCP from 2002 to 2006. He has testified before the US Congress on various issues related to health care policy and quality of care.
Dr. Spagnolo's long and distinguished academic career and his dedication to clinical care of patients, teaching, and research has given him extensive experience in participating in conferences around the world as well as numerous radio and television appearances. Because of these interests, he founded the International Lung Foundation in 1991 and the Foundation for Veterans' Health Care in 1997. Dr. Spagnolo is listed in Marquis Who's Who in the World, Who's Who in America, Who's Who in Medicine and Healthcare, and Who's Who in Science & Engineering. Dr. Spagnolo is married to the Hon. Dorcas R. Hardy, former Commissioner of Social Security.
Question
So with this background, what should veterans expect? Is Dr. Spagnolo part of the swamp or a longtime advocate for better healthcare services?