WashPo: Shulkin, Staff Misled Ethics Officials Over $120k European Trip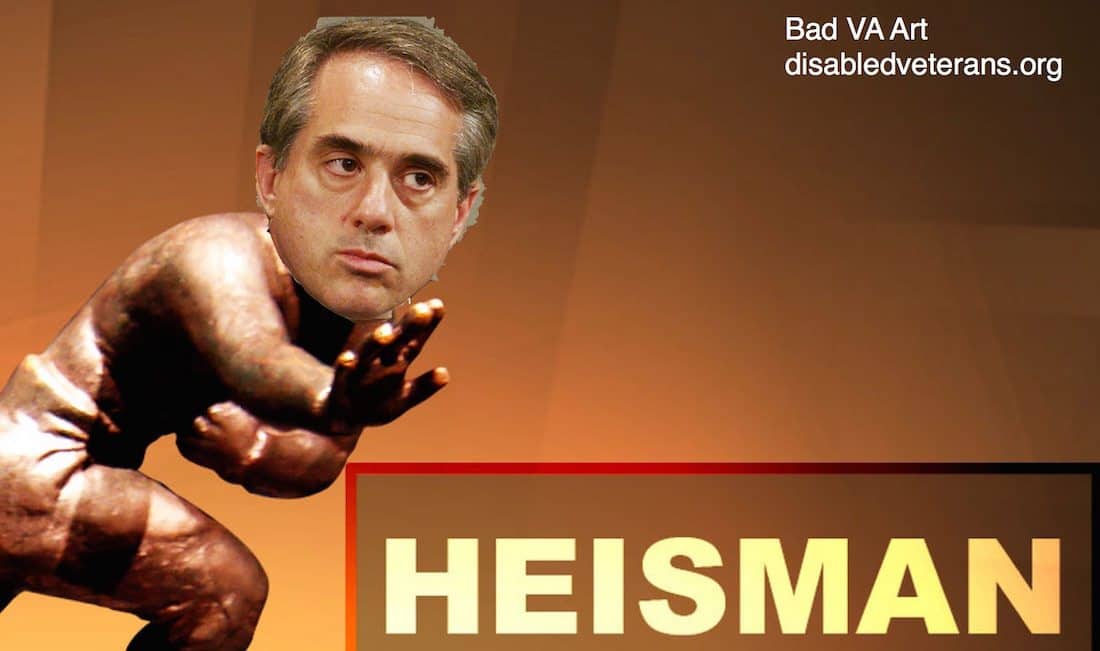 The results are in The Washington Post and other mainstream media publications conclude the IG report shows Shulkin and his staff misled ethics officials for personal gain.
Ethics officials within VA (now that is an oxymoron) claim Shulkin's public press release about his acceptance of Wimbledon tickets from friend cast them in a bad light for their role in approving the act.
Meanwhile, John Ullyot, VA's assistant secretary for public and intergovernmental affairs, told investigators that Shulkin directed him to use the language VA released to the public, but Shulkin told IG he had no idea where the public relations statement originated from.
The Secretary's team allegedly materially altered emails that were then used to justify the expenses related to the trip that included taxpayer funding of the Secretary's wife. Justification for the spouse to attend on taxpayer dollars was based on Shulkin supposedly receiving an award from the Dutch, which never happened.
All in, taxpayers paid around $123,000 for the trip and $4,000 for airfare related to flying Shulkin's wife.
Something stinks about this entire soap opera, and I plan to review this entire report tonight for readers to assess tomorrow.
DOWNLOAD: Full IG Report With Evidence Of Shulkin European Trip
Preliminarily, I find it very suspicious that The Washington Post has suddenly found a new interest in writing negative news stories about VA in the past few weeks that include a slam against Thomas Bowman and now Secretary Shulkin.
Staff within the VA's Public Affairs division including Ullyot and Curt Cashour are totally off script at this point, which seems unusual. (It is worth noting John Ullyot studied at the Pushkin State Russian Language Institute before attending Harvard.) In the investigation, Ullyot threw Shulkin under the bus – – an act that is very anti-country club of Ullyot, a true blue blood of America's upper crust (Deerfield Academy, Pushkin Institute, Harvard University).
I would also go as far as to say it is highly queer for the General Counsel of VA, Jim Byrne, to acknowledge he failed to conduct a due diligence review of a press release concerning the European trip in September.
The IG report also includes information provided by The Washington Post concerning its interview of Secretary Shulkin concerning the trip in November. Have you ever seen The Washington Post cooperate with any kind of investigation like this?
What is also highly unusual is IG's conclusion that VA's statement to The Washington Post was "misleading" given that the federal government frequently misleads the press. Why does this warrant review by IG as if The Washington Post is the same as the FBI?
Last, it seems clear The Washington Post had an advanced copy of the IG report as of Monday which included the letter from Shulkin's attorneys that was not previously available to the public but apparently The Washington Post is no longer a member of the public. Definitely review the response from Shulkin's attorneys pages 51-66.
Also, it seems important to note the reporter with the scoop on this is Lisa Rein with contribution from Alex Horton. Some of you may recall Horton is a golden boy of VA Public Affairs who wrote the agency's blog from 2010 to 2013. He went on to work for Washington Post.
Rein meanwhile focuses on federal workforce and problems with government management. Meaning, she writes stories sourced by AFGE.
The Washington Post is owned by Amazon founder Jeff Bezos with deep ties to the CIA.
HuffPo: Why The Washington Post's New Ties to the CIA Are So Ominous
I plan to address some of this later tonight, and most of you know my belief that this is a hatchet job targeting the Secretary for removal.
Since WashPo is leading the charge in the press, I am highly suspicious the endeavor is directed to shut down the expansion of Veterans Choice (venders TriWest and Health Net) and/or to interfere with the highly lucrative electronic health record contract presently awarded to Cerner.
Who stands to gain big from Shulkin and Bowman being taken out?
This matter certainly has a lot of unusual similarities to the deep state actions against Trump and his team in other matters. There is certainly more to the story.
But one thing is clear, The Washington Post is driving this narrative. Why?
IG Executive Summary European Trip
"The Office of Inspector General (OIG) received an anonymous complaint alleging that Secretary of Veterans Affairs David Shulkin and other senior leaders misused VA funds by taking an official July 2017 trip to Europe for more personal than official activities. Secretary Shulkin traveled with a group that included senior VA leaders, his wife, and a six-member security detail. The 11-day trip included two extensive travel days and three-and-a-half days of official events—with a cost to VA of at least $122,334. The VA delegation had a day-and-a-half of meetings with Danish veterans' healthcare officials and experts in Copenhagen and attended the Ministerial Summit on Veterans' Affairs in London. Secretary Shulkin stated that he also worked on VA matters when there were no official functions. The group's schedule, however, included significant time for preplanned tourist activities by Secretary Shulkin, his wife, and others on the delegation.
"After a thorough investigation, OIG's findings included (1) the Chief of Staff's alteration of a document and misrepresentations to ethics officials caused Secretary Shulkin's wife to be approved as an "invitational traveler," which authorized VA to pay her travel costs (although only airfare was claimed); (2) Secretary Shulkin improperly accepted a gift of Wimbledon tickets and related hospitality; (3) a VA employee's time was misused as a personal travel concierge to plan tourist activities exceeding that necessary for security arrangements; and (4) travelers' documentation was inadequate to determine the trip's full costs to VA. The OIG did not assess the value of the trip to VA or determine whether the Europe travel, as conducted, was "essential," per VA policy.
"The OIG made five recommendations to ensure reimbursement to VA by the travelers of all unallowable expenses incurred; redress of any VA employee misconduct; and retraining of VA personnel on ethics and travel policy matters."