West Point Professor Dan Gade Says Disability Pay 'Harmful'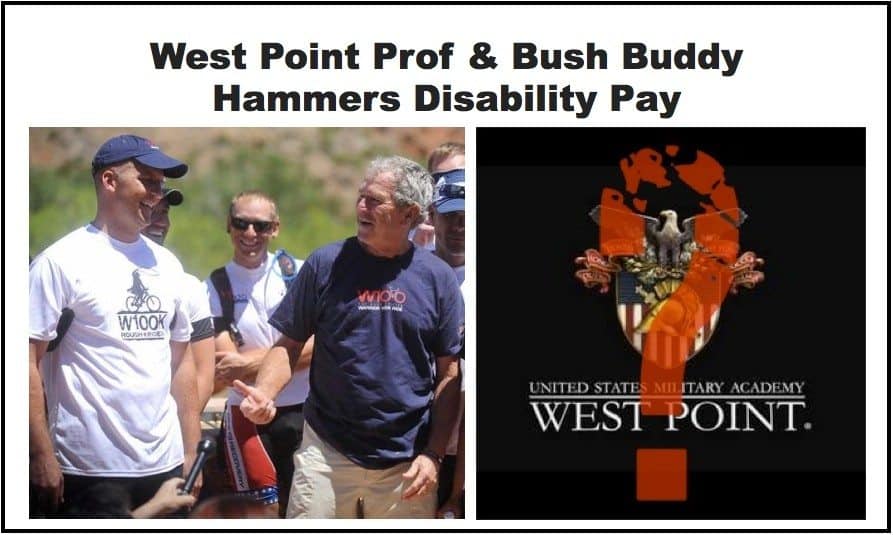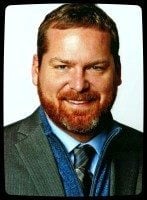 Professor Dan Gade says disability pay for disabled veterans is "harmful" and that it causes the veteran to "lose the sense of identity and self-worth that can come from work," according to a NY Times article yesterday. Do you agree?
The Lt. Colonel of the US Army and West Point graduate believes disability compensation makes veterans "abuse drugs and alcohol." Gade believes that by cutting your disability pay, he will help you "rejoin society." Gade currently teaches policy at West Point. God help us.
ORIGINAL ARTICLE UPDATED
I have talked with Gade by phone and exchanged research and notes on the subject. He is a genuine individual. But, I agree with what NY Times said about his policy preaching, "It was a message that many veterans find offensive and misguided." It is offensive and misguided.
But at this point, I have to ask, 'Is Gade on Mars?' 'Has he been hiding under a rock during the recent backlog and wait list scandals?'
Many hundreds of thousands of veterans are still fighting for a fair disability rating. How does Gade support a cut while we haven't fixed the existing system? Or, is the theory intended to gut the system before the American taxpayer bears the burden of the current unpaid wars in the Middle East vis a vis fair payouts of veterans benefits?
For a little background, Dan Gade is a combat injured Army Lt. Colonel still on active duty. He teaches teaches policy at West Point Military Academy. While there, he is teaching tomorrow's Army leaders how to apparently screw the next generation of veterans. Thanks.
RELATED: What might West Point do with Your Disability?
But what will the next screwing entail? Will they deny PTSD and claim Personality Disorder to evade paying for disability and health care? Nope, already done. Will they ignore the impact of sexual assault? Nope, also already done. Will they downplay the severity of head injuries? Nope, that one is well in the works.
In the big scheme of things, I will bet many disabled veterans fighting for fair access to benefits had no idea those like Gade had a fix all along. No benefits for you will save you by encouraging you to work! Simple.
Who knew folks like Gade were really trying to protect you from yourself all the while you were fighting for your benefits? Based on his logic, all those veterans fighting for benefits but who do not have them must have great jobs while they toil their nights away in administrative wrangling, fighting to enjoy their new lives of being unemployed and drunk?
Not likely, and Gade's scholarly pursuit here falls flat for failing to address key known issues within veterans circles like the bureaucratic attack many veterans endure for years trying to get their basic benefits. This should come as no surprise since Gade has no experience as a veteran. While he is disabled, he does not have an appreciation for the bureaucratic system many veterans fight through.
While some disabled veterans abuse drugs and alcohol, it is all the more likely that the abuse is the result of poor VA health care or a lack of social supports while VA refuses to enable those folks by providing the benefits, health care, and jobs to which such veterans are likely duly entitled. The recent VA psychologist shooting in El Paso may be an indication of the impact of failed attempts at getting the benefits desperately needed.
Generally, veterans fight for their benefits and lose their identity and self-worth in the process of realizing Dept. of Veterans Affairs will not acknowledge their sacrifice after years of military service. At least, this has been my experience as a veterans advocate and as a veteran who fought for his own benefits for the past 14 years.
However, if those like Gade get their way, those veterans currently getting screwed out of disability and health care benefits will magically get well, avoid drugs, and have sweet jobs like Gade. Right?
This begs the question: Is West Point hiring because I know a ton of other disabled veterans who would love to be well-paid professors of policy?
So you might be wondering who is supporting ideology like Gade's at this time. It is the same people connected with those who brought us into the second Iraq War, the same people responsible for Charter Schools, and still the same people who veteran groups perceived as wanting to gut veteran benefits. Woo-hoo!
According to the NY Times article:
"Colonel Gade's ideas have won support from some conservatives. A pilot program, which would provide financial incentives to veterans who work, is being started by the Philanthropy Roundtable, a donor organization that has pushed other reforms focused on individual choice, such as charter schools.

"And two former secretaries of veterans affairs under President George W. Bush — Anthony J. Principi and Jim Nicholson — said in interviews that they pushed for overhauling the disability system but could not overcome resistance from veterans groups and Congress."
Gade is apparently inspired by the three stooges of veterans benefits making obscene claims about reforms they never attempted at any point. These guys were good at shaking hands and cashing checks of companies like Lockheed Martin and QTC.
This explains a lot about Gade's position. And, this is not the first time Gade stepped out of the wilderness and into the VA gutting limelight.
In 2013, in the Army, Gade began pushing his ideology to end the current veteran disability system. Now, how was he allowed to do that while in uniform since the disability system is Congressionally sanctioned? Sounds like someone was pulling some strings. I wonder who? Sounds like the academy boys are playing revisionist history at the expense of gullible New York Times readers.
While I appreciate Gade's sacrifice in combat, I do not think West Point elite should be talking for disabled veterans about much of anything from behind the great walls an academy.
So how on earth does he think he could ever be an authority on veteran plight at this point or in the near future?
UPDATE, 1/10/15: Dan Gade sent an email to correct elements of this post. He is still on active duty and not a veteran yet despite the headline of the NY Times article. He has not spoken with George Bush in a number of years and Bush himself is not involved in Gade's project against the disability system.
Source: https://www.nytimes.com/2015/01/08/us/iraq-veteran-now-a-west-point-professor-seeks-to-rein-in-disability-pay.html?_r=0