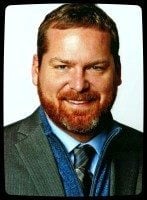 Benjamin Krause a veterans rights journalist turned attorney who runs the VA watchdog website DisabledVeterans.org, a publication owned by his company Armo Press, LLC.
Here, Benjamin regularly publishes veterans benefits news and tips as well as educational resources designed to educate veterans about their benefits in the Online Veterans Resource Center. He created the Voc Rehab Survival Guide, which is an educational resource that helps veterans access vocational support from the agency.
Benjamin is regularly featured as a veterans policy authority by such publications as Newsweek, Foreign Policy, Bloomberg TV, CBS Evening News with Katie Couric, Star Tribune, Pioneer Press and more. He has provided the House Committee on Veterans Affairs written testimony about VA Vocational Rehabilitation policy problems. He also testified before the Democratic National Platform Committee on veterans rights.
Benjamin is a disabled veteran of the US Air Force who earned his college degrees using VA Vocational Rehabilitation: 1) Northwestern University; 2) University of Minnesota Law School, where he graduated magna cum laude.
His separate law firm, Krause Law, PLLC., represents clients in veterans rights issues including VA Voc Rehab appeals.