MMQB: Military, Veteran Pay Cuts Included in CBO Report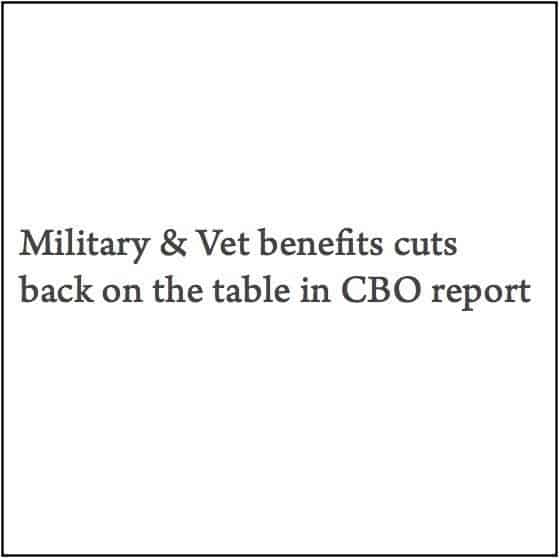 Military pay and veterans benefits are again moving to the center of budgetary discussions.
For years, some veterans advocates, including myself, have been forecasting that veterans benefits would get their turn on the chopping block.
In response to our inability to advocate for ourselves in an effective voting block, politicians may be swayed by the CBO report under the guise of budgetary responsibility. All the while they will burn up tax dollars on pork barrel spending.
More on this in a second.
Hi and welcome to another edition of Monday Morning Quarterback for veterans. I am your host, Benjamin Krause.
This week, we will cover a CBO report supporting cuts to both. We will also cover:
VA Malpractice on Rise
Dental Insurance for Veterans
Before getting into the topics, lets take a quick look at VA statistics this week.
VA Stats – Worst Midwest VARO for Disability Compensation
Chicago is the proud owner of the worst overall disability compensation processing number in the Midwest, lagging well behind the national average.
It takes an average of 523 days to rate a claim there. The average for the same as it relates to homeless veterans is 415 days. Both of these are numbers are radically beyond the national average and the average in the Midwest.
The fastest VARO is Saint Paul, which averages 114 days to rate a claim and 46 days to rate the claim of a homeless veteran.
All VA Regional Offices in the Midwest are still well behind VA's target of rating a claim within 80 days.
Military, Veteran Pay Cuts Target of CBO Report
It was reported yesterday that the Congressional Budget Office (CBO) has targeted military pay and veterans benefits as one of many sources of savings for the US budget from 2014-2023.
The report contains over 100 suggestions to lawmakers about possible sources for savings. Military pay cuts were on the list. So too were disability benefits for veterans.
Military pay raise cap
From 2000-2010, Congress approved pay increases for military of .5% more than the same projected increase in private sector wage growth. This makes sense since military pay is generally less than the equivalent job in the civilian sector.
The report stated that military pay raises could be held to .5% lower than civilian pay raises with only a minor impact on military force retention. The proposed option would save $25bl from 2014-2023.
I have looked into this issue before. The reason retention would be impacted in only a limited manner has a lot to do with the economic options of those who are enlisted.
Since moving to an all volunteer force, the military has focused its recruiting on the more impoverished sectors of Americans, which seems to be growing as the US middle class shrinks.
Without comparable options for upward economic momentum, those stuck in poverty will have limited options other than to enlist in the military, in many instances.
Where this is true, the pay reduction is little more than a poor tax since these individuals are stuck in longer enlistment contracts or with few options outside of the military.
Officers in the military will be impacted at a lower rate than the enlisted troops, which are currently using food stamps in some instances due to lower pay rates.
Veterans disability cuts
The report highlighted that the government could save $20bl from 2014-2023 by restricting disability from certain diseases. The diseases are: chronic obstructive pulmonary disease; arteriosclerotic heart disease; hemorrhoids; uterine fibroids; multiple sclerosis; Crohn's disease and osteoarthritis.
The argument goes that VA should modify its disability compensation list to comport to disabilities civilians would be eligible for from civilian work.
This, of course, is asinine.
Working in the military is not like working as a civilian. The risk is much higher. You cannot quit if you do not like an order. And, you are required to travel to hazardous places to support missions you may not agree with.
If your manager at Pizza Hut tells you to do something you don't agree with, you can always quit.
Here is a thought.
I think if the military intends to treat military personnel like civilians when it comes to compensation, then they should allow military personnel to quit whenever they choose.
Source: Congressional Budget Office
VA Malpractice Claims on the Rise
While lawmakers are focusing on cutting funding for military pay and veteran disability, there has been a surprising surge in medical malpractice payouts for VA.
Since 2003, VA has paid settlements and judgments of $843 ml; last year alone accounted for $98 ml in malpractice payouts.
But does this mean VA health care is less safe than civilian care?
According to lawmakers on the Republican side, VA is not doing enough to keep veterans safe. Rep. Phil Gingrey, R-Ga., says there is no accountability for VA to encourage their doctors to avoid unsafe practices.
Meanwhile, experts in the field claim VA is doing no worse than the civilian sector. These experts point out that VA has seen a dramatic increase in usage over the past few years. That rise in usage has seen a similarly increase in the relative numbers malpractice claims.
One Harvard professor and physician had this to say:
Still, the VA may be doing no worse than the private sector, said Dr. Anupam Jena, a physician at Massachusetts General Hospital and an assistant professor at Harvard University.

Jena noted that the VA ends up paying plaintiffs in about 25 percent of cases. Private-sector health systems pay in about 20 percent, according to a study he participated in that surveyed 40,000 doctors. It was published in The New England Journal of Medicine.

"Are VA doctors worse than other doctors?" Jena said. "No." The AJC analyzed payments to 4,426 veterans and family members from 2003 to 2012. Over that period, the number of patients treated each year by the VA increased. So did the number of malpractice payouts and the dollar amount. Each of the numbers fluctuated from year to year but trended upward.

Comparing the first half of the 10-year period to the second half, the average number of VA patients grew by 10 percent, the average number of annual payouts increased 12 percent, and the average cost to taxpayers rose 14 percent.
Source: Military.com
VA offers Dental Insurance to Vets, finally
To end on a positive note, VA has finally been able to create a plan for veterans to receive dental insurance. It is called VA Dental Insurance Program (VADIP).
This should come as welcomed news for many of the recent veterans who have inexplicably had their teeth rot out.
Some months ago, I began getting emails from veterans experiencing strange dental symptoms. Teeth were falling out or rotting out of the mouths of many of these veterans without much explanation.
Sadly, many of these veterans are unable to get dental care from VA. For whatever reason, dental care is one of the trickiest benefits to receive. Compounding this, regulations between regional offices are different, which has resulted in veterans not having access in one VHA center when they previously received care at a different location.
Now, these veterans and others will be able to select insurance plans for rates between $10-$30 per month.
I'll give them three cheers on this one.
Source: Navy Times