MMQB: Update On DHS Harassment Of Veterans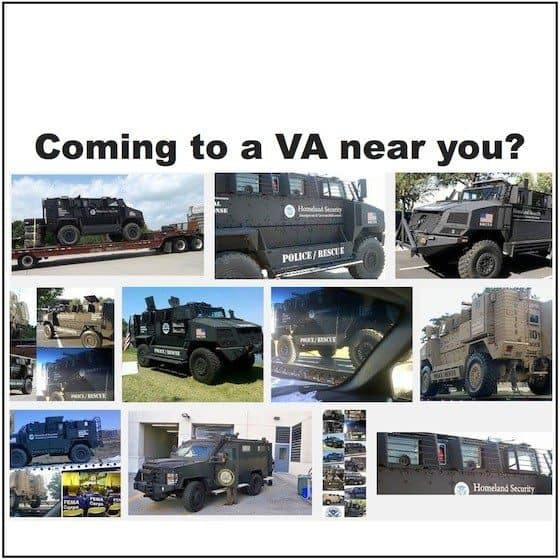 Last Friday, we broke the story about DHS police busting into a VA health care facility and harassing sick veterans for "presence deterrence". Those same DHS police refused to identify themselves to bystanders and threatened those who asked.
In our story about DHS police harassing veterans, we exposed reports from witnesses present during the exercise and a VA OIG complaint. The DHS police wore black uniforms with no identifying patches or nametags. The police threatened veterans who asked the federal employees to identify themselves with arrest. VA allowed the police to perform sweeps without anyone apparently approving the action within VA and without the police clearly indicating who they were.
A psychiatrist posed a great question regarding the San Diego / VA Mission Valley DHS police action last week. Are these actions training Americans and veterans to accept anonymous black para-military uniforms as a sign of authority like a sheriff's badge in the day of old? For the Fed, are anonymous, easily faked black para-military uniforms the "new black" for identification of authority? Are we more safe with these uniforms?
Hi and welcome to another edition of Monday Morning Quarterback for Veterans. I am your host, Benjamin Krause, creator of DisabledVeterans.org. This is where I catch you up on issues from last week and keep you posted on issues we are working on through the week.
The point of this MMQB will be to highlight how the nation is waking up to the plight of veterans. We at DisabledVeterans.org are doing our part, and this article will give insight into that fight.
Here is what we are covering today:
Updates on DHS harassment of veterans
Radio interview with Tavis Smiley on NPR about the VA Wait List Scandal and VA media manipulation
Radio interview with Will Roberts on DHS harassment of veterans
Foreign Policy citation on Obama vetting team embarrassment
Upcoming hearings from  House Committee on Veterans Affairs
Crap movie of the week for targeting Iraq veterans to make a buck: Liam Neeson in Non-Stop
SEND A NOTE IF YOU HAVE WITNESSED A DHS EXERCISE AT VA
Oops! We could not locate your form.
UPDATES ON DHS HARASSMENT OF VETERANS
Witnesses in San Diego reported DHS officers threatened veterans outside of a VA health care clinic. Veterans were threatened with fine and arrest for questioning the authority of unidentifiable DHS employees. One day later, VA Public Affairs confirmed reports that DHS-FPS did perform an exercise at the VA Mission Valley Health Care Clinic by San Diego.
VA aggressively sought to bury the story after reports surfaced on Thursday in four ways. First, VA used traditional intimidation tactics perfected by VA against whistleblowers. Second, VA attempted to say only 4 DHS police were onsite after stating higher numbers a day earlier. Third, VA claimed the facility at Mission Valley was only temporary. Fourth, DHS reportedly took possession of surveillance footage at the site the next day. I will cover these more in depth below.
First, the staff at Honoring Our Troops (HRT) received numerous threatening phone calls to their personal cell phones after staff filed a complaint with VA OIG by email. These calls resulted in the organization backing off of the complaint at the request of VA heads who demanded the organization bury the story or else. Organization staff members have now been instructed to not speak publicly about the complaint. By threatening the organization after a VA OIG complaint was filed, VA officials involved have violated VA law by interfering with a whistleblower.
Second, VA attempted to diminish the incident by lowering the number of DHS police onsite at the time. Initial reports indicated 20 DHS police were onsite for the exercise in para-military uniforms without nametags or other identification. VA's local Public Affairs told me approximately 6 police were onsite with 2 new team members. By Friday afternoon, VA had circulated that only 4 DHS police were participating in the exercise. Of course, how would those 4 DHS police drive the 8 DHS-FPS vehicles at the scene?
Third, for whatever reason, VA Public Affairs told sources that after 10 years the VA Mission Valley health care facility is only "temporary" and that somehow this temporary status negates concerns somehow. VA used this wordsmithery to evade responsibility.
Fourth, DHS police reportedly went back to VA Mission Valley Care Clinic last Thursday to take and evaluate VA surveillance footage. This footage shows what happened, and it is thusly important for VA to ensure the footage is not destroyed.
Beyond this, VA claims to have no control over DHS during these actions and for that reason the matter should not be investigated. However, I have heard numerous similar reports of harassment across the country, and if hospital patients are being harassed and threatened while in the care of VA, then VA owes a duty to ensure these veterans are safe and secure while seeking care. VA's failure to prevent harassment of veterans seeking health care is a violation of the Constitution since that health care is a vested property right for many veterans.
One of the many things that alarm me is the Feds use of anonymous para-military uniforms. Apparently, to the Fed, anonymous, unidentifiable, black para-military uniforms with ski masks are the "new black". Over the past decade, para-military uniforms have seen greater use within our stateside police forces. DHS' recent use of anonymous unidentifiable uniforms with no nametags took the matter to a new level of creepy last week.
Back to the psychiatrist's question, does the use of anonymous black uniforms actually harm our security rather than enhance it? My answer, in this instance, depends on the goal of the security action. In the example of the DHS last week in San Diego, it is clear that the agency intended to intimidate and threaten for the stated purpose of "presence deterrence". Since that was the stated goal, verified by VA Public Affairs, then I would say the uniforms were a huge success, all be it a very creepy success. But does this fundamental un-American use of anonymous black uniforms increase security?
If the answer is "No", then the use of these anonymous black uniforms pose a significant threat to the security of veterans and any other Americans forced to endure a security operation conducted by an anonymous agency police officer. It increases apprehension of veterans in the facility and also deters use of the facility. I would think an unidentifiable black uniform with a facemask is the easiest form of identification to fake, so VA's blind acceptance of authority without visual verification is an assault against the safety of everyone. VA must least require a badge, no facemasks, and nametags or officer numbers.
Yet, if the goal of the agency is to increase blood pressure of veterans while lowing costs through lower usage of health care, then I have to say lend a congratulatory, "mission accomplished" to the Fed.
RADIO INTERVIEW WITH TAVIS SMILEY ON VA WAIT LIST SCANDAL
Last Thursday, I interviewed on PRI's Tavis Smiley Show. Tavis Smiley is an international talk show host based in Los Angeles on both radio and TV. I have the show linked below.
Tavis Smiley's executive producer contacted me last week to interview on the current VA Wait List Scandal and other scandals within the agency.
We talked about:
VA Wait List and criminal investigations
Agency credentialing problems
VA's manipulation of media, monitoring of Congress
Secretary Sloan's primary initiatives to fix VA quickly
RADIO INTERVIEW WITH WILL ROBERTS ON DHS HARASSMENT OF VETERANS
Last week, Will and I talked about the DHS harassment scandal in San Diego. I am a regular guest on the show Will Roberts Weekly Telegram. Will Roberts is a "main street" radio and talk show host and public speaker. Skip to minute 34:30 to listen to the start of my interview:

FOREIGN POLICY CITATION ON OBAMA VETTING TEAM EMBARRASSMENT
In its National Security Daily Brief, Foreign Policy included a great variety of commentary on the VA scandal from a number of sources including DisabledVeterans.org:
Benjamin Krause, writing in a blog post on the DisabledVeterans.org Website: Obama "will need to address the apparent and embarrassing incompetence of his staff regarding its inability to properly vet candidates in [a] timely manner…The second, and most difficult, is that he will need to address the fact that being an executive at VA is a very unpopular career choice in the middle of a major scandal."
This may lead some of you to ask the question, "Why is the VA Scandal and treatment of veterans a foreign policy issue?"
Read the answer here in the article, Why is the VA Scandal a Foreign Policy Issue?
Please check back later to learn more about what VA and DHS are working on when they claim to be working for the safety of veterans.
UPCOMING HOUSE COMMITTEE ON VETERANS AFFAIRS HEARINGS
Non-VA Care: An Integrated Solution for Veteran Access JUN 18, 2014 | Hearing
Review of Awarding Bonuses to Senior Executives at the Department of Veterans Affairs JUN 20, 2014 | Hearing
CRAP MOVIE OF THE WEEK FOR TARGETING IRAQ VETERANS TO MAKE A BUCK
Thanks Liam Neeson in Non-Stop.
I am a huge Liam Neeson fan. I am not a fan of anyone who supports the myth of the renegade veteran that turns into a homegrown terrorist – all for the purpose of a mega million-dollar production company to make a buck in the box office.
We have plenty of bad guys in the world. There is no reason to support this myth that former American heroes of the current wars will turn into terrorists. This form of myth building is clearly not lost on the DHS police from last week who reportedly told veterans they were "homegrown terrorists".
Thanks Hollywood for supporting this ridiculous notion that veterans will hijack a plane, risk suicide, and kill innocent civilians. Thanks.