Veteran Petitions To Oust VA Agent Orange Denier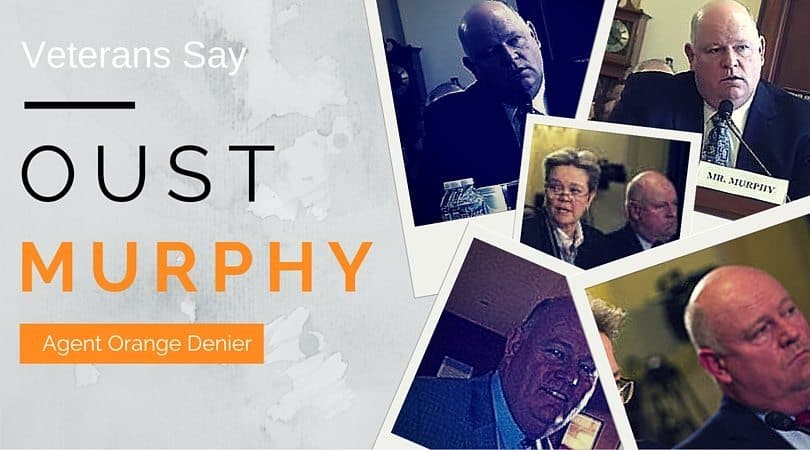 One veteran started a Change.org petition to oust VA Agent Orange denier Thomas Murphy after he was promoted as acting Under Secretary for Benefits at VA.
Thomas Murphy, formerly the Director of Compensation, was just promoted to acting Under Secretary for VBA. Unfortunately for Vietnam veterans, Murphy is a documented Agent Orange denier, and based on his past decisions in contradiction of claims from scientists, burn pit veterans should also be concerned.
In response to the move that has been called "anti-veteran", Thomas Osmond created a petition to support ousting the denier, Thomas Murphy.
SIGN IT: Petition To Fire Thomas Murphy
Please be sure to sign the petition and get read up on the issue. I cannot figure out how our federal government has devolved to such an extent where public workers are able to actively defraud veterans of their benefits.
But that is where we are at today.
THOMAS MURPHY AGENT ORANGE DENIER
RELATED: New VA Benefits Chief Thomas Murphy An Agent Orange Denier
The announcement of the VA appointment came a couple weeks ago. Various veterans groups were obviously unhappy with Murphy's selection, but that is life. According to ExecutiveGov:
The Department of Veterans Affairs is set to appoint Thomas Murphy, acting principal deputy undersecretary of the Veterans Benefits Administration, as acting undersecretary for benefits at VBA.
He will succeed Danny Pummill, who will depart from the benefits undersecretary post that he has held on an acting basis since October 2015, and will also serve as principal deputy undersecretary for benefits, the VA said Thursday.
According to a 2010 VA press release, Murphy's executive background is that he managed the disability and survivor benefit programs that provided more than $45 billion annually in benefit payments to four million Veterans and their families.
That biography explained his background as of 2010 being:
Murphy had been the Director of VA's San Juan Regional Office since August 2009, overseeing benefits for 151,000 veterans living in Puerto Rico, Vieques, Culebra and the U.S. Virgin Islands.

Murphy retired from the military as a Major after serving 15 years in the Colorado National Guard and six years in the Marine Corps Reserve.

Murphy joined VA from The Home Depot, where he was a Director of Merchandise Planning and oversaw more than 1,950 stores, with more than $8.5 billion in annual sales.

Murphy previously was a Senior Tactical Planning Manager for Qwest Communications and worked for 10 years at the Department of Defense in a variety of positions.
Now that reports are surfacing that Murphy is an Agent Orange denier, it will be interesting to see how long he lasts at the helm of VA Benefits.
Source: https://www.change.org/p/va-secretary-robert-a-mcdonald-have-thomas-murphy-veteran-s-antagonist-dismissed-from-the-va