MMQB: Should I Stay Or Should I Go…?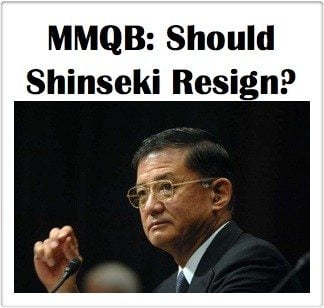 Things are heating up in the world of veterans benefits.
A TIME magazine journalist called for Secretary Shinseki to step down. Congressman Miller called for Under Secretary Hickey to step down.
All this talk of resigning and stepping down reminded me of the classic Clash song, "Should I Stay Or Should I Go?"
"Darling you got to let me know
Should I stay or should I go?
If you say that you are mine
I'll be here 'til the end of time
So you got to let me know
Should I stay or should I go?"
Rachel Maddow on MSNBC is covering veterans issues closely last week. In fact, there are a lot of people looking at veterans issues, including TIME journalist  and troublemaker Joe Klein.
While we all appreciate the new attention, I can't help but wonder, "Why now?" Why not 3 years ago? Why not 20 years ago? There is a reason lurking in the shadows; we can be guaranteed of that much at least.
This MMQB Introduction
Welcome to another week of Monday Morning Quarterback. This is where I get a little less formal and tell it like it is.
For this MMQB, I'll be looking at both sides of the argument about our new found attention. It really hit the media hard last week, and I have a hunch as to why.
I suspect it has to do with political reasons. Someone wants Secretary Shinseki's job, and they have a lot of juice. We just don't know who.
Before we get into the press, I'll get into VA statistics and the progress of a few investigations I have started.
________
VA Statistical Overview
A couple years ago, the Dept. of Veterans Affairs committed to increasing transparency. It had more to do with a mandate from President Obama.
Two databases they created show us a somewhat current medical and benefits news in Aspire. The other is the VA's Monday Morning Workload Reports.
The bad news with the VA Aspire Benefits system is that it is not current as of January 2013. VA Aspire Health Care has not been updated since September 2012.
Monday Morning Workload is the only database with regularly updated material.
An interesting thing happened on March 21, 2013, two days after Under Secretary Hickey was grilled by Congress.
The VA added notes here about the composition of the disability backlog. For years, the page has been void of this kind of information, which I find helpful.
Good call Under Secretary Hickey for having your people add the information.
Here is what it said:
Characteristics of the pending Compensation Inventory
VA tracks claims that make up the pending Compensation Inventory by a Veteran's era of service.   As of Dec 31, 2012, claims from Veterans of the following eras make up VA's inventory (total number of claims) and backlog (claims pending for more than 125 days):
• Post-9/11 (Iraq and Afghanistan conflicts) claims make up 21% of the total inventory and 22% of the backlog
• Gulf War (definition) claims make up 23% of the total inventory and 21% of the backlog
• Peacetime (period between end of Vietnam and Gulf War) claims make up 11% of the total inventory and 11% of the backlog
• Vietnam claims make up 37% of the total inventory and 38% of the backlog
• Korean War claims make 4% of the total inventory and 4% of the backlog
• World War II claims make up 3% of the total inventory and 3% of the backlog
• Other era claims make up 1% of the total inventory and 1% of the backlog
Original vs. Supplemental Claims
VA's current Inventory of compensation claims contains both "original" claims—those submitted by Veterans of all eras who are claiming disability compensation from VA for the first time, and "supplemental" claims—those submitted by Veterans of all eras who have previously filed for disability compensation with VA.  Below is a breakout of the original and supplemental claims in the current VA inventory:
• 60% of pending claims are supplemental, 40% are original.
• 77% of Veterans filing supplemental claims are receiving some level of monetary benefit from VA.
• 11% of Veterans filing supplemental claims already have a 100% disability rating (receive $2800 or more per month) or qualify for Individual Unemployability (compensated at the 100% disabled rate).
• 40% of Veterans filing supplemental claims are already rated at 50% disability or higher.
• 43% of supplemental claims are from Vietnam-era Veterans; 19% are from Veterans of Iraq and Afghanistan conflicts.
There are 3.9 million Veterans of all eras who are currently in receipt of disability benefits from VA.  Of those, 10% have a supplemental claim in the pending compensation inventory.  In fiscal year 2012, VA delivered $44 million in disability benefits.
 ________
MSNBC Rachel Maddow Interviews IAVA On Backlog
Last week, Rachel Maddow interviewed Paul Reicroft and the rest of IAVA about the backlog.
IAVA has created the End The Disability Benefits Backlog Petition. It is a petition to ask President Obama to personally fix the disability backlog.
They want the President to create a commission to end the suffering of all veterans caught waiting years for their benefits. Here is their interview: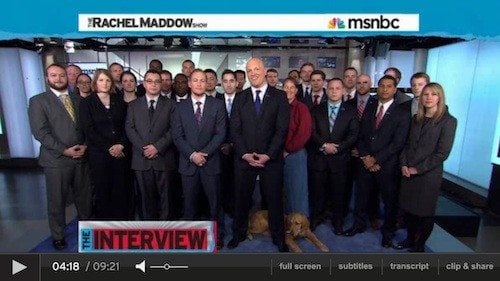 ________
Should I Stay Or Should I Go Now…?
VA Secretary Eric Shinseki was asked by TIME journalist Joe Klein to resign.
What resulted from Veteran Service Organizations was surprising. Instead of running with the Times, these VSO's chided against Klein. They claimed his article was one sided and an unfair critique of Secretary Shinseki.
But was it?
In Joe Klein's article, "Ten Years After: A National Disgrace," he flatly says that it is time for Secretary Shinseki to step down.
Klein's take on Secretary Shinseki is that the backlog happened under his watch. Since it happened, the Secretary has not taken the needed steps to fix it.
Klein also says the Secretary is partially to blame for the tech scandals where VA and DoD have blown billions of dollars with no fixes there, either.
I can see how this would make sense to a person like Joe Klein or any other person outside of the mess that is our American bureaucracy. Changing the path of a behemoth of an organization is like turning the Titanic in the Chesapeake Bay. It must be done carefully and will take time.
On the outside, this could appear like Secretary Shinseki is not doing his job.
Here are some key factors to consider on the other side of the argument.
The Secretary cannot violate any union contracts meaning he will have a harder time firing bad actors.
Government contracting to get projects done can take years, not months.
Convincing stakeholders to buy into a policy of "change" can take years.
People like the Secretary come and go, a bureaucrat's career lasts 30 years.
I will summarize these points by asking a simple question, "Who do you think really makes decisions within the Dept. of Veterans Affairs?"
If I were a betting man, I would bet that a lot of other people make more decisions that last longer within the VA than any Secretary of any agency.
In response to Klein's article, traditional veteran service organizations jumped behind Secretary Shinseki in support. DAV, VFW, Legion, SVA and others were in lock step behind the Secretary.
The gist of their argument is that the Secretary is a good man who works hard. The fix is on its way. We just need to be patient. And, that Joe Klein guy is a real asshole, in a nutshell.
Here are some excerpts of what they said to give you some context:
"Like Mr. Klein, we are disappointed that VA and the Defense Department have not been able to figure out how to combine their electronic medical records. But he doesn't understand that this huge and complicated goal, originally established over thirty years ago by the late G.V. "Sonny" Montgomery (the long-time Chairman of the House Veterans' Affairs Committee), has eluded all previous VA Administrators and Secretaries. We do not believe it's fair to blame only the current incumbent for this chronic failure. Mr. Klein acknowledges most of the accountability lies at the reluctant feet of DOD officials and the closed military culture of the Army, Navy and Air Force. We agree."
"DAV is not happy about all the Secretary's decisions; nor of the Administration in which he serves, and we become as alarmed as anyone when VA fails. And make no mistake about it, VA does make mistakes. In an agency of 311,000 people working in 1,500 locations, and providing myriad human and social services to millions, mistakes and missteps are inevitable. Unlike private business, VA's missteps are public information, and they are often sensationalized by the media and editorial writers. As opposed to Mr. Klein's view demanding the guillotine, we prefer to work constructively with the Secretary and VA to correct errors when they happen, rather than demand the boss' head as a way to fix things."
"Freedom of the press isn't a license for Joe Klein to twist reality about someone who has volunteered virtually his entire life to serve his country," said John E. Hamilton, who leads the 2 million-member Veterans of Foreign Wars of the U.S. and its Auxiliaries. Klein's column, entitled "Ten Years After: A National Disgrace," is posted on the magazine's website and is being published in its March 25 edition."
"Secretary Shinseki has one of the toughest jobs in America," said Hamilton, a combat wounded Marine Corps rifleman in Vietnam. "It is his responsibility to heal, help and care for our wounded, ill and injured veterans from all generations. What he doesn't need is criticism from those who have little or no understanding of the real issues or challenges facing his department."
"According to Klein, Shinseki should "take the fall" for the VA claims backlog, he's "old-school military" (whatever that means), "stoic," and "wary of the press" (wonder why); he doesn't have the "creativity and leadership skills" to deal with VA challenges, and because unnamed detractors are "legion among … Iraq and Afghanistan veterans."
"A few days after his call for Shinseki's resignation, after several of the most prominent Veterans Service Organizations with millions of members lambasted Klein and supported Shinseki, Klein wrote "Eric Shinseki is a fine man, and a courageous one. He spoke truth to power at the beginning of the Iraq war." But, he still needs to go."
"Really Joe? And who are you to question the secretary's leadership, judgment, advocacy for veterans, and knowledge of veterans' issues?"
The Reality of the Matter
In reality, both sides right and both are wrong.
Yes, Secretary Shinseki has worked hard to help improve the VA. However, he has some appointed officials under him that are making the problem worse. Further, decisions being made to remedy many problems within the VA are not working.
I have heard rumors from insiders who point the finger at Chief of Staff John Gingrich and Deputy Secretary W. Scott Gould. My sources claim these two are at the root of the problem as well as the many entrenched bureaucrats who are also anti-veteran.
This is possible. But the reality is that a chain is only as good as its weakest links. Secretary Shinseki is supposed to be in charge. Regardless of who is doing what within the VA, the fact is that the "leader" of the agency needs to separate the wheat from the chaff and move veterans forward for the better.
Instead, we have an organization that is largely out of control. Congress could fix this in party by putting all those who testify on behalf of the VA under oath by swearing them in. That way, we would get a whole lot closer to the truth.
But, maybe it is not the truth that we are after when it comes to these hearings. Maybe we are merely watching these parties go through the motions – checking boxes – to further their political and professional ambitions.
While I wish this was not the case, I believe it is the real truth. We will never get the truth out of the VA because Congress doesn't want it.
________
Should I Stay Or Should I Go Now – Part II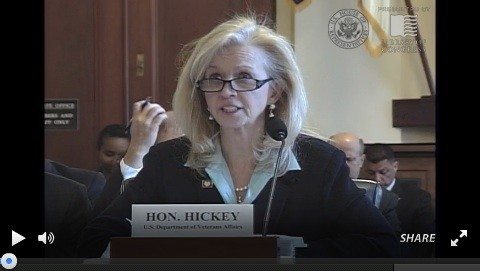 Note
: skip ahead in video 20 minutes to when hearing actually starts.
Under Secretary Allison Hickey was also asked to resign this week after less than two years on the job.
Congressman Jeff Miller, chairman of the House Committee on Veterans Affairs, asked retired General Hickey to resign because the backlog has not been fixed.
The request came during an interview with the Center for Investigative Reporting. In the interview, Congressman Miller said, "I think she is overwhelmed, and I would call for a replacement."
While some feel Congressman Miller was justified in his request, insiders believe his push was premature. "She is the only positive force. You have to remember, VA's idea of morale was that the beatings would continue until morale improves." This focus on morale might be a link to what is really going on.
Hickey may be focusing on morale, which may be working. Some within the VA may be uncomfortable with this, and those individuals are the ones holding back the improvements, assuming my source was giving me the straight scoop.
Let's look at the facts that we can know after a simple Google search.
Allison Hickey Backgrounder: Allison Hickey took the position on June 6, 2011, which gives her twenty months from her appointment to this week.
If we cannot get the VA to change its anti-veteran policies in 70 years, I think it is delusional to believe Under Secretary Hickey could fix the backlog in less than 2 years.
This argument, however, does not mean that she is or is not equipped to do the job. However, she did work within Accenture, a consulting company that implemented customer service solutions for the National Geospatial Intelligence Agency.
As an Air Force officer, she logged more than 1,500 hours of flight time in KC-10A, KC-135A, T-38 and T-37 aircraft. While at the Pentagon, she was head of program and resource implementation.
To me, this seems like a solid background for a leader, but does it mean she can turn around the broken VA disability benefits system? Maybe.
Keeping this in perspective, we have experienced over 70 years of a broken VA disability compensation system. To date, no one has been able to fix the system.
No Congressman. No VA employee. No human being.
I am scheduled to meet with Under Secretary Hickey in April. I'll report back to you with my impression.
________
Best Veterans Tweets
Here are some tweets from last week that I liked. If you click on the image, it will take you to the actual news story.