VA Under Investigation For $100M In Conference Spending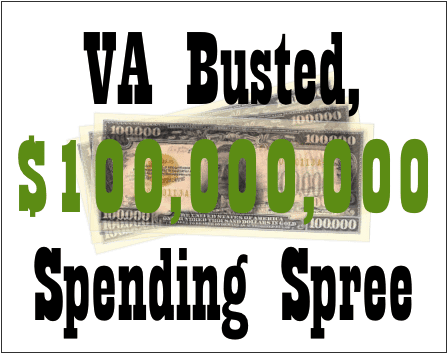 It looks like the party is over for VA officials going on lavish vacations for "training" purposes.
We came across this today. NBC reported that the OIG has revealed an investigation into the VA for spending over $100,000,000 on training and conference trips. Meanwhile, the VA claims it is strapped when it comes to hiring veterans to adjudicate claims of other veterans. Over 2,000 more people could have been hired to work on the VA disability backlog with the money the VA overspent on trips and conferences.
Two weeks ago, the OIG released a report that the VA had spent close to $10 million on training trips to Orlando for just their Human Resources professionals. Now, that number seems to be snowballing.
[quote]The Department of Veterans Affairs is being investigated by the Office of the Inspector General for allegedly spending millions on two human resources conferences held in Orlando last year.
In initial findings provided to the House Committee on Veterans' Affairs, the OIG alleged that VA spent between $3 million and $9 million on the two gatherings, at which employees may have received "improper gratuities, including alcohol, gift baskets, concert tickets, embroidered pillow cases, stretch limousines, helicopter rides, and spa treatments."[/quote]
(In case you're wondering, here's what $52,000 looks like..)
%EMBED3%
[quote]Among the expenditures were $3,000 for two photographers; $84,000 for VA-branded promotional items, including pens, highlighters and hand sanitizers; and $52,000 for videos featuring a character in the likeness of Gen. George S. Patton. The video also includes interviews with VA staff members who discuss the importance of understanding the needs and experiences of veterans.
"This parody should never have been produced and this misuse of taxpayer funds is completely unacceptable," VA said in a statement issued to NBC News, referring to the use of the Patton character. "This event took place over a year ago and we have already adopted new rules that reflect our continuing commitment to safeguarding taxpayer dollars."
On Wednesday, two members of the House Committee on Veterans' Affairs released a letter sent Aug. 16 to VA Secretary Eric Shinseki demanding to know exactly how much the department had spent on conferences since 2009.
In a February 2011 hearing, a VA official said the department budgeted $20 million for the expenditures, but testimony given in November indicated the VA spent "a little over $100 million," according to the letter. VA later said in a post-hearing response that an "accurate, reliable figure on the number of conferences (held in the past several years) is not available."
"If (the) $100 million figure is accurate, it raises questions of excessive conference spending in a tight fiscal climate," wrote authors Rep. Jeff Miller, R-Fla., who is the chairman of the committee, and Rep. Bob Filner, D-Calif.[/quote]