Botched TBI Exams Blocked Native American Veteran From VA Benefits And Health Care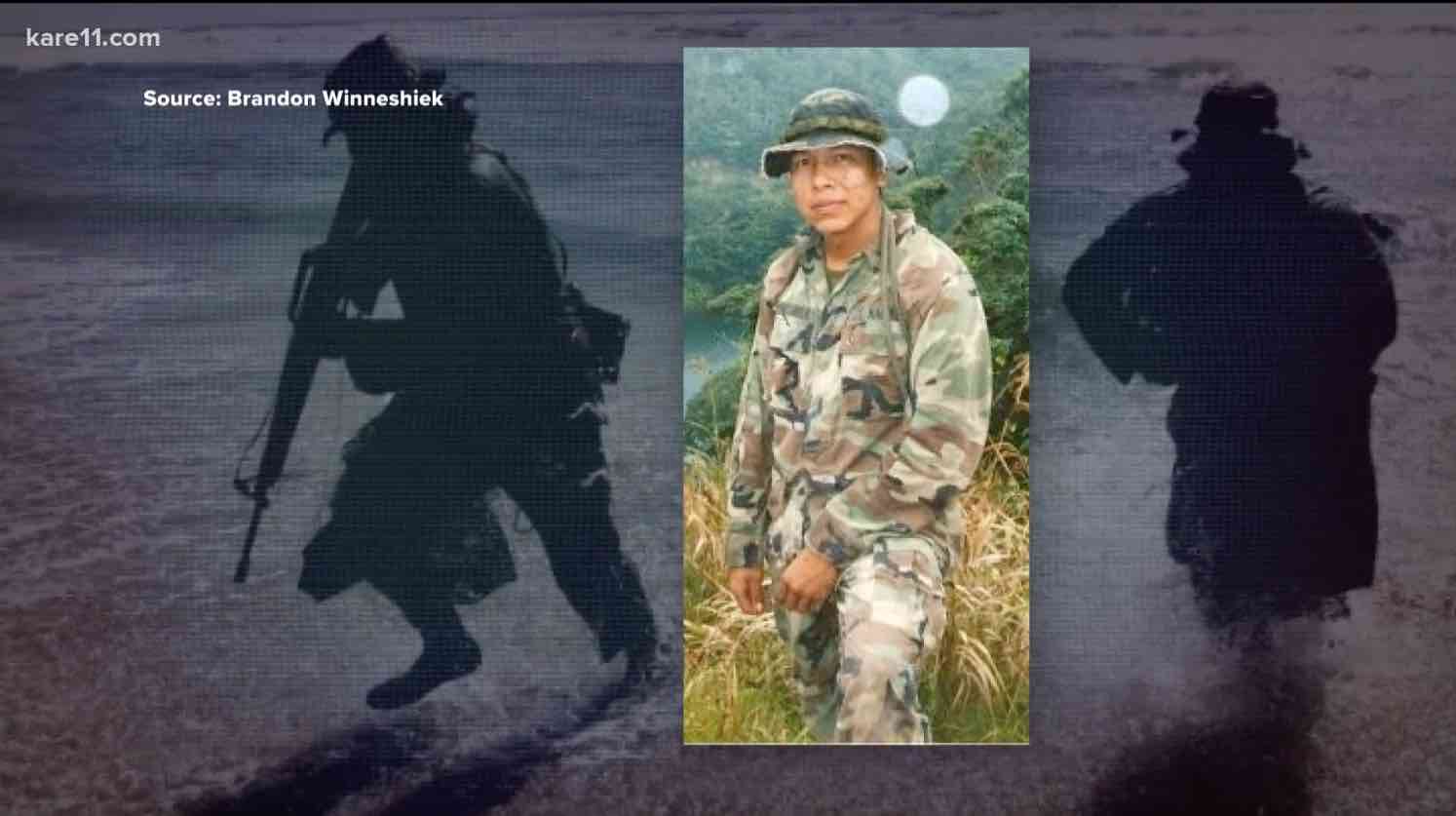 An investigative journalist exposed another case of VA screwing a Native American veteran out of benefits, this time disability benefits for traumatic brain injury.
Marine veteran Brandon Winneshiek of the Ho Chunk tribe in Wisconsin was repeatedly injured by Improvised Explosive Device (IED) bomb blasts in Ramadi.
While on foot patrol, the blast from two IEDs knocked him off his feet. "And next thing I know, I'm picking myself up off the road, looking to make sure I had both arms and both legs," he said while wiping away a tear.
"Next thing you know – boom!" Brandon says, throwing his hands in the air as he describes a bomb placed in the stairway of a building his unit was using as a listening and observation post. "All I remember is getting up off the ground. I had been thrown across the room. My ears were ringing. I remember seeing stars and just confusion."
KARE 11 investigative journalist AJ Lagoe highlighted Winneshiek's experience this week in follow up to the 2015 scandal exposing VA's longtime use of unqualified doctors and nurses to (mis)diagnose traumatic brain injury.
RELATED: VA OIG Finally Releases TBI Report On Disability Scandal
VA's Large TBI Unqualified Doctor Scandal
I worked closely with KARE 11 to help expose the scope and impact of the scandal on veterans desperately fighting for disability benefits. Former VA Secretary Robert McDonald issued an equitable relief policy as a result to help nearly 25,000 veterans impacted by the malfeasance.
Earlier this week, I wrote about another instance where VA was caught blocking another Native American veteran from emergency healthcare for a kidney transplant. The excuse there was biased testing VA provided and then cited as the basis to deny an expensive kidney transplant.
RELATED: Tribal Advisory Committee Holds First Meeting
VA TBI Diagnosis Roadblocks
In this newest story, the Marine veteran needing TBI benefits repeatedly ran into roadblocks when fighting for compensation benefits for his brain injury residuals.
He was first seen at the Compensation clinic at Minneapolis VA Medical Center in 2012 for a TBI diagnosis for compensation benefits.
The doctor there concluded the veteran lacked a TBI. But, that doctor was one of many doctors and nurses conducting TBI examinations who was unqualified to conduct the exams.
RELATED: VA Secretary Offers TBI Scandal Fix
As part of a massive equitable relief undertaking, then VA Secretary Robert McDonald issued a relief plan and notice to over 24,000 veterans potentially affected. These veterans would receive new exams and significant support from VA to be made whole if the deficient exam was material, meaning, if a proper exam resulted in a favorable outcome for the veteran.
VA later referred Winneshiek to the Tomah VA Medical Center in 2015.
There, the veteran was directed to a qualified doctor who used an inadequate psychological screening exam to assess the TBI.
The physician, Mary Jo Lanska, a neurologist. She conducted a Mini-Mental State Exam (MMSE). She concluded the veteran did not have a TBI.
A Gundersen Health System neuropsychologist, Dr. Justin Otis, told KARE 11 news that the MMSE exam is generally used to assess elderly patients for dementia.
"Are these brief screening tools adequate to diagnose traumatic brain injury?" asked KARE 11's A.J. Lagoe.
"They are not," Dr. Otis replied. "It's not meant to be a diagnostic tool. It's not sensitive or specific for traumatic brain injury."
Winneshiek continued to seek benefits from VA for the TBI but kept getting denied. He was not only denied compensation but also healthcare for the condition.
The Tomah VAMC team later referred Winneshiek back to Lanska in 2020 who denied a consult for TBI healthcare services citing her previous inadequate screening that concluded the veteran did not have a TBI.
Private Sector Fixes Botched TBI Diagnosis
The veteran eventually had to pursue care outside VA after the multiple refusals to help. He was then diagnosed with his TBI by Dr. Otis in perhaps an example of why allowing veterans to seek private care instead of VA mandated care is a worthwhile policy consideration.
Winneshiek was able to use the private assessments by Gundersen to win his benefits for TBI. And, predicably, while VA did grant TBI benefits, it refused to backdate the award.
How many other veterans were affected by the sham procedures employed by VA over the years that blocked veterans from benefits?
Probably countless, or at least VA would have us believe the number cannot be tallied.
Source: https://www.kare11.com/article/news/investigations/kare-11-investigates-broken-promises-unqualified-doctors-inadequate-tests-veterans/89-766d85fb-7c92-4b52-b031-ee73f5ec0105