Flip or Flop: Will VRRAP be a VA Sec McDonough Success?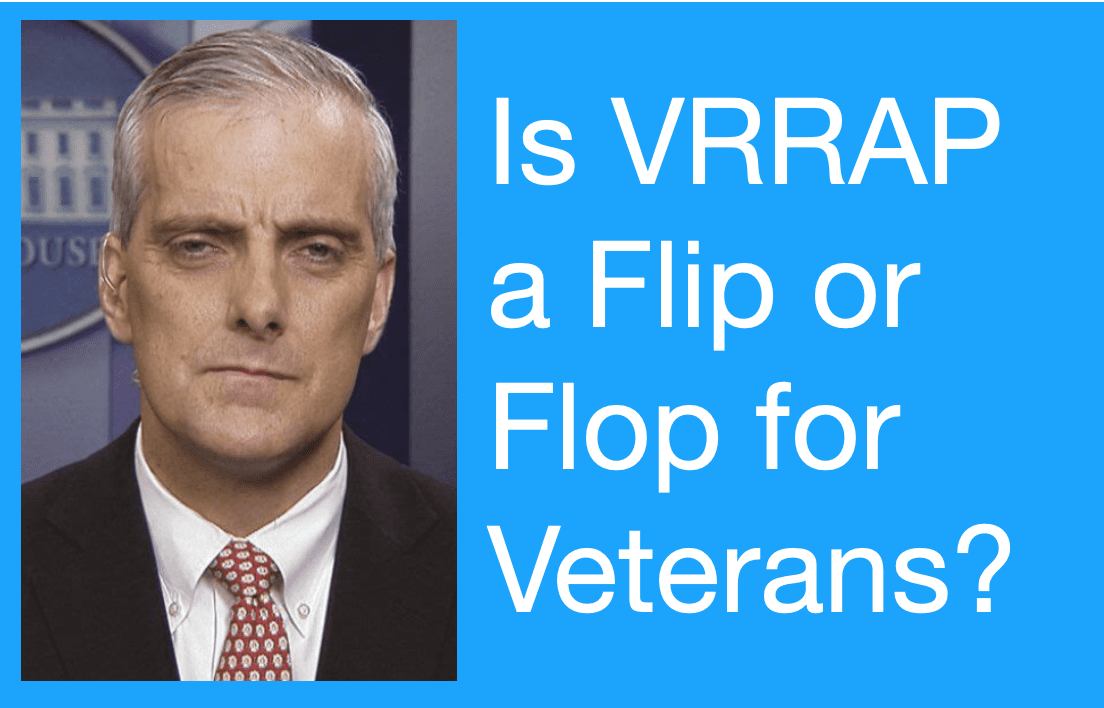 The Veteran Rapid Retraining Assistance Program (VRRAP) stood to make a huge impact for veterans impacted by the pandemic with its whooping nearly $400 million budget.
Lots of money. Huge support from lawmakers and stakeholders alike. What could go wrong?
Subscribe to our weekly newsletter and stay up to date.
Apparently, a lot can go wrong with a program when policymakers create a massive program with little interest from the community it's supposed to serve.
The budget matters little when few veterans use the program.
MilitaryTimes covered the story last week in what seemed like a preemptive disclaimer from VA officials trying to explain why VRRAP numbers stink.
Why VRRAP Sounds Like A Flop
On March 11, 2021, President Biden signed rapid retraining program into law as part of the American Rescue Plan of 2021. The program was created to help unemployed veterans receive GI Bill style support when retraining.
Good so far. And God knows, veterans need as much help as we can get when hit by unemployment during the pandemic.
The program would be spearheaded under authority of VA Secretary Denis McDonough, a prior White House chief of staff during the VA health care wait time scandal under former President Obama in 2014.
McDonough enjoys support across the aisle and seems professional when speaking with members of the news media and lawmakers.
VRRAP policy capped enrollment to 17,250 participants. This would give a decent population size to explore whether a program of this scope could work.
And as noted, lawmakers allocated nearly $400 million in funding for the program. That's a lot of funding.
An applicant could not be eligible for any other training program, and they needed to pursue a high-demand occupation.
Retraining programs like this can be good for both the participant and taxpayers when they run correctly. It's widely known within vocational rehabilitation programs that successful participants eventually pay back the cost of their training within a few years of working through tax payments.
The logic goes, then, that similar programs that focus on training successful applications should likewise result in a benefit not just to the individual but the tax coffers.
So far, so good.
Veterans apparently didn't get the memo about the program being great as few veterans actually participated. After 8 months, only 3,400 veterans are participating in the program.
VA Education Service program integration officer Ricardo Da Silva said only 700 have graduated from training. And, of that, around 70 found new jobs through the program.
Of the total funds allocated, VA has only committed around $100 million due to the lack of interest. Whatever monies are not spent will be returned to the US Treasury.
Interesting issue. It sounds like VA is already considering it a flop.
But doesn't it seem a little early to measure the success of the program? I mean, the program has not been out for a year, and it only provides veterans with 1 year of benefits.
Perhaps that might explain the low graduation numbers since we are only at the eight-month mark, no?
I started writing this story Sunday evening and could have published it then as is, following the establishment narrative published by MilitaryTimes. But something about the narrative made little sense, so I decided to let it percolate.
RELATED: Quick Facts – Veteran Readiness & Employment (Another Retraining Program)
More To The Story?
First, VA rarely admits defeat, ever, and especially not to MilitaryTimes or elsewhere unless there is something else going on.
In this context, the program has not even reached a full term of 12 months for veterans perhaps taking the entire one year of benefits.
700 veterans have graduated. Only 70 have found jobs. Is that due to problems with the program or problems with the job market or a failure within VA by not allocating resources to help the participants find work after graduation?
By focusing only on veteran graduates in programs that last 8 months, we seem to be limiting the sample from many veterans attending programs that last 8 months or longer.
Da Silva provided a fair amount of anti-VRRAP arguments including comparison with the VETTEC program and admitting to shortfalls in how the program was developed.
VETTEC Comparison
A similar program called Veteran Employment Through Technology Education Courses (VETTEC) launched in 2019 with a $100 million budget had significantly better success. Da Silva said that program saw 1,700 graduates finding new employment with an average salary of $60,000.
RELATED: VR&E Renames Itself
Something Wrong? Rapid Retraining Options
Lawmakers are considering making VETTEC a permanent benefit within VA but are puzzled about the poor numbers from VRRAP.
"This committee worked closely with VA to develop [the program] and set the funding based off of anticipated veteran demand for the program," said Rep. Mike Levin, D-Calif., chairman of the House Veterans' Affairs Committee's economic opportunity panel.
Apparently 5,000 people were eligible for the program who received initial approval but did not follow through.
A veteran whose employment was adversely affected by the pandemic can use VRRAP but only if they exhausted all other education training benefits, first.
The training is limited to only high-demand occupation, which may create a bit of the problem.
The rapid retraining program was provided a list of occupations by the Department of Labor. A review of the list of 228 occupations reveals a subtle problem.
The program limits veterans to 12 months of training, and the training types are limited to completion of an Associate's Degree, Non-Degree program, or Certificate.
Meanwhile, and I am not joking here, the list created by Labor included occupations that require significant schooling and/or training that cannot be accomplished in 12 months:
Chief executive – Master's in Business Administration
Commercial pilot – Pilot's license with flight ratings
Respiratory therapist – Master's / Doctorate
Chemist – Doctorate
Art Director – Master's in Fine Arts
Aerospace engineer – Bachelor's Degree plus Licensure
Mediators – Juris Doctorate, Certification
Accountant – Bachelor's Degree plus Licensure
Human resources manager – Master's in Human Resources
Emergency management directors – Graduate degree
Space scientist – Doctorate
Don't get me wrong, the list also included occupations that require significantly less training like paralegal and barber and actor, but a large chunk of occupations was dedicated to high-demand occupations that require significant training and time.
In Minneapolis, a person training to cut hair might attend Aveda, whose training programs last 7-13 months.
Paralegal training at Inver Hills Community College takes more than one year.
As for becoming an actor, well, I'm not sure if there's a program suitable under VRRAP.
RELATED: Veterans in Caregiver Program get Adopted
VA VRRAP Benefit Eligibility
The training goal is to learn a new skill or complete a certificate program. VRRAP gives veterans up to 12 months of tuition, fees, and monthly housing allowance payments. The amounts are based on Post-9/11 GI Bill benefits amounts.
Participants are being trained for employment in high-demand occupations.
To qualify, veteran must meet the following criteria:
At least 22 years old, but not older than 66, and
Unemployed because of the COVID-19 pandemic, and
Not eligible for GI Bill or Veteran Readiness and Employment (VR&E) benefits
(or, if eligible for the Post-9/11 GI Bill, you've transferred all of your benefits to
family members), and
Not rated as totally disabled because you can't work, and
Not enrolled in a federal or state jobs programs, and
Not receiving unemployment benefits (including CARES Act benefits)
VA VRRAP High-Demand Occupations
The VRRAP program provides training toward an Associate's Degree, Non-College Degree, or Certificate that leads to a high demand occupation. The "high demand occupation" list was a requirement of the American Rescue Plan Act of 2021 compiled by the Commissioner of Labor Statistics.
Some of the occupations on the list may raise an eyebrow when compared to the limited timeframe for training.
I am only listing a few from each grouping, and I did not need a $400 million budget to figure out what might be holding the program back.
Management Occupations
Chief executives
General and operations managers
Marketing managers
Sales managers
Human resources managers
Business and Financial Operations Occupations
Management analyst
Human resource specialist
Fundraiser
Marketing research analyst
Accountants and auditors
Personal financial advisors
Loan officers
Computer and Mathematical Occupations
Computer systems analysts
Information security analysts
Computer network architects
Computer programmers
Actuaries
Data scientists
Architecture and Engineering Occupations
Aerospace engineers
Bio-engineers and biomedical engineers
Chemical engineers
Electrical engineers
Mechanical engineers
Life, Physical, and Social Science Occupations
Environmental engineering technologists
Animal scientists
Soil and plan scientists
Zoologists and wildlife biologists
Chemists
Community and Social Service Occupations
Substance abuse, behavioral disorder, and mental health counselors
Child, family, and school social workers
Clergy
Directors, religious activities, and education
Health education specialists
Legal Occupations
Arbitrators, mediators, and conciliators
Paralegals and legal assistants
Education Instruction and Library Occupations
Kindergarten teachers
Postsecondary teachers
Library technicians
Museum technicians
Special education teachers
Arts, Design, Entertainment, Sports, and Media Occupations
Art Directors
Fine artists
Special effects artists
Actors
Coaches and scouts
Healthcare Practitioners and Technical Occupations
Dietitians and nutritionists
Radiation therapists
Respiratory therapists
Nuclear medicine technologists
Surgical technologists
Healthcare Support Occupations
Nursing assistants
Occupational therapy assistants
Massage therapists
Medical assistants
Physical therapist assistants
Protective Service Occupations
First-line supervisors of firefighting and prevention workers
Firefighters
Fire inspectors and investigators
Personal Care and Service Occupations
Barbers
Hairdressers, hairstylists, and cosmetologists
Makeup artists
Manicurists
Skincare specialist
Sales and Related Occupations
Securities, commodities, and financial services sales agents
Sales representatives
Sales engineers
Office and Administrative Support Occupations
Bookkeeping, accounting, and auditing clerks
Court, municipal, and license clerks
Order clerks
Human resources assistants
Statistical assistant
Construction and Extraction Occupations
Carpenters
Electricians
Glaziers
Plumbers
Structural iron and steel workers
Installation, maintenance, and repair occupations
Farm equipment mechanics
Motorcycle mechanics
Millwrights
Commercial drivers
Wind turbine service technicians
Production Occupations
Machinists
Water and wastewater treatment plan and system operators
Computer numerically controlled tool programs
Molders, shapers, and casters
Transportation and Material Moving Occupations
Airline pilots, copilots, and flight engineers
Commercial pilots
Captains, mates, and pilots of water vessels
Motorboat operators
Ship engineers
VRRAP Approved Education Institutions
If you are still reading this, perhaps you are interested in the free money and tuition that comes with the program.
VA published a list of rapid retraining certificate programs and associate's degree programs being offered throughout the national.
Curiously, the largest lists of approved programs belong to two Kentucky schools, Bluegrass Community and Technical College in Lexington and Somerset Community College in Somerset.
Most of the occupation list provided by the Department of Labor are not in fields where a veteran can get trained within 8 months, which was the focus of the story. Again, VA chose to come out with this information through a senior official.
Why?
Most occupations on the list require graduate training. Many others require at least more than 12 months of training to qualify if starting from zero.
Instead, the program seems to be a booming opportunity to fund certain community colleges and vocational institutions. Listed above are two that stand to benefit substantially, both in Kentucky, should VA fill the spots.
As for the overall cost, VA is allocated $23,188 per veteran. That seems to be a lot of money for a certificate program or associate's degree training that lasts no more than 12 months, right?
When you subtract out the monthly subsistence payment, through, $1,500 times 12 months comes to $18,000. It leaves only $5,188 for cost of training for those who use the full entitlement.
Instead, what I think is happening, if I were a betting man, would be VA is trying to stick a fork in the program now to reconfigure or allocate the funds to another program.
Either someone failed to do their homework by setting up a program that would not work, or, the program was not designed to work right. Either way, there is a lot of money out there soon to be returned to the US Treasury if more veterans don't get access to the help.
Please comment below if you have experience with VRRAP. Maybe it will help solve the riddle of the underused but massively funded benefit.