MMQB: VA Official Caught Lying on Tape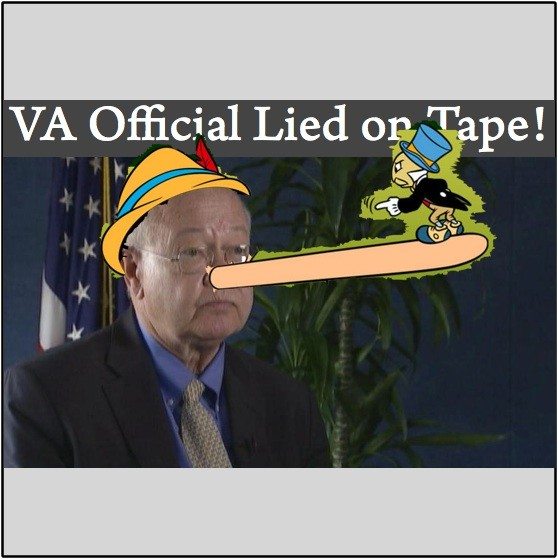 A lot happened last week that will carry over into the weeks ahead. Most of you are likely aware that the Senate was unable to pass a veterans benefits bill, and I thought I should toss in my two cents on what happened.
Beyond this, VA seems unable to speak truthfully about anything related to deaths of veterans when VA may have contributed. Shame shame shame, but what else is new?
Hi and welcome to another edition of my Monday Morning Quarterback for Veterans. I am your host, Benjamin Krause, founder of DisabledVeterans.org and impassioned veterans advocate.
Today, I will talk about the following:
Robert Petzel caught lying to Congress
Senate fails veterans on funding
VA disability appeals skyrocket
Upcoming Congressional Hearings
POPVOX Weekly Legislative Update
Why is Robert Petzel lying?
DC Caller was quick on the scene with a report about Robert Petzel's false statements last week during a House Committee hearing about preventable veterans' deaths at a Veterans Health Administration (VHA) facility.
Robert Petzel is the Under Secretary for VHA who got his major managerial start out of the Minneapolis VA, VISN 23. He since jumped in the ranks and has been of head of VA's Veterans Health Administration for a few years.
Petzel is set to step down shortly due to numerous health care scandals over the past years and for his inability to ensure Congress was provided with timely oversight materials. I am sure he will go on to enjoy a hugely profitable career selling services or devices back to VA like so many other VA officials in the past.
During the recent hearing in question, Petzel was tripped up by Rep. Tim Huelskamp about numerous issues, not least of which was the death of numerous veterans out of the Atlanta VHA.
"At the Atlanta VA Medical Center the Inspector General linked three preventable patient deaths to widespread mismanagement," Rep. Tim Huelskamp said to Dr. Robert Petzel, chief of the VA's Veterans Health Administration.

"Well, first of all the IG did not link any deaths to the activity at Atlanta," Petzel replied. "There were three mental health deaths but the IG made no comment in their report about the quality of care that was delivered to them or the course of action."
Petzel's claim did not pass the smell test. VA's own Inspector General determined the deaths were in fact linked to poor management.
"We substantiated that staff's failure to 'watch' patients may have contributed to the subject patient's death," according to a related April 17, 2013 IG report titled, "Mismanagement of Inpatient Mental Health Care Atlanta VA Medical Center."
View it for yourself. Skip ahead to minute 4 to jump right to his statements on the subject.
Senate fails to pass veterans funding
I have read both sides of this and here is what I think happened.
The bill lost mainly along party lines and failed to gain the 60 votes needed to move to the next stage: 56 to 41.
This means Democrats were unable to convince a few Republicans to cross the aisle to support it. A while ago, I predicted the bill to be dead on arrival when it surfaced that Democrats were being unrealistic with the "asks" within the bill.
Democrats decided to throw everything including the kitchen sink into the $21 billion funding bill. It was unrealistic and irresponsible at this point in light of the current political climate. My best guess is they knew Republicans would not cross over.
"This afternoon, Senator Bernie Sanders of Vermont brought forth a carefully crafted bill to provide $21 billion in new veterans benefits over the next decade. These included medical benefits, education benefits, and job-training. It contained 26 provisions that came from the Republican members of the Veterans Affairs Committee, which Sanders chairs. It was so wide-ranging that it contained a provision that would eliminate a rule prohibiting the Veterans Administration from covering in vitro fertilization on behalf of veterans whose wounds prevent them from conceiving a child in the usual manner."
It seems the bill failed due to an inability to prioritize needs and fund only those needs, which are vital. For example, the bill would have provided additional funding for home care needs for veterans severely wounded in combat. This makes sense. However, when you juxtapose that with in vitro fertilization language, it looks like the authors of the bill were unable to prioritize needs. This makes it a clear nonstarter.
If we cannot take care of those veterans we currently have, why would we additionally pay for those same veterans to have children? With a booming economy and tax surplus, maybe such a provision should be considered.
But, while I sympathize with those veterans, I think a more common sense approach to the bill was warranted in light of the current budgetary discussions about reducing benefits for active military personnel and veterans alike.
Meanwhile, Republicans attempted to attach things to the bill like Iran sanctions and also heeded to conversation about Benghazi. Now, this seems ill timed as well and in relative bad taste. Republicans here are basically saying, "Let's only provide veterans benefits funding if we can create another war." Horrible idea.
I think they should instead focus on funding the programs they are currently required to fund and stop going to war all across the world until we pay for it in real time.
All in, I do not believe either party intended for the bill to pass, otherwise they would not have acted with such childlike semantics.
If true, this means veterans are being abused by both parties. Democrats hope headlines will help them during this midterm election. Republicans hope to keep certain debates alive in their quest to take both the House and Senate.
Both parties are failing veterans and using our causes for political football, but what else is new?
Huffington Post: Senate Republicans about to screw Veterans – All for a campaign ad
News-Leader.com: How They Voted
e-rockford.com: Senate Republicans kill legislation expanding veterans' benefits
VA disability appeals skyrocket
Appeals claims are now approaching three years to complete, surpassing the 900-day mark last year.
Despite goals to reduce that time span to 400 days, the agency has been unable to handle the appeals process in a responsible manner after ramming through countless initial claims. Those initial claims are reported as being decided inaccurately across the country, and no doubt exacerbate the problems veterans face on a daily basis.
As a result, the number of claims on appeals has ballooned. All in, a veteran seeking a claim who also needs to appeal a wrongful decision will need to wait what seems like a life time.
The problem here is resources. In its rush to resolve the backlog, VA allocated resources away from appeals to decide initial claims. However in the rush they failed to adjudicate those claims properly, in many instances. In what appears to be little more than a shell game, VA will now need to reallocate those same resources while veterans are forced to wait even longer.
One concern policy makers have not addressed loudly enough is how the backlog and resultant shell game impacts veterans' access to health care benefits and rehabilitation benefits.
Certain health care benefits are only accessible if the veteran has an appropriate diagnosis first. Many times, the only way a veteran can get such a diagnosis is through a disability rating from VA's Disability Compensation program. Likewise, a proper disability rating could mean the difference between an advanced degree and no benefits at all from VA's Vocational Rehabilitation and Employment program.
Perhaps the backlog is nothing more than a device to decrease overall spending on veterans benefits in the long run.
Either way you skin it, veterans come up short.
Miami Herald: VA's time to resolve disability appeals shoots up, lagging department's goals
Upcoming Committee Hearings
I used to include a section on this and now that congressional hearings are in full swing, I thought it would help to highlight what is coming up this week.
Circle back around on the morning of the hearing to the respective committee page to view the hearings. You can also view them at: https://thomas.loc.gov/video/house-committee
House Committee on Veterans' Affairs
MAR 5, 2014 | 10:00AM
Joint House and Senate Veterans' Affairs Committees to receive the Legislative Presentation of Veterans of Foreign Wars
MAR 6, 2014 | 9:30AM
Joint House and Senate Veterans' Affairs Committees to receive Legislative Presentations of Multiple VSOs
Senate Committee on Veterans' Affairs
MAR 5, 2014 | 10:00AM
2014 Legislative Presentation of the Veterans of Foreign Wars
MAR 6, 2014 | 9:30AM
Legislative Presentations of the AMVETS, Blinded Veterans Association, Jewish War Veterans, Military Officers Association of America, Military Order of the Purple Heart, National Association of State Directors of Veterans Affairs, National Guard Association of the United States, The Retired Enlisted Association, Vietnam Veterans of America
POPVOX Legislative Update
I wanted to include this bit of information from our friends at POPVOX so my readers can get an idea of what else is going on in DC aside from veterans issues. POPVOX created an awesome and free software tool that allows Americans an opportunity to send a personalized message to their elected officials on any number of bills.
The advantage of using a tool like this is that lawmaker are statistically more likely to review the feedback from a verified constituent who also sends the letter than a typical petition. Here is what my friend Rachna had to say about this week:
Hi POPVOX user, 

We just learned that the House won't be in session on Monday due to a snowstorm, but they should be back on Tuesday. Here's the weekly update, but first a POPVOX User Tip!

"…and for other purposes." Seen this phrase before? It occurs in the "long title" section, or summary, of a lot of bills — and many of you have asked us about it. It's actually standard language when lawmakers are trying to keep the summary short. According to the House Legislative Counsel's Manual on Drafting Style, "if the bill covers multiple items, 'and other purposes' may be used at the end of the title instead of describing each item." (Learn more in our Washingtonian guide.)
And now, the scoop from our Hill Sources: It's another busy week in the House, which will consider another Obamacare bill and energy deregulation legislation. In the meantime, the Senate will try to pass a bill reauthorizing childcare services for struggling families. (Link to this Update online.)
In the House: Obamacare
The House will again consider the Affordable Care Act, or Obamacare, this week:
Suspending the Individual Mandate Penalty Law Equals (SIMPLE) Fairness Act (HR 4118): This House bill, introduced on Friday, would eliminate all penalties that people face this year for failing to buy an insurance plan under the Affordable Care Act, or Obamacare. – https://www.popvox.com/bills/us/113/hr4118
The Scoop from our Hill Sources:  Republicans say individuals should be exempt from the law just as companies have been made exempt from the law. But Democrats are expected to see the bill as another attack, and the Senate is not expected to consider it once it passes the House.
In the House: Energy Deregulation
The House will also consider five energy-related bills during the week. Each would ease rules that the GOP says inhibits the production or transport of energy resources around the country, according to our Hill Sources.
In the House: Foreign Affairs
Two foreign affairs bills are also on the House agenda:
In the House: Land Use
Finally, the House will consider three land use bills:
York River Wild and Scenic River Study Act (HR 2197): To designate segments of the York River and associated tributaries for study for potential inclusion in the National Wild and Scenic Rivers System. – https://www.popvox.com/bills/us/113/hr2197
North Fork Watershed Protection Act (HR 2259): To withdraw certain Federal land and interests in that land from location, entry, and patent under the mining laws and disposition under the mineral and geothermal leasing laws and to preserve existing uses. – https://www.popvox.com/bills/us/113/hr2259
Sleeping Bear Dunes National Lakeshore Conservation and Recreation Act (S 23): To designate as wilderness certain land and inland water within the Sleeping Bear Dunes National Lakeshore in the State of Michigan. – https://www.popvox.com/bills/us/113/s23
In the Senate
In the Senate, members will spend some time approving various Executive Branch nominations. But they are also expected to try to advance:
Child Care and Development Block Grant Act (S 1086): This bill would reauthorize a federal program giving grants to states, which then use it to fund childcare services for low-income families. – https://www.popvox.com/bills/us/113/s1086
Last Week's Most POPular on POPVOX.
In a bipartisan vote, the House passed the Stop Targeting of Political Beliefs by the IRS Act (HR 3865) — the top bill of the week on POPVOX. The bill would prevent the IRS from implementing new rules that define what constitutes political activities for certain organizations. See the rest of last week's top bills. (Sign up to get the Weekly Top 20 via email!)