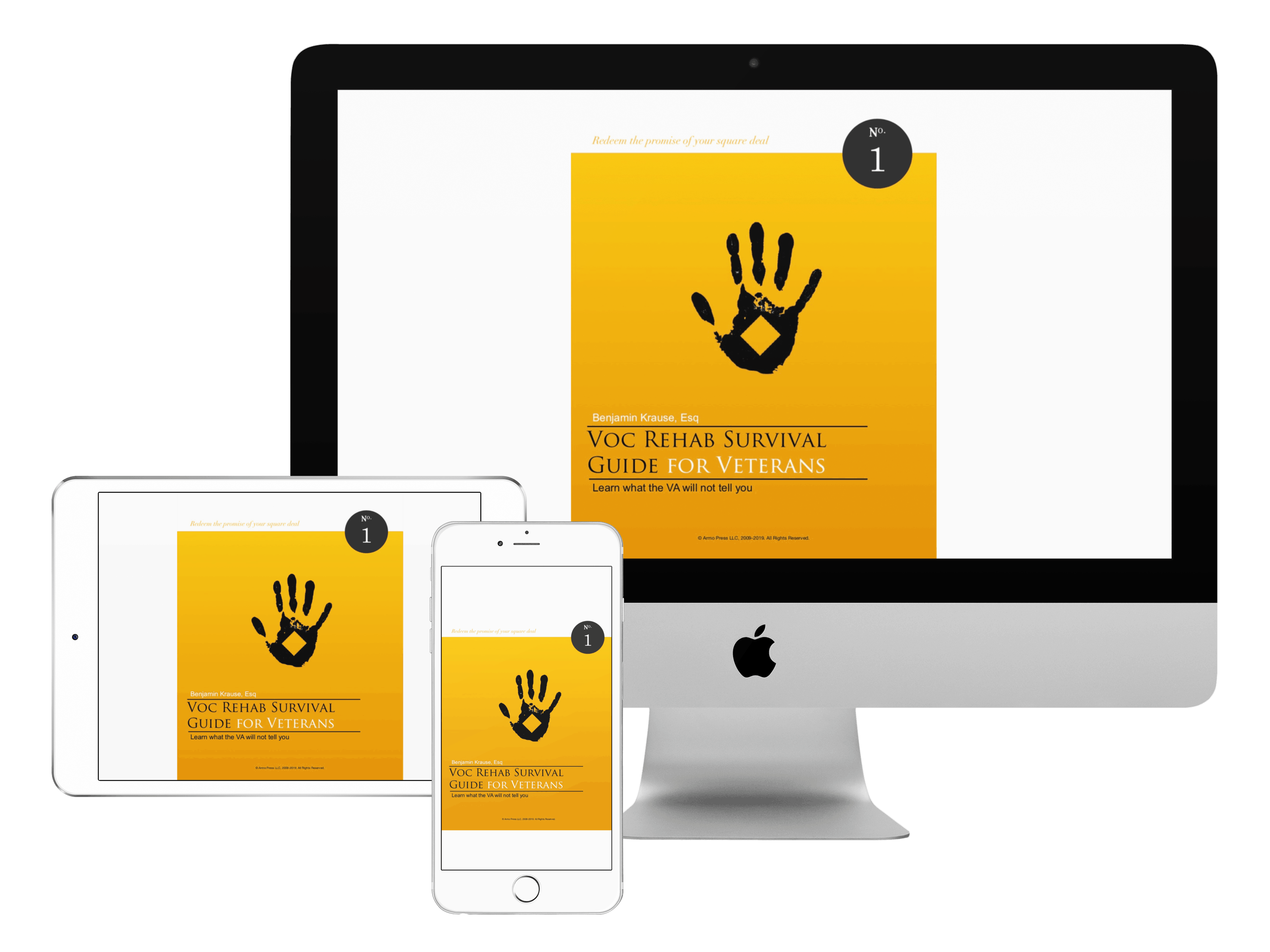 The original unofficial veteran readiness & Employment
A 'How To' guide with time-tested strategies that work.
FAQs – Frequently Asked Questions
The easy way to do this is to apply on eBenefits.va.gov. The process is straight forward to apply. Follow the instructions on the website.
In the alternative, you can fill out the VA Form 21-1900. You can hand deliver this form, mail it in, or fax it to the Evidence Intake Center.
Click to access VBA-28-1900-ARE.pdf
Should you apply? That is a whole other question entirely.
Veterans experiencing a difficult time gaining and maintaining employment in a suitable occupation should consider the program if they want help.
What is a suitable occupation? It is a job that is consistent with one's aptitudes, abilities, and interests that is not infeasible due to a persons disabilities.
VR&E can help qualified veterans with training (i.e. college, vocational, on-the-job, etc) and/or employment services to secure suitable employment.
Veterans who are presently employed may be considered for benefits in certain situations.
The simple answer is, "Yes." But that answer is not a one-sized-fits-all answer.
VR&E will pay for graduate training in certain situations. Usually, but not always, a veteran will need to satisfy the criteria for an Employment Handicap (38 CFR § 21.51) and Serious Employment Handicap (38 CFR § 21.52).
Voc Rehab paid for me to attend law school after I exposed the program for lying to veterans. Katie Couric and her team exposed it on CBS in 2010. Immediately after CBS contacted VR&E about my claim, they approved my IWRP request to attend law school.
To get it done, I used some unique strategies to push the ball forward. I cover this and some perspectives about my own law school experience in the Voc Rehab Survival Guide.
Loaded question. And the answer is the typical lawyer answer, "It depends."
The minimum disability rating required for a veteran to be deemed eligible for Voc Rehab benefits is 10%. Eligible is not the same as entitled, which requires an evaluation to see if a veteran has either an Employment Handicap and Serious Employment Handicap.
A veteran with only a 10% rating must be found to have an Employment Handicap and Serious Employment Handicap to be deemed entitled.
A veteran with a 20% rating or higher rating need only an Employment Handicap to be deemed entitled.
During the initial evaluation, the VRC will assess whether the veteran has a vocational impairment, whether the impairment is substantially caused by their service-connected disabilities, and whether the veteran has not overcome the effects of their disabilities. See 38 CFR § 21.51. If these are true, the veteran should meet the criteria for an Employment Handicap.
For a Serious Employment Handicap, the main difference is that the vocational impairment must be "significant" when evaluating various factors. See 38 CFR § 21.52.
I cover this more in the Voc Rehab Survival Guide.
The comes up a lot, especially during and after the lockdowns.
The Department of Veterans Affairs moved most of its workforce to remote work status in 2020. VR&E transitioned to an AI-driven client management model and started using video counseling sessions.
What does this mean? VRC's started to use centralized email: [email protected], instead of giving out their email or phone number.
This may work to help for VA tracking purposes, but it also created an additional layer of difficulty to reach a VRC. Unfortunately, given current workloads, some overwhelmed VRCs sometimes duck out for a while – sometimes a long while.
When this happens, here are a few tips: 1) Redundancy; and, 2) Chain of Command.
Send the VRC one email. Be very clear and short in what you are requesting. Ask that the counselor respond when the email is received. If the VRC does not respond, in the subject line, added [SECOND EMAIL], [THIRD EMAIL], and so on.
Should a counselor not respond, the next step is to send an email to the VRE Officer. You can find their name on the website of the Regional Office you use. Google it. Then click on the "Leadership" tab or menu button. Their email is usually [email protected]. For example, if the name is James Smith, the email might be [email protected].
The Facebook group called Disabled Veterans – Chapter 31 Voc Rehab was founded by me, Benjamin Krause, in 2009.
I created the group after filing my first appeal with Voc Rehab when Disabled American Veterans refused to publish a story about it.
As a direct result of the group, CBS Evening News with Katie Couric exposed massive problems within the program. Voc Rehab Counselors were misleading veterans about the program, and Couric's team exposed the scandal on national TV in 2010.
Yes, it sure did.
While in law school, I decided I wanted to become a veterans rights attorney rather than work in business law. Voc Rehab basically said, "Hell no!" and it took another two years to get it approved after Voc Rehab destroyed evidence and made fraudulent misrepresentations about my claim.
I only bring this up to highlight how hard it can be to get approval for self-employment after an education.
Voc Rehab paid around $315,000 for my education overall. The program paid another $35,000 for equipment to my start-up law firm.
Veteran Readiness and Employment News
Disabled veterans are sometimes confused about whether the acronym VR&E is the same as Voc Rehab when trying to…