Will Vocational Rehabilitation Pay For Flight School?
I received the following correspondence today from a disabled veteran. He was told anyone claiming that VA Vocational Rehabilitation will pay for commercial flight school is a liar. Congress does allow disabled veterans on Voc Rehab complete flight school so long as it is a part of a degree program. This specifically means the flight training, costing around $130,000, must be necessary for the degree completions approved by the Vocational Rehabilitation Counselor. However, Voc Rehab has and does approve commercial flight training. One needs look no further than Greg Modica's case profiled by CBS Evening News:
Greg Modica, the former Army veteran who was told he could go on Oprah, has also been well treated, but with even added attention. He is very close to completing flight school. In his case, the VA admits his counselor made the Oprah comment, but insists the remark was intended in a helpful way. The VA also denies that Greg was denied flight training during that first interview. However, because Greg took such detailed notes, and because the VA moved quickly to help Greg and assign a new counselor after being challenged by Congressman Ross — frankly, we believe the veteran here. Greg took the Oprah comment as a belittling insult.
I know Greg personally. He was approved for Commercial Flight Training in order to complete his undergraduate degree, after much wrangling with Voc Rehab.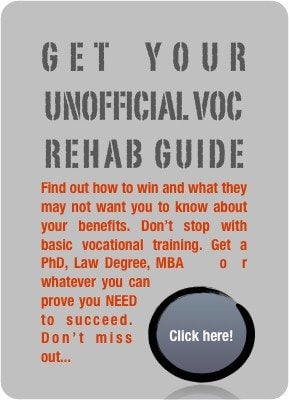 Here is a letter from Tom, my response to him, and his follow-up questions, in order:
I was told today, just two hours ago that the Voc Rehab will NOT pay for Commercial flight school. In fact the Voc Rehab counselor said" that who ever wrote that is a liar" What can I do? He suggested that I use the G.I. Bill, but that only covers so much. Any suggestions?
Hi Tom,
It would appear your counselor is mistaken. A quick search through VA Board of Appeals cases will render numerous situations where the veteran has appealed some denial involving flight school. Plus, I have a buddy of mine who is doing it right now.
In addition, 38 CFR Part 21.134specifically talks about flight school:
§ 21.134 Limitation on flight training.
Flight Training approved under Chapter 31 may only be authorized in degree curriculums in the field of aviation that include required flight training. This type of training is otherwise subject to the same limitations as are applicable to flight training under Chapter 30.
(Authority: 38 U.S.C. 3680A(b))
Since this regulation was written by Congress, I think it's pretty clear that Chapter 31 Vocational Rehabilitation and Employment DOES pay for flight school so long as it is part of a degree seeking program.
Ben
So this means I can go to ATP (Airline Transport Professionals) or Phoenix East Aviation Inc. to become a commercial airline pilot, or does this mean that I have to go to some University that has flight training as part of it's curriculum but is not set up for someone who wants to become a commercial airline pilot?
Also, where and how do I get this appealed? I firmly believe that the Voc Rehab her does not want to help. Is there a hotline or group that could help with my case. I am even still having to pay for my service connected medication. You serve your country and you get treated like second-class citizens, thank God for people like you!
So, to Tom's new questions, Voc Rehab will not approve training that is not part of a degree-seeking program. While the aviation hours can be contracted for by a private company for completion, the hours must be required by your Voc Rehab training plan and the degree program you are seeking. They tried to push Greg into getting only the required hours for Flight Instructor, despite his original goal being to get entry-level employment as an Airline Pilot. This is better than even a commercial pilot because it requires extra hours.
Here is part of another explanation:
§ 21.4235   Programs of education that include flight training.
VA will use the provisions of this section to determine whether an individual may be paid educational assistance for pursuit of flight training. See §21.4263 for approval of flight courses for VA training.
(a) Eligibility. A veteran or servicemember who is otherwise eligible to receive educational assistance under 38 U.S.C. chapter 30 or 32, or a reservist who is eligible for expanded benefits under 10 U.S.C. chapter 1606 as provided in §21.7540(b), may receive educational assistance for flight training in an approved course provided that the individual meets the requirements of this paragraph. Except when enrolled in a ground instructor certification course or when pursuing flight training under paragraph (f) of this section, the individual must—
(1) Possess a valid private pilot certificate or higher pilot certificate such as a commercial pilot certificate;
(2) If enrolled in a course other than an Airline Transport Pilot (ATP) course, hold a second-class medical certificate on the first day of training and, if that course began before October 1, 1998, hold that certificate continuously during training; and
(3) If enrolled in an ATP certification course, hold a first-class medical certificate on the first day of training and, if that course began before October 1, 1998, hold that certificate continuously during training.
(Authority: 10 U.S.C. 16136(c); 38 U.S.C. 3034(d), 3241(b))
How do you appeal? Well, first VA Voc Rehab must make a decision. It is likely here that the counselor is only pushing back on Tom's plan. If Tom does some research and asserts his position in a professional manner that is supported by regulations, he might get be approved, eventually. One never knows with this program. The best advice is to talk to a Veterans Service Officer or lawyer specializing in veterans benefits.
Email questions to: [email protected].
After further research, I came across Clarke v. Brown 10 Vet.App. 20. The citation means it's from the United States Court of Veterans Appeals. This case fully discusses the issue of veterans seeking flight school through VA Voc Rehab and why they do not allow training through nondegree programs:
Unlike vocational rehabilitation flight training, Congress ended all VA education benefits for the pursuit of flight training in 1981 because of perceived program abuse. See Omnibus Budget Reconciliation Act of 1981, Pub.L. 97-35, § 2003, 95 Stat. 357, 782; See also 134 CONG. REC. S16524-01 (1988) (statement by Sen. Daschle). Although Congress later restored education benefits for flight training, it did so gradually and with safeguards intended to eliminate past abuse. 134CONG. REC. S16524-01 (1988); see also S.Rep. No. 126, 101st Cong., 1st. Sess. 248 reprinted in 1989 U.S.C.C.A.N. 1469, 1654. Included in such safeguards was the requirement that there be approval by both the FAA and the state approving agency. See Veteran's Education and Employment Programs, Pub.L. No. 102-16, 105 Stat. 51 (1991). Moreover, education benefits for flight training under chapters 30 and 32 were restored without the degree curriculum requirement only as a test program in order to monitor for continuing abuse. Cf. 134 CONG. REC. S16524-01 (Senator Daschle's statement that educational assistance for flight training under the GI bill is to be reinstated as a four-year test program).
Given the differences inherent in the purposes of the education and vocational rehabilitation programs, the Court concludes that there is a rational basis for 38 C.F.R. § 21.134. As the Secretary argues, it was appropriate for Congress to determine if past abuse of flight training benefits would be less likely for certain programs. As a result, less stringent requirements for veterans receiving flight training under chapters 30 and 32 are rationally related to the government's stated objective. Congress is neither required to make all benefits available to all classifications of veterans nor must it expose all programs to potential abuse at the same time in order to test the efficacy of new or revised programs. Moreover, the requirement that flight training under chapter 31 must be part of a degree curriculum is rationally related to the government's purpose for vocational rehabilitation benefits, i.e., "[t]o become employable and to obtain and maintain suitable employment." 38 U.S.C. § 3100.