While Congress Cuts Your Benefits, VA Fights to Keep You from Them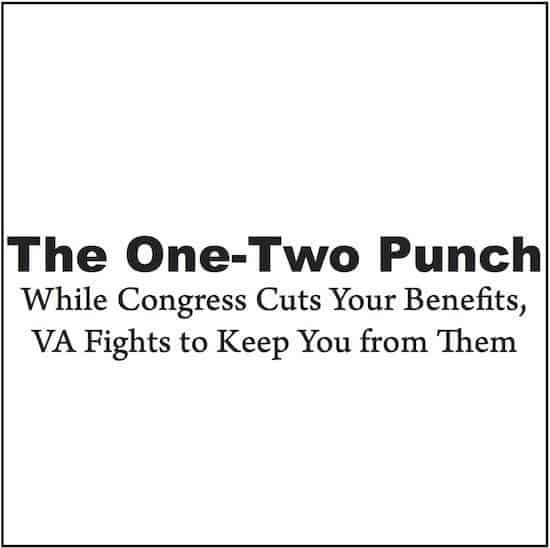 We are all well aware of what Congress is and is not doing. It looks like Republicans are likely behind the cuts, giving folks like the Koch Brothers exactly what they want.
Of course, Democrats are having no problem going along for the ride – they do own the White House and the Senate, after all. Meaning, for those who are true blue, Democrats could stop this but are not doing so.
Here is my sarcastic take on what is going on in the subliminal recesses of the brains of Congress: "Those pesky retired veterans are such entitled a-holes, right?! Gosh, they give their prime years to this country in service and then they expect not to get shafted… Crazy."
For those of you thinking this is off the mark, check out yesterday's Daily Show about where our country is going. Guess what? Those who write for the agenda of the wealthy, such as John Tandy from Forbes who says "food stamps are cruel," the charity groups will make up for cuts in government spending. Check it out, you will be shocked:
https://www.thedailyshow.com/watch/tue-december-17-2013/the-real-hunger-games
Meanwhile, veterans are facing large roadblocks within the bureaucracy meant to help them. Here is one veteran's story of roadblocks and VA Vocational Rehabilitation and Employment.
What do you think he should do?
I just wanted to share my story with you Sir since you seem to care for veterans….

I was wounded in Iraq and managed to stay in the Navy for 5 years after. I was medically retired at 10 years this Oct. I was a special forces canine handler/trainer as well as a kennel master in the Navy. Since I could no longer do that job I decided that I wanted to stay working with service animals preferably dogs. The VA is doing a huge study on them now, PTSD and assistance dogs as well. So I found a school that would teach me this and drove all the way out to St. Louis to check it out. I applied for Vocational Rehabilitation because the VA will cover the costs for the equipment for the course (dogs, vet bills, food etc). However I have been able to get nowhere with them. I finished all the testing and am awaiting a package transfer to St. Louis along with the development of my Plan, which is the last step in the process for Voc Rehab. Im coming down to the deadline in which my school starts on Jan 8th, and will have to use my post 9/11 GI Bill which will not cover the thousands of dollars in supplies for the course. Im just looking for someone to help me because I can't seem to get anywhere with the VA. My counselor hasn't been much help stating that she is waiting for St. Louis to accept my package. Ive called St. Louis and additionally have gotten nowhere. Its like everyone wants to play the blame game. Additionally I have been waiting on my Disability Compensation. I fell under this new program called IDES, which you are supposed to be paid within 15 days of getting out. I received my initial ratings 6 months ago so how is it that the VA is taking so long for that? I have emailed a couple senators as well as a couple of organization but can't get anywhere. This is so frustrating, why give all my time and receive little in return. Its sad and I thank you again I greatly appreciate it.