The Latest VA Vocational Rehab Trick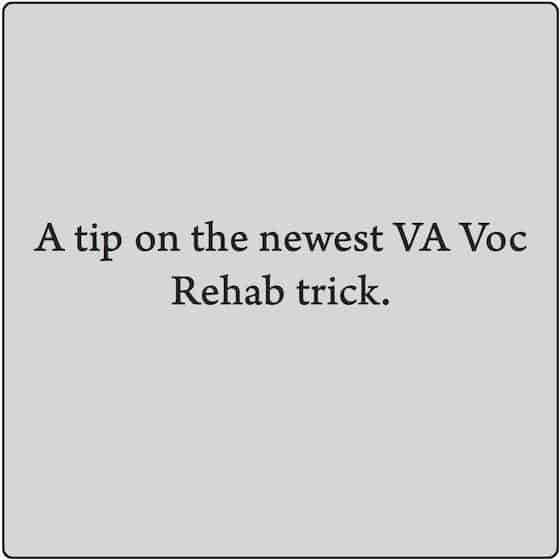 Many of you know your experience in getting VA benefits depends on the quality of the service provider.
When it comes to VA Voc Rehab there is no difference.
Your counselor can be great and really advocate on your behalf or he/she may be a total stick in the mud. Voc Rehab Counselors are like a box of chocolates, yada, yada…
Last week I released a full copy of the brand new M28R VA Voc Rehab Manual. The Manual is designed as the essential "bible" that Voc Rehab Counselors must follow.
This is really a double-edged sword in many ways since the counselors seem to not understand how the document is intended to work.
Sometimes, they will make denials but ignore the clear language of the manual. Other times they will cite portions of the manual that in reality do not apply. Other times they will be spot on.
The problem is that some denials will not contain a citation that will help you find the relevant guidance they are citing. This is a bigger problem than people may think since counselors often misapply the manual.
Further, the manual is not binding in the same way as laws or regulations and for that reason, the whole issue is a bit of puffery.
So for those of you reading this, when you come up against the double edged sword that is the M28R, be sure to search through the manual the right way.
I put all the subsections together into a single PDF so you can search it quickly. Merely put in the keywords or a sentence fragment into search bar after typing Control + F. Paste in the words and read away.
Remember, while your counselor may not know how to use the guide, it is up to you to gain a full grasp of how it works. This includes understanding how the table of contents work in relation to the guidance is important.
Download the manual here: M28R VA Manual.
If you want more in depth information on strategy, check out my guide, the Voc Rehab Survival Guide.