DisabledVeterans.org Publishes New VocRehab Resource Page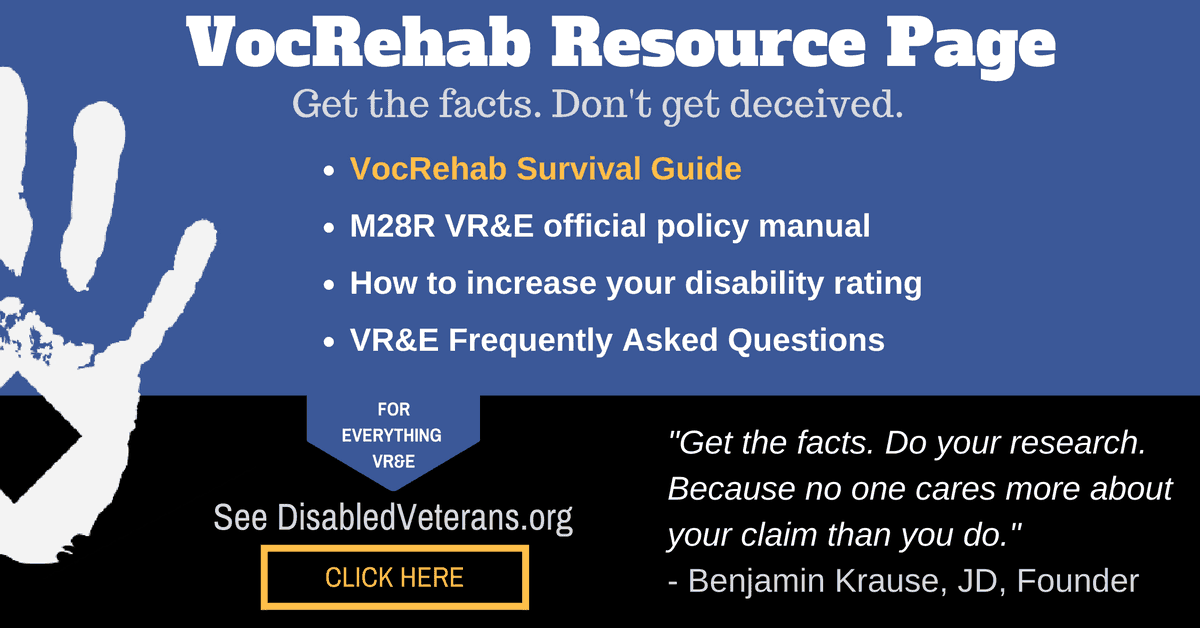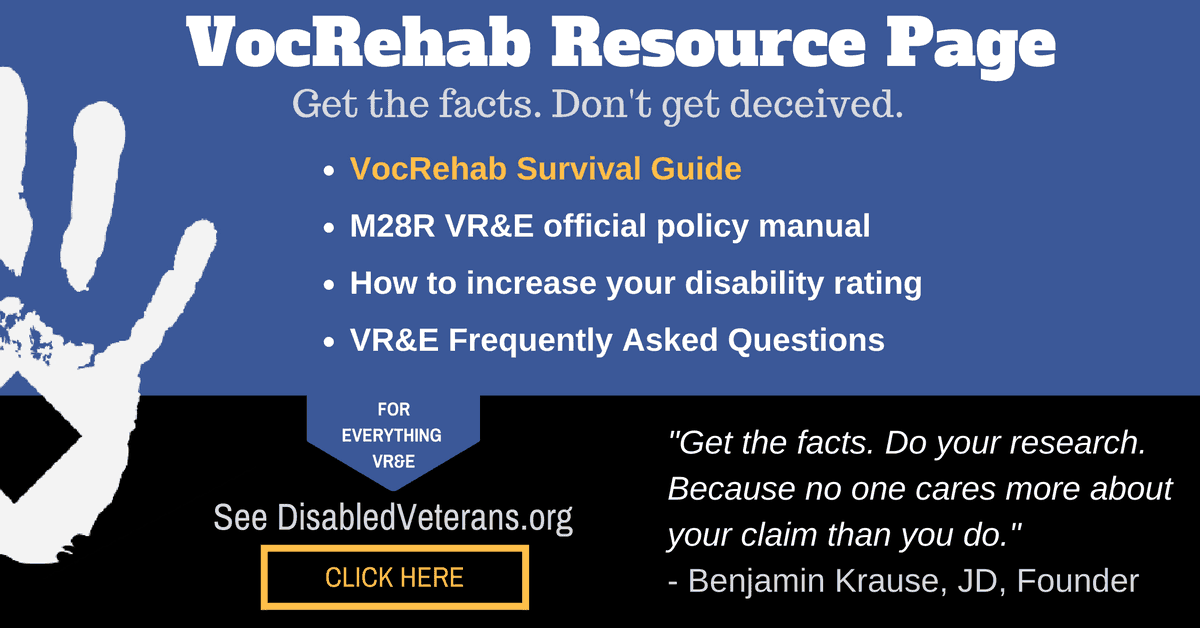 With the new website design, we published a new VocRehab resource page for veterans seeking true information about VocRehab benefits. Here is what it has.
I plan to add new and modified resources based on some public data VA has already published about the program as well as some premium options for readers seeking more in-depth treatment of VocRehab.
VISIT: VocRehab Resource Page
This is all part of my Online Veterans Resource Center (Online VRC) initiative to create an access point for education about veterans benefits for veterans, veterans service officers, and lawyers.
The topics the system will address are VocRehab, Disability Compensation, Employee Rights, Clinical Appeals and Fee Basis Care, and Disruptive Behavior Committees. I may add some other topics as time allows.
Current VocRehab Resource Page
First, we have the M28R paginated manual. VA published the new version of its policy manual in 2014 but failed to create a public facing paginated version.
This means veterans seeking justice would have to download over 100 separate downloads and then search those documents to find the citation VocRehab used to deny their claim.
The requirement seemed unjust to me, so I bought software that would help download files like that quickly and then paginated the documents using Adobe Acrobat. All in, the process cost me about $200 and took six hours.
The benefit to veterans is that you will be able to search the entire 1,400 page document for the term or phrase VocRehab used to deny you but failed to cite.
You see, VocRehab Counselors are often not allowed to write detailed explanations of why they are denying a veteran's claim. So, they will cut and paste the justification from the M28R manual without citing it. This sends most veterans on a wild goose chase, at last until now.
LEARN MORE: VocRehab Survival Guide
On the new page, you will also see my VocRehab Survival Guide. I wrote the guide to give veterans a framework to advocate for themselves when seeking VocRehab benefits. The guide is particularly useful for veterans dealing with stubborn counselors.
Beyond this, there is a Frequently Asked Questions section and a general news section along with links to a few free guides for veterans seeking to increase their disability compensation benefits or trying to get access to their VA records.
Online VRC Subscriber Backend
Some readers including policy gurus, veterans and attorneys will want additional resources, guides, etc.
The next iteration will be to upload advanced items to a subscriber backend that will have forums and other features like a VA employee ranking tool… kind of like Angie's List except for VA employees including VocRehab counselors. This will be an enormous accountability tool moving forward.
This will be an enormous accountability tool moving forward. Can you imagine being able to publish a review of an abusive doctor or VocRehab counselor including video or audio clips? It will be great, like the Better Business Bureau of veterans rights.
The Online VRC will also include learning management system software that I've been fiddling with for the past year to help educate veterans, lawyers and reporters about VA benefits systems. My hope is to have that go live by the end of November if not sooner.
Community Feedback
What do you think about the new website design and resource ideas for veterans? Current analytics show time on the website has doubled since I made the changes to the design last week and feedback from some readers has been positive.
Sound off when you can!