EXPOSED: Veteran Takes On Minneapolis VA Over Erroneous ER Bill Denial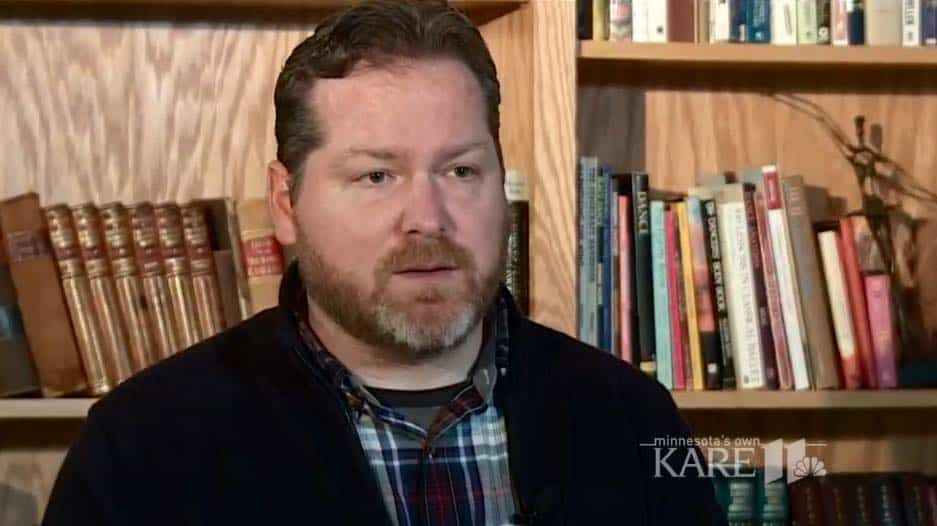 The Department of Veterans Affairs has stepped in it again concerning one Minnesota veteran's emergency room bill and subsequent denial.
That veteran is me, Benjamin Krause, and the problem of VA wrongly denying veterans coverage for ER bills during legitimate emergencies is about to hit the fan. I have been working with AJ Lagoe and the KARE 11 News team to help get the word out to veterans before more veterans are economically injured by this particular VA screw job.
WATCH: Krause ER Bill Story via KARE 11
For you folks new to my website, this is not my first rodeo, and certainly not my first time working with KARE 11 to expose systemic problems in how VA treats veterans. Personally, I fought VA for 15 years on my disability compensation claim.
In working with AJ at KARE 11, we exposed the lunacy of the Veterans Choice "crow flies" distance limitation. KARE 11 won an award for that, and the piece was featured on Jon Stewart's The Daily Show.
We then exposed that VA was using unqualified doctors to examine veterans with traumatic brain injuries. My client was patient zero, and Lagoe's investigation exposed a national scandal affecting almost 25,000 veterans.
Both scandals were national, and AJ won numerous awards for his work. I have no doubt this emergency room scandal will eclipse the size of the traumatic brain injury scandal, which we know affects almost 100,000 veterans annually.
FOLLOW: AJ Investigates On Facebook
Background On ER Visit
The nuts and bolts of this are as follows. Veterans are required to notify VA within 72 hours of receiving emergency care at a non-VA facility. VA is supposed to pay so long as the emergency was a legitimate emergency regardless of the final diagnosis.
RELATED: 3 Things A Veteran Must Do After A Non-VA ER Visit
On February 21, 2017, I experienced chest pains and neurological impairment due to malignant hypertension due to stress just days after a family member died of pancreatic cancer (burn pit exposure, Iraq War Veteran) at 36 years old. My wife immediately took me to the nearest ER, where I received treatment for the next 9 hours. Once home, I notified VA using its IRIS email system and also faxed notice to the VA medical center where I am registered.
The program used to be called Fee Basis and is now renamed Non-VA Care. It is supposed to cover situations like mine. I even called senior executives in VA Central Office, informed them of the issue, and was promised the claim would be processed properly.
RELATED: VA Engaging In Bad Faith Denials Of ER Bills
That was then. Two months later, nothing happened. VA never reached out to the VA facility, and VA Central Office apparently failed to reach out to Minneapolis VA.
On May 5, 2017, I faxed the ER bill to Minneapolis VA directly and circled back around with VA Central Office since no one in VA had yet contacted the ER to cover the bill.
On May 19, 2017, I received a denial stating the reason I sought emergency care was not consistent with some "prudent layperson" standard used by the Non-VA Care department. Coincidentally, the processing of these claims is directed by VA's Chief Business Office at Denver VA, and much of that processing is likely handled by a government contractor.
We later learned VA denied the claim without FIRST requesting copies of the medical records in order to make the determination.
Now, for an agency that is supposedly veterans friendly, would it not make sense to review the medical record prior to denying a claim while also asserting the veteran did not even meet the prudent layperson standard while in distress?
If you said, "Yes," I would agree with you. Except, VA is not exactly veteran friendly, despite its mandate.
Does this also seem like a possible defamation issue?
I am an attorney. VA accused me of lacking the sense or state of mind of even a prudent layperson in writing. Would you hire an attorney who lacked the sense of a layperson?
Instead of requesting my records and reviewing them prior tot the denial, VA used the "Great Benefit" scam we see in the movie Rainmaker. There, the scam insurance company Great Benefit denies first and asks questions never resulting in the preventable death of a young man sick with cancer.
I would argue VA lacks the sense of even a prudent layperson, who would likely check records before making a derogatory assertion about a leading veterans rights attorney.
Am I wrong, here?
As of this publication, VA has acknowledged fault and that it will pay the bill. That is one hell of a quick turn around for a denial.
Think it had anything to do with the fact that the veteran being screwed was me, and that I have deep ties with the press that can expose any newsworthy issue immediately?
PRUDENT LAYPERSON STANDARD
For this, I turned to review the regulation cited using the Cornell legal database, which states for the relevant regulation concerning emergency care:
(b)In a medical emergency. Emergency treatment not previously authorized including medical services, professional services, ambulance services, ancillary care and medication (including a short course of medication related to and necessary for the treatment of the emergency condition that is provided directly to or prescribed for the patient for use after the emergency condition is stabilized and the patient is discharged) was rendered in a medical emergency of such nature that a prudent layperson would have reasonably expected that delay in seeking immediate medical attention would have been hazardous to life or health. This standard is met by an emergency medical condition manifesting itself by acute symptoms of sufficient severity (including severe pain) that a prudent layperson who possesses an average knowledge of health and medicine could reasonably expect the absence of immediate medical attention to result in placing the health of the individual in serious jeopardy, serious impairment to bodily functions, or serious dysfunction of any bodily organ or part.
Basically, it says VA will pay facilities for care provided to certain veterans when a prudent layperson (whatever that means) would reasonably expect a lack of immediate care could result in putting that veteran's health in serious jeopardy, impairment of bodily function, or serious dysfunction of any bodily organ or part.
Personally, it seems reasonable to me now to believe my heart my stop due to heart attack or stroke. I assume "heart stopping" or "death" is sufficient to meet the serious dysfunction standard.
So what is the problem? Why is VA confused on my case? Further, why are countless veterans receiving denials who sought emergent medical care for heart attack or stroke symptoms?
PRUDENT LAYPERSON FACT SHEET FROM VA
The "prudent layperson" standard originated from Medicare law in the 1980's and was established as a standard for Medicaid effective October 1997. The standard was then adopted by VA in 2010 per the Federal Register.
Using my cyber-sleuthing techniques (ie Google within 5 seconds), I was able to dig up a VA document that explains the standard, its use in VA adjudications now, and an explanation of medical necessity. This document made me wonder how Minneapolis VA and its Non-VA Care Department could screw up my claim.
I would like to repeat one thing. It took my 5 seconds to find a sheet published by VA that explains how to assess a case and what the prudent layperson means.
Would you be surprised to learn it addresses a case exactly like mine – – and that such cases should be approved – – not denied?
DOWNLOAD: VA Prudent Layperson Fact Sheet (from Puget Sound VAMC)
And, I know, some of you may be saying, "Well, you were not diagnosed with a heart attack, so maybe VA was correct to determine your symptoms did not show a medical emergency requiring emergent care."
I can see why you would say this, but VA's own guidance on the subject explains this reasoning is incorrect.
Now, instead, you may be saying, "Many VA executives hate you, Ben, so why would you expect to be treated fairly?" I will get to this in a second.
In bold print, that Prudent Layperson Fact Sheet states, "A determination of a medical emergency focuses on the patient's presenting symptoms rather than the final diagnosis."
PRUDENT LAYPERSON AND MEDICAL NECESSITY
The full section on medical necessity reads:
Any medical condition of recent onset manifesting itself by acute severity of symptoms, including severe pain. A determination of a medical emergency focuses on the patient's presenting symptoms rather than the final diagnosis.  
Adjudicative decisions are made on a case-by-case basis. However, certain conditions are the leading cause to seek emergency treatment. These conditions include, but are not limited to: loss of consciousness, seizure, no recognition of one side of the body, paralysis, chest pain, shock, gangrene, coughing blood, trouble breathing, and choking.  
Cases that fall into categories that may be chronic or blatantly non-emergent generally do not fall into qualifying for immediate treatment under the prudent layperson standard. Normal follow-up of a medical condition, removal of stitches, or medication refills would generally be considered as non-emergent conditions under the prudent layperson standard.
Notice the explanation includes symptoms I experienced including chest pain and trouble breathing. Again, since I experience chest pain, and this was reported to the emergency department, how come Minneapolis VA denied my claim?
Coincidentally, Case Example A in the document addresses a similar situation as mine, where the veteran presented with a complaint of chest pain:
A patient presents to the emergency department with a complaint of chest pain. The patient is examined and evaluated and discharged with a diagnosis of mild gastric irritation. Retrospective analysis by a Fee Basis Unit may determine that gastro-intestinal upset is not an appropriate use of an emergency department and deny the claim as non-emergent. However, the patient's initial judgment seeking emergency treatment regarding his/her chest pain, a potentially serious problem, is appropriate. This type of visit clearly falls into the category of what any prudent lay person would consider an appropriate use of an emergency department.
Seems open and shut, right? And, since VACO offered to help resolve the matter, why was my claim denied despite being on point with VA's own guidance?
Tens Of Thousands Of Veterans Affected
Each year, approximately 90,000 veterans are denied coverage based on the prudent layperson standard. According to an audit, many of those denials are due to inconsistent application of policy and standards. Those denials allow VA to save approximately $3 billion each year.
For veterans wrongly denied, they are forced into a financial hardship or bankruptcy, all the while VA plays hide the pea with our benefits.
So, that is the background, and why this is a big deal.
Please enjoy the news video and write to AJ Lagoe at KARE 11 ([email protected]) if you have a similar story to VA denying your claim based on the prudent layperson standard. You can also merely sent AJ an email thanking him for his work to expose systemic problems within VA.
Either way, I am sure he would like to hear from you.
The KARE 11 team are working to put together a bigger story of the national scope of this particular issue. What will it take to reform this muddy system of obfuscation?
Source: https://www.kare11.com/news/investigations/investigates-va-calls-veterans-imprudent-denies-er-payments/448136461