Leaked Report, Google Censorship Of Americans Under European Model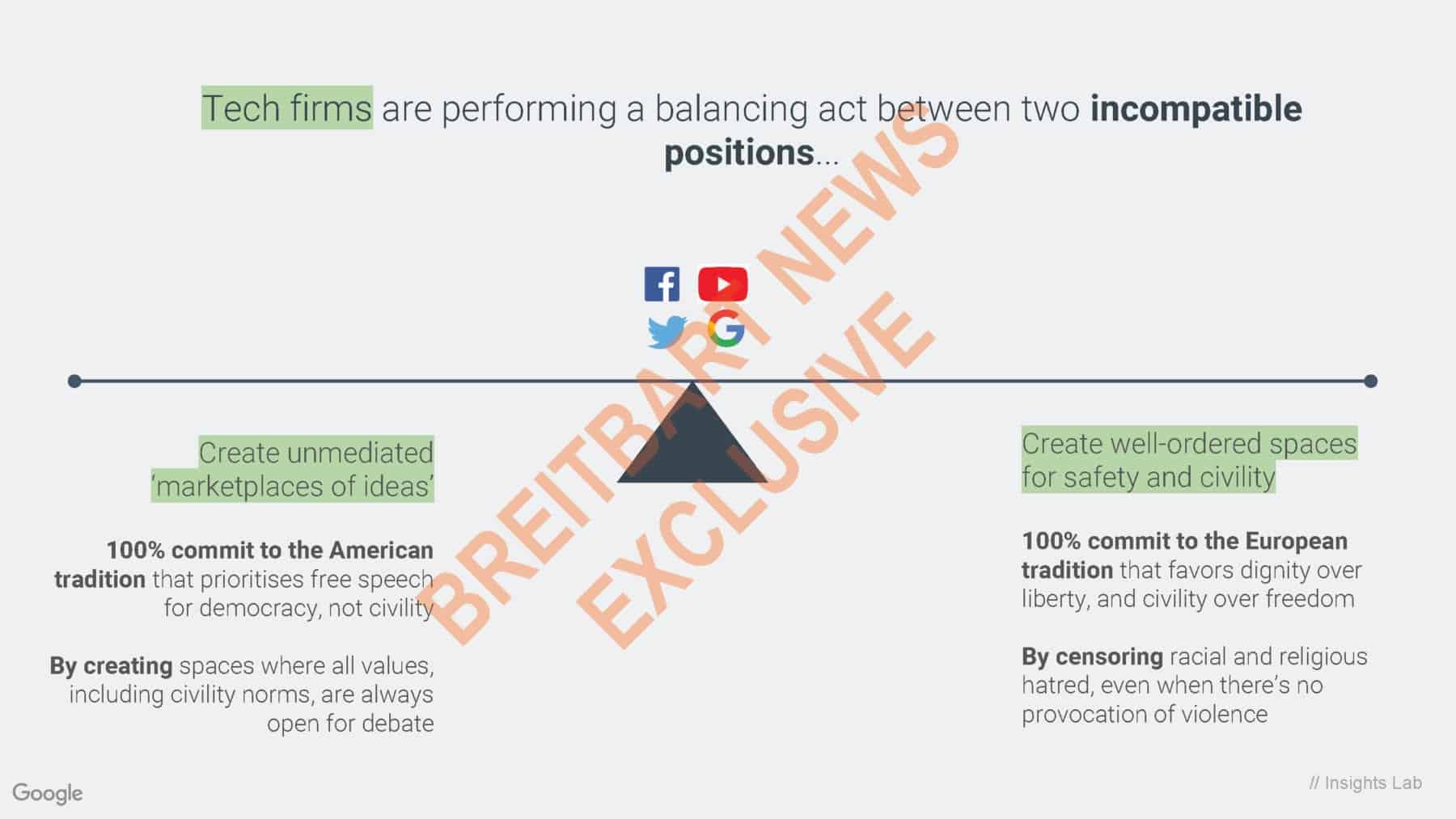 Breitbart News just published a leaked Google briefing showing Google knows and approves of its own role in pushing European-style censorship onto Americans.
The Google briefing, titled "The Good Censor," admits that Google and other tech platforms now "control the majority of online conversations" and have undertaken a "shift towards censorship" in response to unwelcome political events around the world using "European" censorship models.
And if you think this is a joke, or that private companies can do what they want whenever they want, think again. Google and Facebook, for example, profit from certain exemptions they enjoy in connection related to Section 230 of the Communications Decency Act because they claimed to be "neutral" while out of the other side of their mouth also endorsing censorship that only publishers can execute.
They also profit using the technology and hardware owned and paid for by the American taxpayer.
As for the briefing, it says unfettered frees speech on the internet is a "utopian narrative" that cannot be allowed due to "bad behavior" by users (i.e. Americans supporting free speech). Google says "bad behavior" includes sharing of "conspiracy theories".
And Hillary's 'Vast Right Wing Conspiracy'?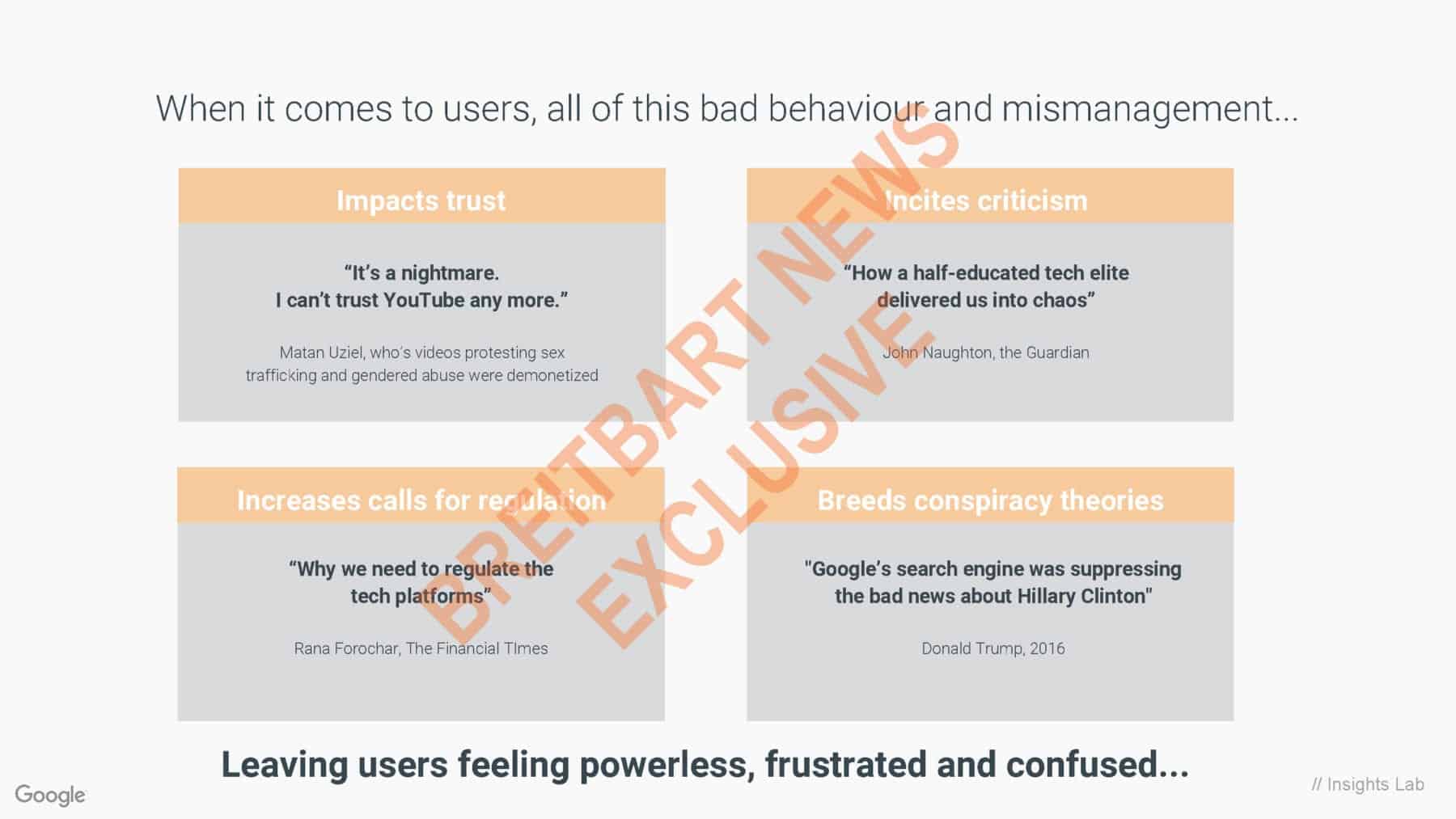 As an example, Google cites the Trump conspiracy theory that Google was suppressing search results of users seeking negative information about Hillary Clinton.
Of course, this alleged conspiracy theory turned out to be true… and now we know Google secretly pushed European censorship at the time, 2016, and that Google, Facebook and Twitter have accelerated the censorship.
Current Google Censorship
For more than a year, reports from Conservative publications and some Liberal publications reported Google and other social media companies are engaging in un-American European-style censorship.
The report reveals the company is not only aware of its own censorship actions but that it condones the shifting role to censor free speech of Americans in the face of neutrality laws. Those neutrality laws hold that companies like Google and Facebook are not liable in the same way as publishers because they are neutral and not censoring users. However, the acknowledgement shows Google, Facebook and Twitter perjured themselves to Congress.
In the report, not only does Google admit to censorship, but it even encourages the use of European-style censorship now used by social media companies including Google.
The report was leaked to Breitbart News and posted to Scribd. I repurposed that PDF below for all of you to review and SHARE with anyone who believes the censorship is okay. Here are some photo excerpts of the Google censorship report:
Google Says Neutrality Incompatible With European Censorship 'Tradition'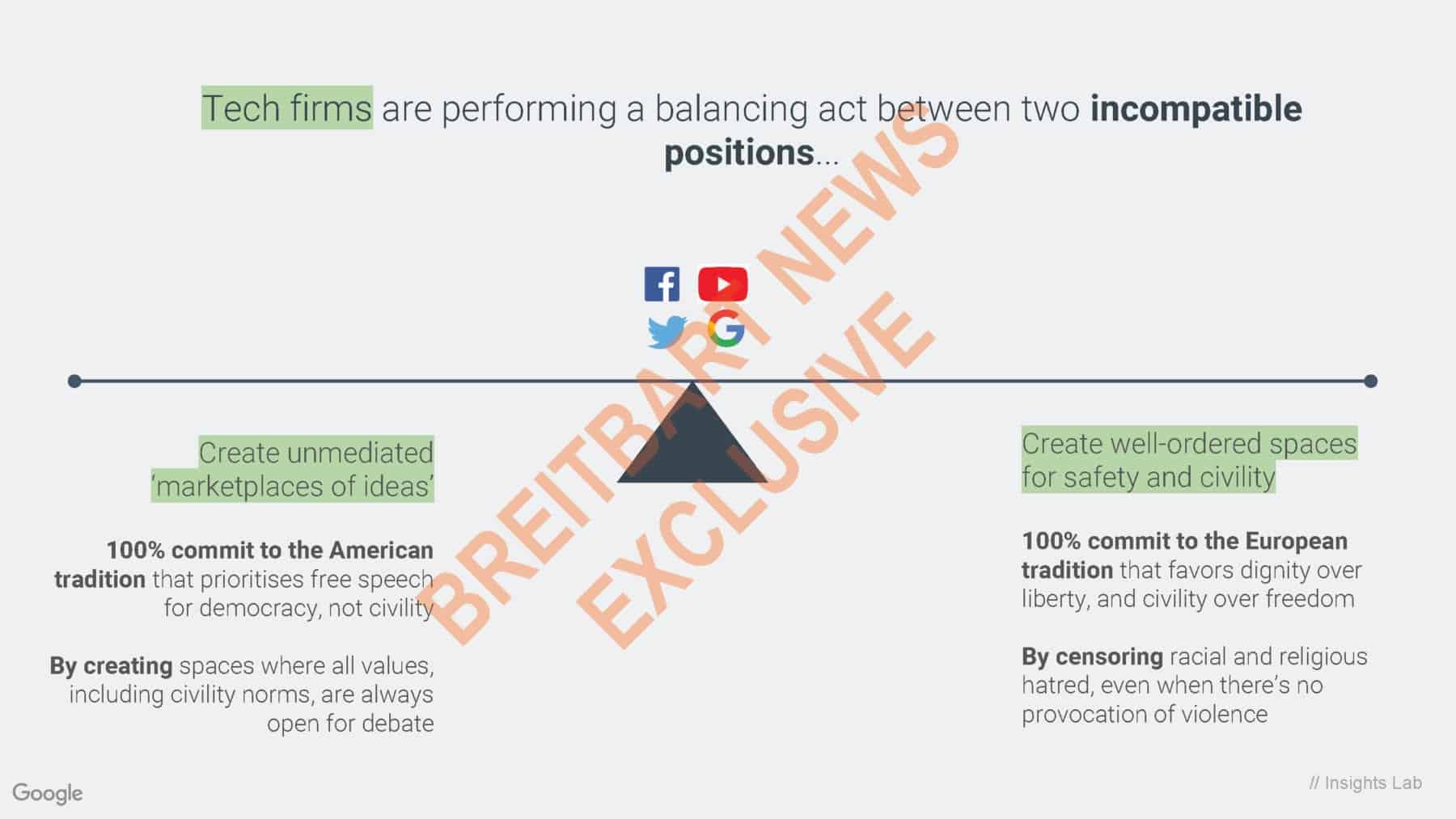 Before Censorship By Social Media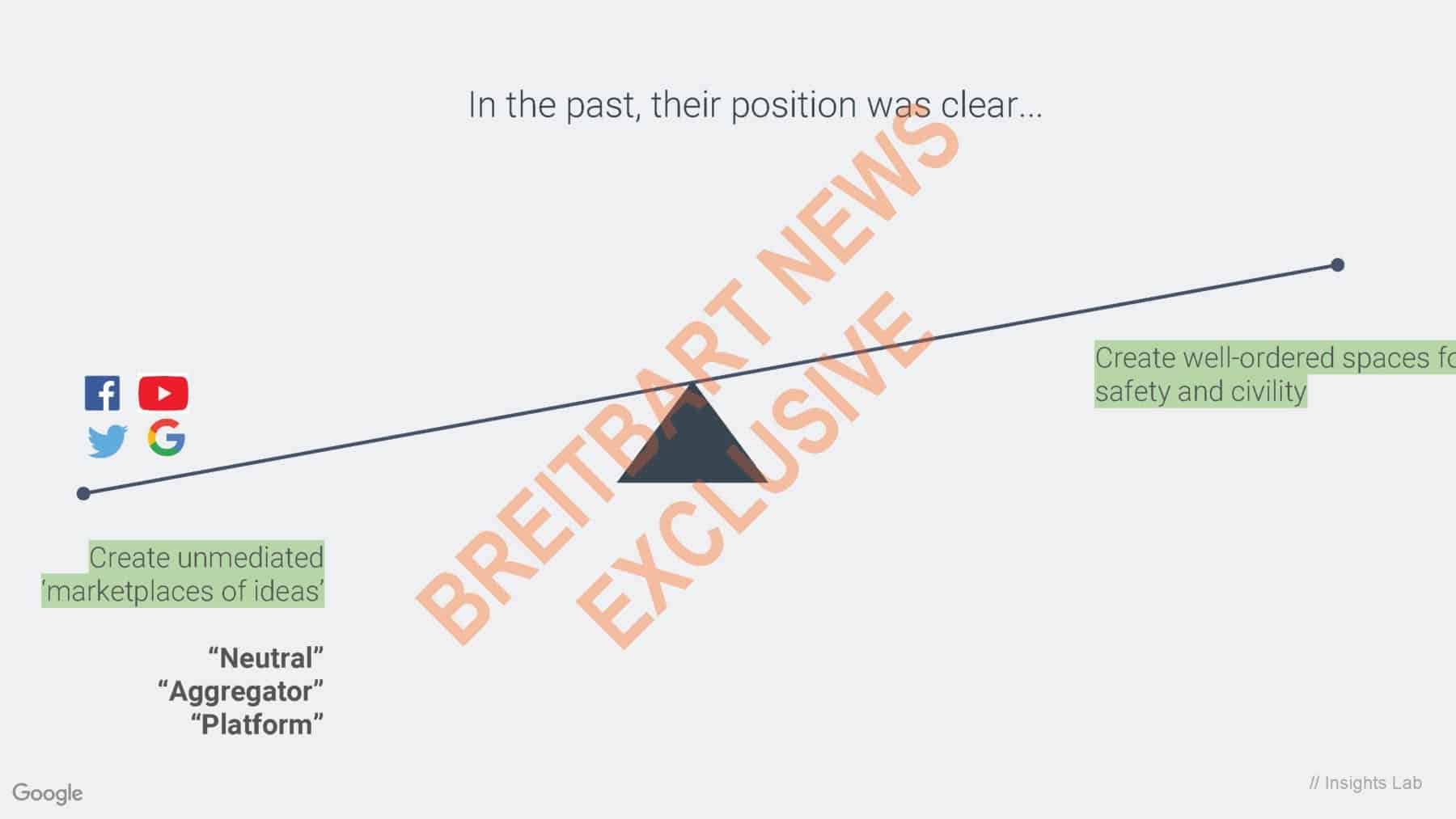 Current Censorship By Social Media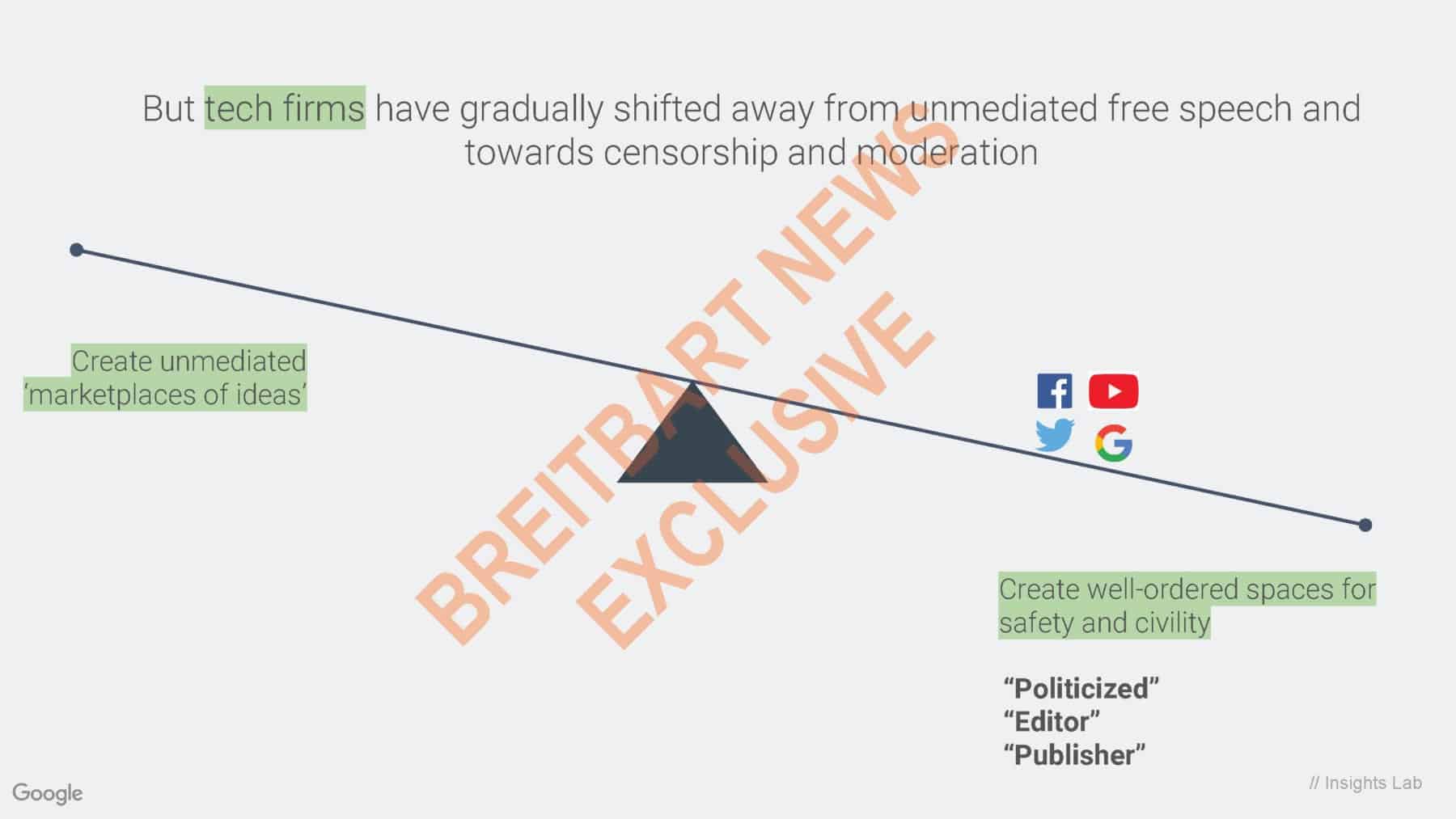 Why Social Media Shifted Toward European Censorship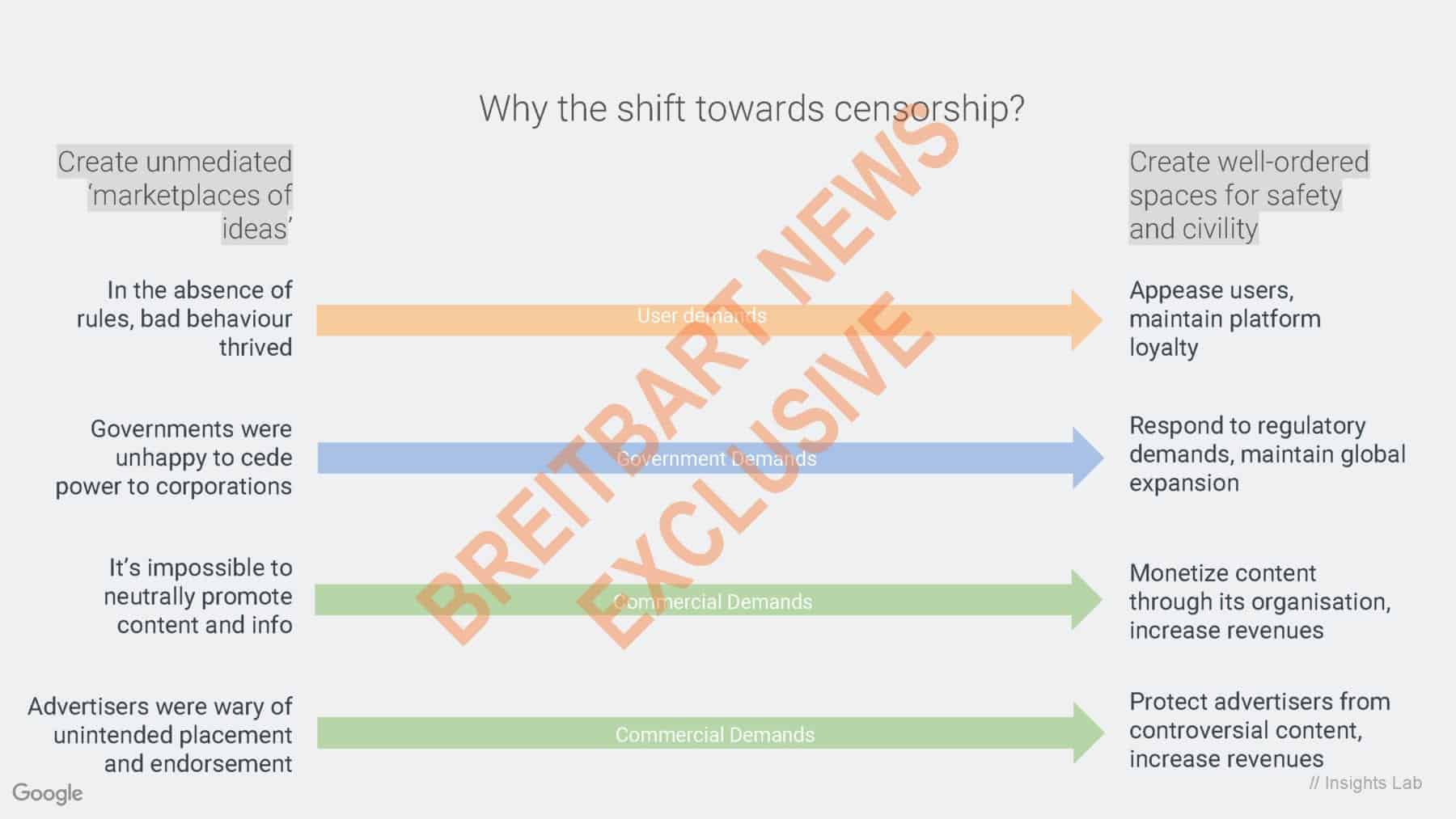 Six months after President Donald Trump was inaugurated, many Conservative websites experienced serious declines in readership. My website was included in that list, and we noted an immediate drop by 50 percent.
Since I created this publication, around 2010, we have seen an increase of around 20-30 percent in readership each year… until June 2017. Our readership was cut by around 40 percent at that time. Now, when you compare the growth lost in furtherance of Google's unlawful transition from neutral service provider to censoring publisher, we are actually down around 70 percent.
As an American and disabled veteran, I am hot about how rich silicone valley types thumb their nose at the Constitution and the laws we fought to protect. What Google is doing behind the scenes is unlawful and a breach of contract with the American public.
Further, let's not forget Google's artificial intelligence company DeepMind (based in England) now has access to our health records. So, how safe do you feel about Google also engaging in censorship online? What are they really doing with our records?
If they were willing to mislead Congress and the public about their secret censorship scheme, moving Americans under the European model of censorship and then lying when caught, how can we trust them with our health records?
I think we should all send VA cease and desist demand letters revoking any real or perceived consent to allow Google or its companies any access to our medical records. Period.
Do not pass go. Do not collect $200.
PDF Index
Below is the Breitbart index of interesting pages within this leaked Google report that you should review for yourself followed by the full PDF:
P2 – The briefing states that "users are asking if the openness of the internet should be celebrated after all" and that "free speech has become a social, economic, and political weapon."
P11 – The briefing identifies Breitbart News as the media publication most interested in the topic of free speech.
P12 – The briefing says the early free-speech ideals of the internet were "utopian."
P14 – The briefing admits that Google, along with Twitter and Facebook, now "control the majority of online conversations."
P15 – Section 230 of the Communications Decency Act is linked to Google's position as a platform for free expression. Elsewhere in the document (p68), Google and other platforms' move towards moderation and censorship is associated with the role of "publisher" – which would not be subject to Section 230's legal protections.
PP19-21 – The briefing identifies several factors that allegedly eroded faith in free speech. The election of Donald Trump and alleged Russian involvement is identified as one such factor. The rise of the populist Alternative fur Deutschland (Alternative for Germany) party in Germany – which the briefing falsely smears as "alt-right" – is another.
PP26-34 – The briefing explains how "users behaving badly" undermines free speech on the internet and allows "crummy politicians to expand their influence." The briefing bemoans that "racists, misogynists, and oppressors" are allowed a voice alongside "revolutionaries, whistleblowers, and campaigners." It warns that users are "keener to transgress moral norms" behind the protection of anonymity.
P37 – The briefing acknowledges that China – for which Google has developed a censored search engine – has the worst track record on internet freedom.
P45 – After warning about the rise of online hate speech, the briefing approvingly cites Sarah Jeong, infamous for her hate speech against white males (Google is currently facing a lawsuit alleging it discriminates against white males, among other categories).
P45 – The briefing bemoans the fact that the internet has until recently been a level playing field, warning that "rational debate is damaged when authoritative voices and 'have a go' commentators receive equal weighting."
P49 – The document accuses President Trump of spreading the "conspiracy theory" that Google autocomplete suggestions unfairly favored Hillary Clinton in 2016. (Trump's suspicions were actually correct – independent research has shown that Google did favor Clinton in 2016).
P53 – Free speech platform Gab is identified as a major destination for users who are dissatisfied with censorship on other platforms.
P54 – After warning about "harassment" earlier in the document, the briefing approvingly describes a 27,000-strong left-wing social media campaign as a "digital flash mob" engaged in "friendly counter-commenting."
P57 – The document juxtaposes a factoid about Russian election interference with a picture of Donald Trump.
P63 – The briefing admits that when Google, GoDaddy and CloudFlare simultaneously withdrew service from website The Daily Stormer, they were "effectively booting it off the internet," a point also made by the Electronic Frontier Foundation and the FCC in their subsequent warnings about online censorship.
P66-68 – The briefing argues that Google, Facebook, YouTube and Twitter are caught between two incompatible positions, the "unmediated marketplace of ideas" vs. "well-ordered spaces for safety and civility." The first is described as a product of the "American tradition" which "prioritizes free speech for democracy, not civility." The second is described as a product of the "European tradition," which "favors dignity over liberty and civility over freedom." The briefing claims that all tech platforms are now moving toward the European tradition.
P70 – The briefing sums up the reasons for big tech's "shift towards censorship," including the need to respond to regulatory demands and "expand globally," to "monetize content through its organization," and to "protect advertisers from controversial content, [and] increase revenues."
P74-76 – The briefing warns that concerns about censorship from major tech platforms have spread beyond the right-wing media into the mainstream.
Leaked Google Briefing
[documentcloud url="https://www.documentcloud.org/documents/5000042-390521673-the-Good-Censor-GOOGLE-LEAK.html" responsive=true]