VA Secretary No Longer 'Strong Believer In The Need For Canine Research'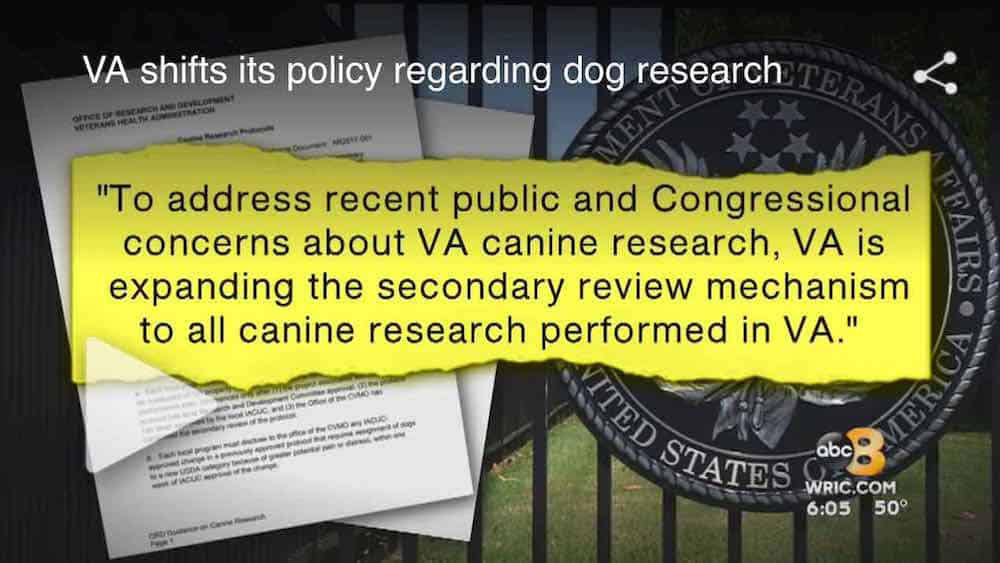 VA Secretary David Shulkin has reversed course on the agency's canine research and now oversees all approval for new programs following public outcry.
The new position follows almost one year of intense public pushback opposing continued use of taxpayer dollars and VA resources to perform research. That research frequently benefits private industry, like foreign-based Medtronic, and civilians suffering from illnesses not impacting the general veteran population.
Now, the agency not only requires additional levels of review not previously required, but Shulkin himself states doubts as to the necessity for continued VA canine research.
In an internal memo provided to another news media outlet regarding the new VA canine research protocols, it states:
"To address recent public and Congressional concerns about VA canine research, VA is expanding the secretary review mechanism to all canine research performed in VA."
This means the VA Chief Veterinary Medical Officer, Dr., Michael Fallon, must approve any new canine research. The VA Secretary now also requires review of all projects green-lighted by Dr. Fallon.
Shulkin was recently noted in an interview that he is 'not a strong believer in the need for canine research,' and he will be using 'an extremely high threshold' before approving any new dog research.
Dispute Over VA Canine Research Program
The VA Secretary's position now is almost a total 180 from his position in a USA Today op-ed published under his name last September. In the op-ed titled "Disabled veterans need VA canine research to continue," Shulkin said the program was necessary for disabled veterans to help address the needs of seriously disabled vets.
The op-ed, if you look into it, was a total spin piece lifted and then dressed from previously written propaganda supporting such research from the agency's website. Reports later surfaced the poorly researched op-ed was actually written by VA internal renegade and subversive Curt Cashour, the present press secretary.
Cashour is noted for acts of subversion against Secretary Shulkin two weeks ago and is also noted as orchestrating set-ups of the Secretary to look poorly in the public light.
I wrote a response in The Hill hammering Shulkin (i.e. Cashour) for poor research while also highlighting VA canine research seems to consistently benefit non-veterans and corporate interests with a profit motive.
An organization called White Coats Waste Project has been consistent in pushing back against taxpayer funding of canine research including that conducted by VA, as has Rory Riley, another veterans advocate.
This reversal is no doubt the result of joint efforts opposing fraud, waste, and abuse of agency researchers.
So, kudos to us, and especially to you, my readers, for spreading the good news of accountability and transparency throughout the blogosphere.
VA needs to stop wasting resources on programs that are not directly linked to helping veterans, especially programs clearly aiding corporate profit motives.
Source: https://wric.com/2018/02/26/va-shifts-its-policy-regarding-dog-research/