Ready To Stop Bad Faith Insurance Denials Of Non-VA Emergency Bills?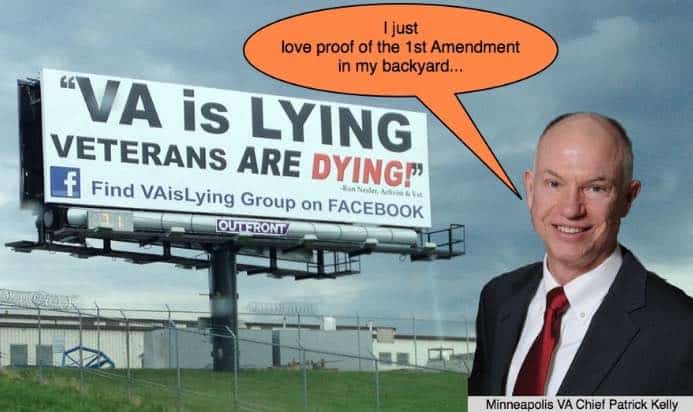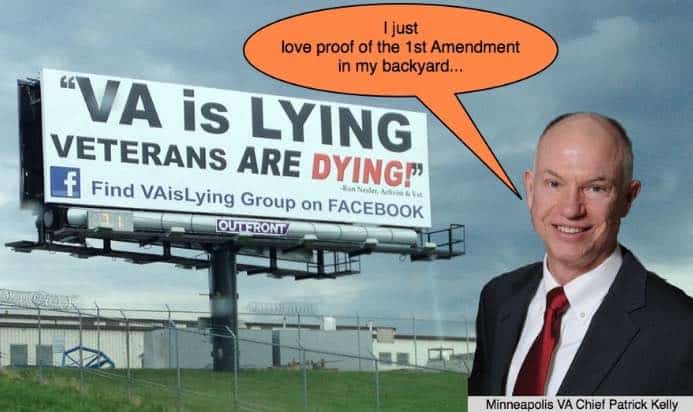 Do you have an experience you would like to share about Veterans Affairs denying payment of your emergency room bill in a bad faith insurance denial?
We would like to hear from you if you do.
Over the weekend, I discussed stories with a press team about various veterans who were stuck with hefty emergency room bills by VA and its Non-VA Care Department. These stories include my own recent experience with the program and a bizarre denial that lacked any explanation. The news team and I intend to get to the bottom of this issue.
Frankly, my goal is to now force VA to pay millions to cover improperly denied emergency room bills. By getting this story out through my friend AJ Lagoe at KARE 11 News, we stand a great chance at making a national difference.
(email AJ at [email protected])
I think it is time we send VA a message. That message is to start using common sense when adjudicating claims of any type, including claims for Non-VA Care for a medical emergency.
Dear VA,
Your practice of wronging denying claims where the veteran is clearly entitled is fraud or bad faith insurance adjudication. Since VA possibly has government contractors or its own employees applying the wrong standards using the old Allstate "Delay, Deny, Defend" model, this practice could result in a massive class action lawsuit against the government contractor engaging in the fraudulent practice.
Stop encouraging fraud and change the practice of your employees or contractor immediately.
Thanks,
All Of Us
Bad Faith Insurance
Basically, at least in Minnesota, bad faith insurance laws require the insurer adjudicate claims in good faith.
Should an insurer deny a claim, the person who is insured has a cause of action against the insurer if she can prove the following:
There is no reasonable basis for denying the benefits of the insurance policy, and
The insurer was aware of the lack of reasonable basis for denial, or acted in reckless disregard of that fact.
VA has a department called the Chief Business Office where fee-basis claims are processed. Those claims are now called non-VA care claims, and they are generally processed by a government contractor under the umbrella of VA or VA employees directly. Nonetheless, that contractor aka vendor is an insurance company.
Presently, we know Healthnet and Triwest processes some non-VA care claims for the agency (mainly related to Veterans Choice). That said, I want to set out the following involving my own story with the hope that many of you will reach out and share your own story.
Bad faith insurance adjudication is against the law. VA's government contractors aka vendors can be liable if they get caught engaging in fraud or bad faith insurance adjudication in many states. We do not know who adjudicated my claim, but I will find out.
It is possible Minneapolis VA adjudicated the claim in house, since that is what the letter seems to suggest. It is also possible it contracted out the responsibility and then approved the decision with its logo and stamp on the document. We shall see.
.@realDonaldTrump @DeptVetAffairs Stop Your Bad Faith Insurance Denials Of Emergency Care!
Here is my own story.
My Chest Pains Experience
In February, my ex-wife died from burn pit-related pancreatic cancer. She was 36 years old and was survived by her husband and three children.
RELATED: Amie Muller, Latest Burn Pit Victim, Dies
Shortly after her untimely passing, I experienced what I reasonably believed to be symptoms of an evolving heart attack or stroke.
Technically, I experienced an acute potentially life endangering medical emergency: malignant hypertension with cardiovascular and neurovascular symptoms including chest pain, respiratory difficulties, sensorium disturbance and bowel incontinence, to name just a few.
My memory of the emergency is incomplete, but my wife recalls looking up symptoms of heart attack online at 8:30 pm, concluding I was experiencing such symptoms including chest pains, and immediately driving me to the nearest emergency department.
Our driveway is quite steep, and with the ice this winter, would not allow any ambulance or other vehicle without 4-wheel drive up.
As we all know from public service announcements about stroke and heart attack, every minute matters, and anyone experiencing a similar medical condition should immediately seek emergency care. So, we went to the nearest emergency department.
This all seems prudent to me and basically what any layperson would do in a similar situation. Luckily, the medical doctors on hand were able to resolve my malignant hypertension before a stroke or heart attack. But without the emergency care, it is probable that I would have died or suffered permanent injury.
After I returned home, and within the 72-hour window, I notified VA of the emergency for coverage by its Non-VA Care Department. I even wrote about it here to help readers file their claims for coverage.
RELATED: The Next 72 Hours – 3 Things Veterans Must Do Following Non-VA Emergency Care
The next month, I spoke with a senior VA official about the incident at the direction of VA Secretary David Shulkin, MD. They reassured me they would take care of it and that I should send my bill in to them. I was under the false impression this meant VA would pay for the ER bill.
Months later, I heard nothing from them or from Minneapolis VA to process the Non-VA Care claim, but I was sure to forward the bill once I received a copy. Two weeks ago, I heard from Minneapolis VA for the first time. The liaison informed me he had no knowledge of my claim.
So what was VA Central Office (VACO) doing with the information? I am not sure.
Why did they ask me to send the bill to VACO? Again, I was under the impression the matter would be resolved there, as there is more to the story that I will get into in a bit.
This Friday, I received the below denial wherein VA basically asserts a prudent layperson would not have sought emergency care with the medical condition I had at the time:
The above listed claim has been administrative and clinically reviewed to determine if it meets eligibility requirements for payment for service connected emergency unauthorized medical care. We regret to infom1 you that your claim does not meet the requirements of 38 U.S.C. 1728.
In order for VA to reimburse the non-VA provider on your behalf for the service connected services provided, the following eligibility criteria must be met: (1) Treatment was emergent according to the prudent layperson standard; (2) VA facilities were not feasibly available and attempt to use them beforehand would have been hazardous to life or health by prudent layperson standard. Furthermore, the emergency treatment must have been for at least one of the following: (1) An adjudicated service connected disability; (2) A non-service connected disability associated with and aggravating an adjudicated service connected disability; (3) Any disability of a veteran who has a total disability permanent in nature resulting from a service connected disability; (4) Any illness, injury or dental condition of a veteran participating in a rehabilitation program under 38 USC Ch. 31. 
This claim for VA reimbursement has been disapproved for the following reason(s):
Claim Denied – The treatment provided does not meet the Prudent Layperson definition of an emergency. 38 CFR 17.120(b).
If you do not agree with this decision, you have the right to appeal…
I think you get the gist of it. Sorry for your trouble, screw you very much, oh, and thank you for your service.
So what is a prudent layperson?
Why did VA not include an explanation of why the treatment provided did not meet this standard?
How many veterans get stuck with a bill via a vague and ambiguous denial like this?
Prudent Layperson Standard
For this, I turned to review the regulation cited using the Cornell legal database, which states for the relevant regulation concerning emergency care:
(b)In a medical emergency. Emergency treatment not previously authorized including medical services, professional services, ambulance services, ancillary care and medication (including a short course of medication related to and necessary for the treatment of the emergency condition that is provided directly to or prescribed for the patient for use after the emergency condition is stabilized and the patient is discharged) was rendered in a medical emergency of such nature that a prudent layperson would have reasonably expected that delay in seeking immediate medical attention would have been hazardous to life or health. This standard is met by an emergency medical condition manifesting itself by acute symptoms of sufficient severity (including severe pain) that a prudent layperson who possesses an average knowledge of health and medicine could reasonably expect the absence of immediate medical attention to result in placing the health of the individual in serious jeopardy, serious impairment to bodily functions, or serious dysfunction of any bodily organ or part.
Basically, it says VA will pay facilities for care provided to certain veterans when a prudent layperson (whatever that means) would reasonably expect a lack of immediate care could result in putting that veteran's health in serious jeopardy, impairment of bodily function, or serious dysfunction of any bodily organ or part.
Personally, it seems reasonable to me now to believe my heart my stop due to heart attack or stroke. I assume "heart stopping" or "death" is sufficient to meet the serious dysfunction standard.
So what is the problem? Why is VA confused on my case? Further, why are countless veterans receiving denials who sought emergent medical care for heart attack or stroke symptoms?
Prudent Layperson Fact Sheet From VA
The "prudent layperson" standard originated from Medicare law in the 1980's and was established as a standard for Medicaid effective October 1997. The standard was then adopted by VA in 2010 per the Federal Register.
Using my cyber-sleuthing techniques (ie Google within 5 seconds), I was able to dig up a VA document that explains the standard, its use in VA adjudications now, and an explanation of medical necessity. This document made me wonder how Minneapolis VA and its Non-VA Care Department could screw up my claim.
I would like to repeat one thing. It took my 5 seconds to find a sheet published by VA that explains how to assess a case and what the prudent layperson means.
Would you be surprised to learn it addresses a case exactly like mine – – and that such cases should be approved – – not denied?
DOWNLOAD: VA Prudent Layperson Fact Sheet (from Puget Sound VAMC)
And, I know, some of you may be saying, "Well, you were not diagnosed with a heart attack, so maybe VA was correct to determine your symptoms did not show a medical emergency requiring emergent care."
I can see why you would say this, but VA's own guidance on the subject explains this reasoning is incorrect.
Now, instead, you may be saying, "Many VA executives hate you, Ben, so why would you expect to be treated fairly?" I will get to this in a second.
In bold print, that Prudent Layperson Fact Sheet states, "A determination of a medical emergency focuses on the patient's presenting symptoms rather than the final diagnosis."
Prudent Layperson And Medical Necessity
The full section on medical necessity reads:
Any medical condition of recent onset manifesting itself by acute severity of symptoms, including severe pain. A determination of a medical emergency focuses on the patient's presenting symptoms rather than the final diagnosis.  
Adjudicative decisions are made on a case-by-case basis. However, certain conditions are the leading cause to seek emergency treatment. These conditions include, but are not limited to: loss of consciousness, seizure, no recognition of one side of the body, paralysis, chest pain, shock, gangrene, coughing blood, trouble breathing, and choking.  
Cases that fall into categories that may be chronic or blatantly non-emergent generally do not fall into qualifying for immediate treatment under the prudent layperson standard. Normal follow-up of a medical condition, removal of stitches, or medication refills would generally be considered as non-emergent conditions under the prudent layperson standard.
Notice the explanation includes symptoms I experienced including chest pain and trouble breathing. Again, since I experience chest pain, and this was reported to the emergency department, how come Minneapolis VA denied my claim?
Coincidentally, Case Example A in the document addresses a similar situation as mine, where the veteran presented with a complaint of chest pain:
A patient presents to the emergency department with a complaint of chest pain. The patient is examined and evaluated and discharged with a diagnosis of mild gastric irritation. Retrospective analysis by a Fee Basis Unit may determine that gastro-intestinal upset is not an appropriate use of an emergency department and deny the claim as non-emergent. However, the patient's initial judgment seeking emergency treatment regarding his/her chest pain, a potentially serious problem, is appropriate. This type of visit clearly falls into the category of what any prudent lay person would consider an appropriate use of an emergency department.
Seems open and shut, right? And, since VACO offered to help resolve the matter, why was my claim denied despite being on point with VA's own guidance?
Minneapolis VA Has A Beef With Benjamin Krause?
I can only conclude this result has everything to do with an ongoing dispute between me and Minneapolis VA about policy and my work as an investigative journalist and attorney.
In the past, I was threatened by a VA employee. The threat was confirmed by VA OIG and relayed through a contact of mine at Vietnam Veterans of America.
Two years later, a social worker at Minneapolis VA told me I needed to watch my back because of how vindictive VA employees might be while seeking medical care.
A year later, I requested non-VA care on a permanent basis because I do not trust that VA can provide me with appropriate and beneficial health care given the nature of what I do.
Is my concern justified? Minneapolis VA director Patrick Kelly does not think so, but let me know what you think in this context.
My Recent Work At VA
Most recently, I exposed a $1 billion traumatic brain injury (TBI) scandal originating out of Minneapolis VA where the facility was fraudulently selecting unqualified doctors to conduct initial TBI examinations. I worked very closely with KARE 11 News and AJ Lagoe to expose the fraud. AJ and his team executed a nationwide investigation that exposed rampant fraud negatively affecting at least 24,000 veterans dating back to 2007.
AJ and his team won the Peebody Award, IRE Top Investigation Award, and the Golden Padlock (on behalf of VA) for VA being the most secretive agency in 2016. It was a big deal, and former Secretary Bob McDonald issued the largest Equitable Relief package to date allowing affected veterans to come back in for a new assessment and an effective date back to the date of the error where an unqualified doctor was used.
It was the biggest scandal I have exposed through partnership with the press to date.
WATCH: NBC TBI Investigation Report
I also helped fund the three "VA Is Lying: Veterans Are Dying" billboards that surrounded Minneapolis VA in 2015 for one month. Its employees were so distraught that they asked Director Patrick Kelly to do something. My wife and I even helped design the signs.
Director Kelly was forced to write an email to all staff explaining that the "disparaging message about VA" was a form of protected speech, and that he could not do anything about veterans exercising our 1st Amendment Rights.
RELATED: Leaked VA Email Decries 'VA Is Lying' Billboards
"Like all Americans, Veterans have the right of free speech and are welcome to exercise that right even when we don't agree with the message," wrote Kelly. "If you are asked by your family, friends or neighbors about the billboards, assure them that Minneapolis VA is committed to providing timely, high quality healthcare to our Veterans."
The email written by Kelly but delivered through his assistant Donna Carpenter, reads:
Team,
I want to update you on a couple issues being covered by the local media and provide a little more context.
First, there is continued coverage of the issue of initial Compensation and Pension TBI examinations for our MPLS area Veterans. As I stated in my 6 August email on this subject, we did use the wrong type of examiner as has been reported. Once we identified the problem, we acted aggressively, and in coordination with the VBA Regional Office, identified all affected Veterans and took appropriate actions to ensure they get the benefits they're entitled to.
To ensure that we're on the right track, we've reviewed our internal processes and have asked an external reviewer to assist us in making sure we're not missing anything. One of our distinguished MN Congressmen has called for a nationwide review and we fully support this as a means to make sure we're doing everything correctly going forward.
Second, advertising billboards in the area of HWY 62 and Cedar Avenue in Minneapolis are displaying a disparaging message about VA. One billboard is located across the street from a VA office building. Similar billboards have appeared near VA Medical Centers in Florida, Georgia and Illinois. Like all Americans, Veterans have the right of free speech and are welcome to exercise that right even when we don't agree with the message. If you are asked by your family, friends or neighbors about the billboards, assure them that the Minneapolis VA is committed to providing timely, high quality healthcare to our Veterans. Encourage them to visit our VA, talk to Veterans and even volunteer to help us in our sacred mission. Anyone wishing to volunteer here should call 612.725.2050. The billboards have drawn the attention of several news media outlets. As a reminder, in the event that you are contacted by the press for comment about the VA, please refer them to Ralph Heussner, our Public Affairs Officer, at 612.467.3012.
You can all be incredibly proud of the work you're doing. It's an honor to serve with you in caring for our Veterans.
Respectfully,
Patrick J. Kelly, FACHE
Director, Minneapolis VA Health Care System
612.467.2101
Now, before the TBI scandal, I also exposed problems with the "as the crow flies" rule concerning the Veterans Choice Program, again through KARE 11 News and AJ Lagoe, highlighting the unfortunate case of Paul Walker, a now deceased veteran desperately seeking cancer treatment.
That coverage made the Daily Show with Jon Stewart just prior to VA changing the "as the crow flies" rule to instead using real maps.
RELATED: Jon Stewart Nails It On Veterans Choice Card
By exposing this scandal, AJ and KARE 11 won an Emmy.
And, as if this was not enough to potentially justify being at least concerned about any VA employee treating me for symtpoms of heart attack, I was just informed VA attorneys complain about me to the Department of Justice for being too zealous in my prosecution of appeals and torts on behalf of my clients.
What good news! But that news does not make me feel any safer receiving invastive, emergency health care from any VA facility anywhere.
Needless to say, I have been busy as an attorney and reporter and exposing numerous scandals through collaboration with AJ and his team. Lucky for us, VA seems never to shy away from providing topics worth exposing and we are happy to oblige.
Request For Non-VA Care
Minneapolis VA denied my request using the expired Clinical Appeals policy originally published in 2006 that literally states it expired October 31, 2011.
I informed VA that they were using an expired policy and that they should be using an updated policy for my request, which they later refused to accommodate.
When I requested a hearing, the same personal hearing any veteran is guaranteed after a denial of benefits, my hearing request was refused… approximately 5-6 times.
Instead, Minneapolis VA repeatedly restated in its repeated denials that I was in fact entitled to a hearing, but the agency failed to ever schedule the hearing despite my requests.
Finally, after one year of back and forth, VA certified my Form 9 appeal to the Board of Veterans Appeals, which effectively kicked the can up the road for five years. By the time it gets remanded, it will be someone else's problem. And, perhaps the individuals I would have subpoenaed would no longer work at VA.
Enter VACO And Why They Reached Out
So, last March VACO reached out to discuss the matter after I filed a notice of my intent to file a writ of mandamus with the Secretary.
This matter is obviously somewhat complicated because no "prudent layperson" would likely seek health care directly from a VA medical doctor given this history.
But that was not even relevant here since everyone knows you need to rush to the nearest emergency department to seek emergency care when experiencing symptoms of heart attack including chest pain.
It is now going to make the press, thanks to Minneapolis VA, yet again. But we need your support and stories to make the impact necessary.
No doubt thousands of veterans are wrongly denied each month by Non-VA Care, which is really just the new term for the Chief Business Office based in Denver.
I would like to expose this. So, please post your stories below and reach out to AJ Lagoe, at [email protected]. Please send your denial letter as a PDF to him as well.
Together, let's send VA a message.
"When you screw with us, we will expose you by name in the press."
.@realDonaldTrump @DeptVetAffairs Stop Your Bad Faith Insurance Denials Of Emergency Care!
My $6,000 wrongly denied ER bill will turn into millions worth of denials being overturned once we get this scandal fully exposed.
These denials are due to bad faith insurance adjudication by Minneapolis VA or on behalf of Minneapolis VA. Either way, this broader matter of veterans being screwed by a fraud scheme or bad faith insurance adjudication will be exposed.