DISPATCH: Weekend Top 10 Veterans Stories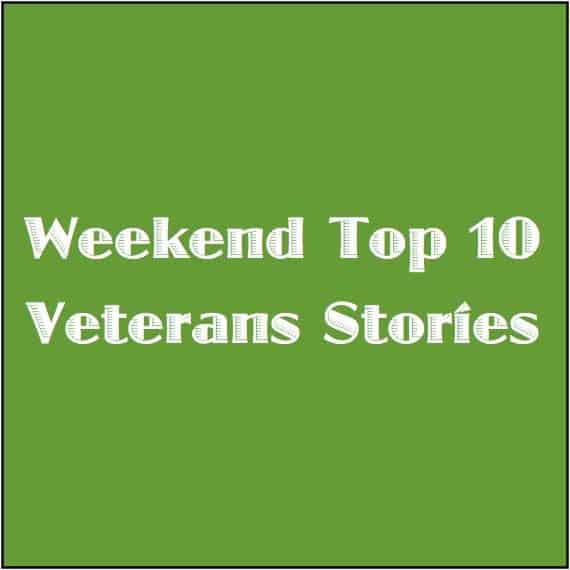 Here are the top stories going into the weekend. For those of you interested in keeping up on Capitol Hill and how veterans are treated, take a look.
Yesterday I posted a link to some tools veterans can use to do their own investigations into government fraud, waste and abuse.
Use those tools to parse through some of these articles. Send me something interesting as next week starts, and I'll make a point to fit it into my next week's articles.
Here is the Weekend Top 10:
House Backs Bill to Cut VA Bonuses
Government Executive – The House unanimously passed a bill Monday to limit the amount the Veterans Affairs Department can spend on bonuses each year, mandating a 14 percent cut to the agency's performance awards.
The bill would set an annual cap on bonuses of $345 million for the next five years, or through 2018. It would also require VA to include a standardized appeal form along with rejection notices issued to veterans applying for benefits.
The Coming Food Stamp Cut Will Hit 900,000 Veterans
ThinkProgress – Benefits from the Supplemental Nutrition Assistance Program (SNAP), otherwise known as food stamps, will automatically drop come Friday thanks to the loss of additional funds from the 2009 stimulus bill. That cut will hit about 900,000 of the country's veterans, according to an analysis by the Center on Budget and Policy Priorities.
"Nationwide, in any given month, a total of 900,000 veterans nationwide lived in households that relied on SNAP to provide food for their families in 2011," CBPP writes. The number varies state to state, with over 100,000 veterans in households that rely on the benefits in Florida and Texas each.
Spas and limos? VA work amounted to paid vacation for some feds, House finds
The Washington Times – Planners at the Department of Veterans Affairs accepted thousands of dollars in meals, spas, gift baskets and limo and helicopter rides from hotels hoping to host the VA's lavish conference business, a congressional investigation has found.
The government planners traveled to Nashville, Dallas and Orlando to check out possible locations while treating the trips as little more than paid vacations, according to an investigative report set to be released Wednesday by the House Oversight and Government Reform Committee.
House Panel to Examine VA Spending on Extravagant Conference
The Washington Post – A Department of Veterans Affairs marketing consultant asked whether Washington Redskins cheerleaders were available to promote agency conferences in 2011, according a congressional report.
The request is an example of how the VA lost sight of its mission of caring for veterans as it planned extravagant events, according to a House committee report obtained in advance of a hearing Wednesday on the agency's conference spending.
Five officials left VA in wake of conference fallout
Federal Times – Five Veterans Affairs Department officials involved in two costly 2011 conferences have resigned or retired since the VA inspector general faulted their roles in planning, managing and overseeing the training events in Orlando, Fla., according to a newly released congressional report.
The highest ranking, former VA chief human capital officer John Sepulveda, resigned Sept. 30, 2012, one day before the public release of the IG review alleging that he lied about his involvement in the production of a $50,000 parody video of the movie "Patton" shown at the conferences. While the departure of Sepulveda — who in a sworn affidavit denied purposefully misleading investigators — was widely reported at the time, the other four officials have since stepped down with little or no fanfare.
VA's Warren Given CIO Title as House Ramps up Cyber Investigation
Federal News Radio – The Veterans Affairs Department is splitting up its chief information officer's position for at least the short term.
Veterans Affairs Secretary Eric Shinseki today removed the acting title from Stephen Warren and named him the agency's full-time chief information officer. But Warren has not been nominated to be the assistant secretary in the Office of Information and Technology, which is a Senate-confirmed position.
Veterans encouraged to record discharge documents
Observer-Reporter – With Veterans Day on the horizon, the state House of Representatives, by way of a resolution, is encouraging veterans to take advantage of a free service and record a copy of their discharge documents Friday as a way of safeguarding them from loss or destruction.
"Recording preserves the safety and accessibility to the discharge for the veteran or the family member," said Barry Grimm, Washington County director of veterans affairs, who subscribes electronically to the discharge docket.
VA Is "Aggressively" Recruiting Medical Staffers
WIBW – A letter from Secretary of Veterans Affairs Eric Shinseki to Rep. Lynn Jenkins says help is on the way.
The letter, dated October 22, 2013 from the VA Secretary addresses a letter sent to the Department of Veteran's Affairs from Kansas Congresswoman Lynn Jenkins (R) about the Colmery-O'Neil VA Medical Center's staffing problems and concern for patient care.
2013 COLA Set
Stars and Stripes – Military and federal civilian retirees, survivor benefit annuitants, disabled veterans and social security recipients will get a 1.5 percent cost-of-living adjustment in January.
Annual COLAs for federal benefits are based on inflation, as tracked by the Bureau of Labor Statistics' Consumer Price Index for Urban Wage Earners and Clerical Workers (CPI-W).  Changes in prices across a market basket of goods and services from the third quarter of last year to the third quarter this year determine the January COLA.
TSA discusses wounded-vet screening
Stars and Stripes – Sgt. 1st Class David Lau, a national guardsman and federal air marshal, still has about a dozen ball bearings in his body from a suicide bomb attack last year in Afghanistan that killed 10 people, including three Americans.
Lau, still in recovery and waiting to return to work with the Department of Homeland Security, said he's come to understand the concerns of other wounded veterans who don't like having to wait to get through security checkpoints at airports in the post-9/11 era of heightened security.