Government and Lobbying Transparency?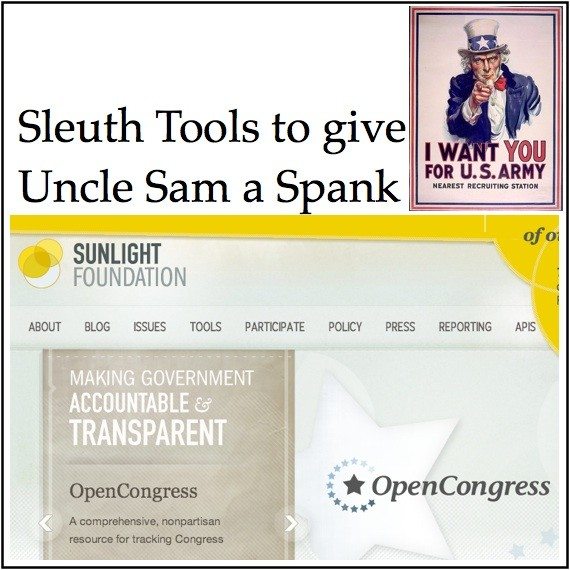 This post is for all the veteran sleuths out there who enjoy looking into the government using technology. Here one of my bags of investigation tricks most people would not reveal.
Here is a "trick" that will help us kick all those folks who call themselves "Congress" out of DC over these next coming elections.
While we all cannot be in Washington DC policing those children we call "Government," luckily, we have friends in high places who have made it possible for each of us to be like an arm chair Sherlock Holmes type at the Sunlight Foundation.
If you haven't yet, you should check out the investigation tools at Sunlight Foundation. Maybe, if more of us start using their tools, we will have less bombshells like the recent Healthcare.gov website debacle.
The funniest skit I've seen in a while was the recent SNL spoof about Healthcare.gov. "Now a lot of folks have been talking about our new health care enrollment website, and how it's been crashing and freezing and shutting down and stalling and not working and breaking and sucking."
If the situation wasn't so sad, I think we would all laugh a little harder.
Lately, the issues in DC have come to really trouble me, and I've begun to look for different answers to these same problems of corruption and incompetence.
About a year ago, I came across the Sunlight Foundation website by accident but was immediately won over. Check out some of their ever growing list of investigation tools for the public and arm chair Sherlocks like yourself.
The web tools range from online systems to mobile apps, which I'll explain at the bottom.
Here are some cool ones they have sorted by topic:
Track Influence
Foreign Lobbying Influence Tracker
The Inner Workings of Congress
Politwoops – deleted tweets from politicians
Capitolwords – search by catch phrase
House Expenditure Reports Database
Mobile Sleuth Apps