7 Questions That Can Win Your Benefits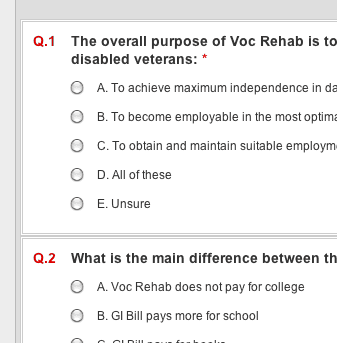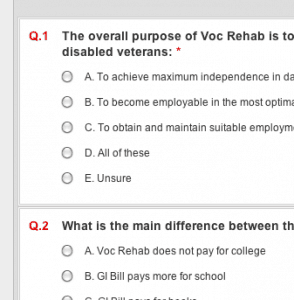 I have been chasing after Chapter 31 Vocational Rehabilitation for years now. My goal is to ensure that all veterans are provided the facts of this benefit.
There's one problem. The VA believes that they should keep much of the information on benefits and how the VA administers those benefits "secret". While this may shock some of you reading this post, it should not. The federal government has for 40 years embarked on a program of denial to avoid giving people their benefits.
Why All The Games?
Their justification? That a certain number of the applicants will just drop out after the first denial. Social Security does this. VA Vocational Rehabilitation does this, too.
To combat this odd issue, I created the fastest "educational" tactic I could think of to help all of you for free: a survey and a seven question quiz. Answering questions like this can be the quickest way to help you learn.
While this survey and following quiz are not as comprehensive as our Voc Rehab Survival Guide, they most certainly will send you on the right track in 9 minutes or less.
VA Vocational Rehabilitation Website Audit
First, take two minutes to audit the VA's official site for Voc Rehab – THIS IS IMPORTANT – by selecting the red button below. The audit will provide you an orientation with the VA website and some other resources. The questions serve to point out what the VA.gov website it not telling you. Once completed, you will be routed to the 7 question quiz.
About The 7 Question Voc Rehab Facts Quiz
Second, you will take the seven question multiple choice quiz after completing the audit. The answers will point you in the right direction to being researching your claim. You will get the answer key after you submit your answers. Again, by answering questions, a person can learn quite a lot because you are being ACTIVE in the process. This means the information will stick in your mind.
UPDATE: After you take the audit above by selecting the green button, you will be rerouted to the quiz. After the quiz, the correct answers will show up on the page. The system is set up so that you can only take the quiz once.
I had to run a couple trials to get the answers to show up the right way with the right answers selected — the system selected the wrong answers at first.
Be sure to read each question carefully. I did include a trick question or two.