Is New Record $240 Billion VA Budget Going To Help Veterans, Really?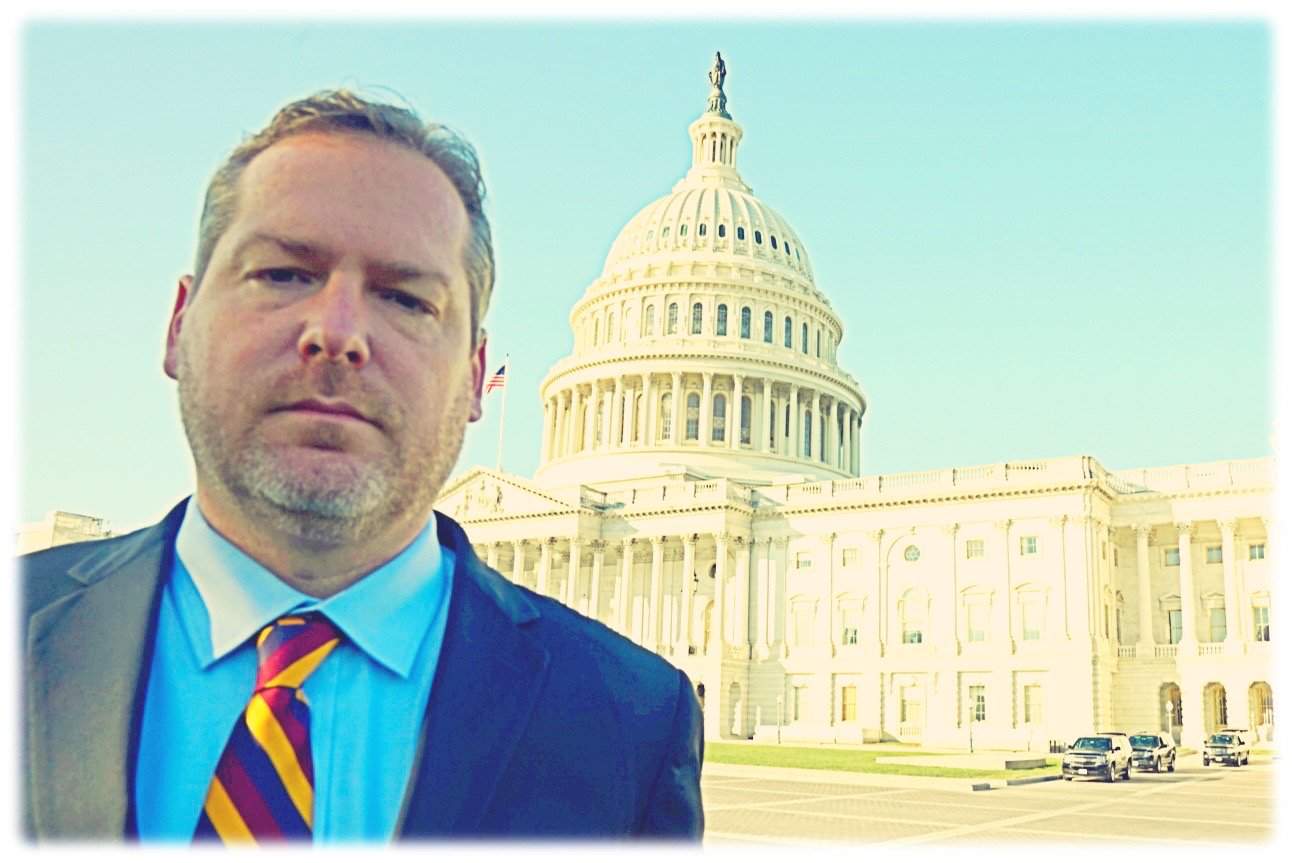 In President Donald Trump's fiscal 2021 plan, spending for the Department of Veterans Affairs is set to increase to $240 billion.
Two decades ago, the VA budget was only $40 billion. The agency has seen its budget now increase by five times. Five times. Five times. Five times.
Let me say that again. The agency's budget has increased five times since 2001.
This should be great news for America's military veterans, right? Who would not want appropriate spending in support of America's heroes? Certainly, this is what taxpayers want, right?
As a small business owner, would you not want a fivefold increase in your revenue?
I know that if my revenue for DisabledVeterans.org (by Armo Press) or Krause Law increased five times, I could really kick some VA tail. I would hire a couple of attorneys, some bloggers, and a few graphic artists to jumpstart my Bad VA Art clothing line.
Bad VA Art -> Love It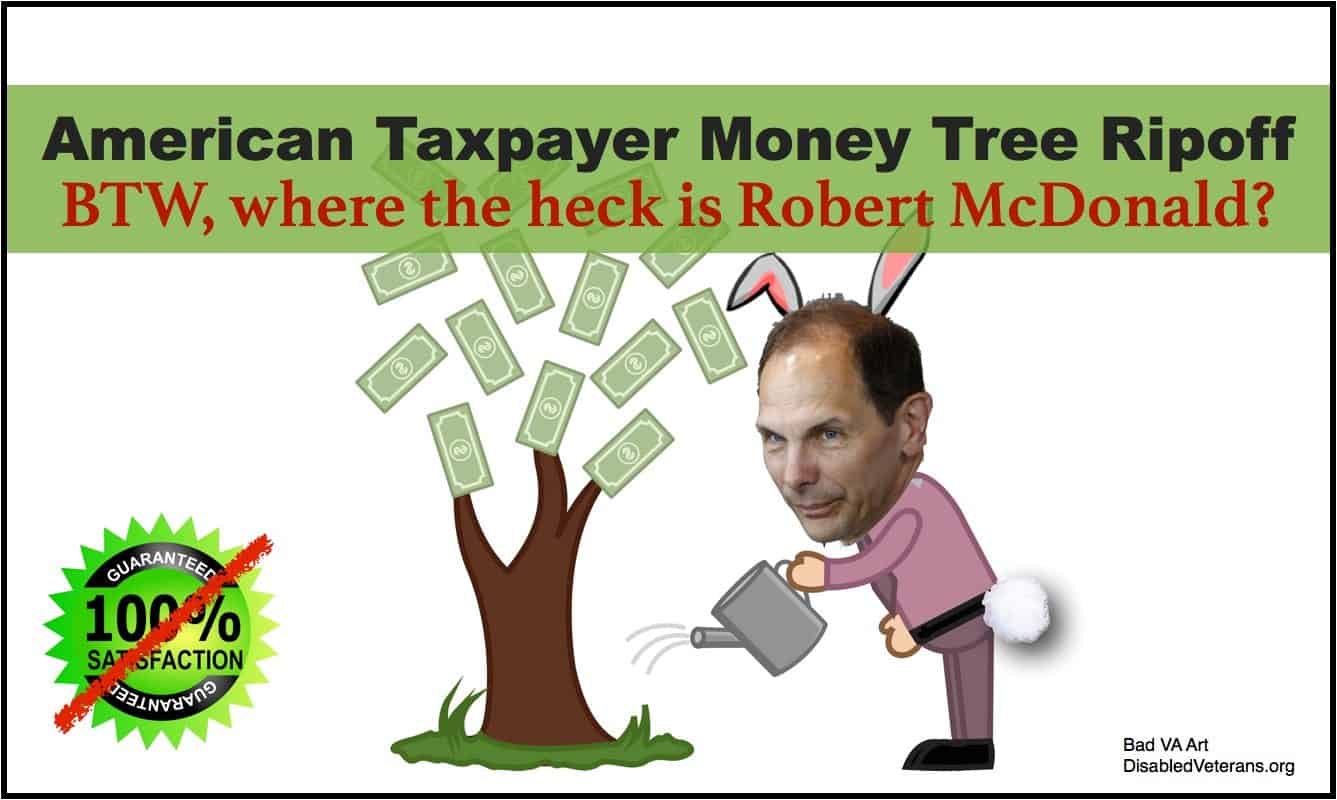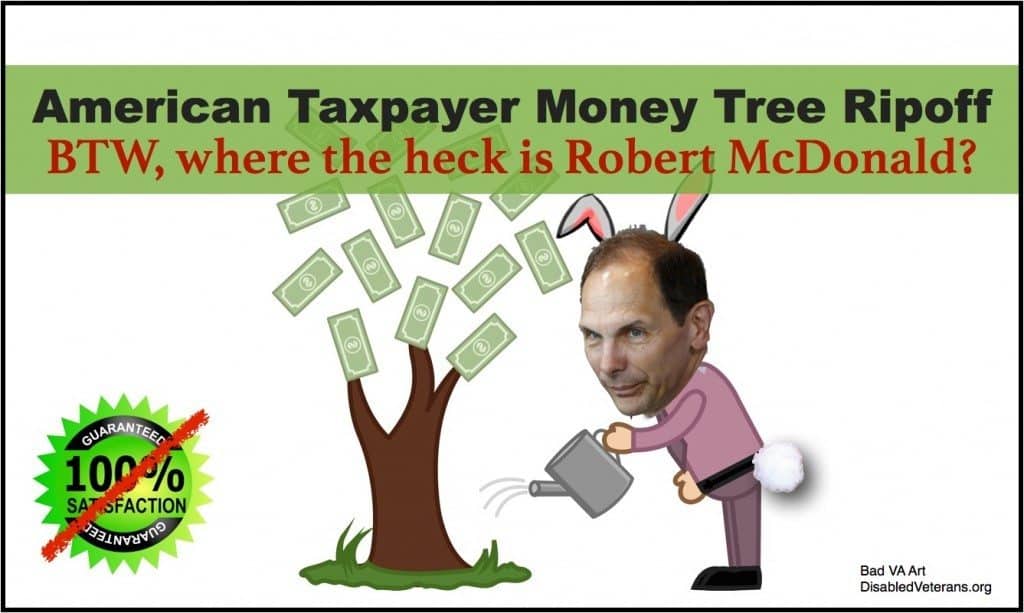 The same must be true for the veterans VA is supposed to serve, right? VA would serve them better, right?
Despite the boost, disabled veterans still may end up with less in their pockets – – some more so than others.
Keep reading.
Winners And Losers On The Budget Increase
VA is the only agency in the budget to see a double-digit increase for 2021. The overall budget is projected to increase over 10 percent overall, with discretionary spending set to increase 13 percent to $105 billion.
If the increase to discretionary spending is realized, it will push VA past the Department of Health and Human Services (DHHS). That agency is set to receive a 9 percent spending cut under the plan. Most other agencies are also experiencing cuts with the exception of the Department of Defense.
This appears to be great news for veterans, at least. President Trump is obviously putting veterans first, right?
But why are some disabled veterans still being misled by VA employees about their vocational benefits (a decade long problem)? How come it's so difficult to gain access to community care (a six-year problem)? Why can't some veterans get access to dental care or hearing aids or get a fair adjudication on their disability benefits (examples of God-only-knows how long it's been going on problems)?
RELATED: Negligent VA Doctors Can't Hide Wrongdoing Anymore
Why are whistleblowers still being harassed and maligned by agency leadership? Where is the accountability for poor leadership?
Where is the extra money really going?
No doubt many veterans, including disabled veterans, are better off today then they were in 2001. Vietnam veterans exposed to herbicides finally have benefits. GI Bill benefits are better than in the past. Health care facilities certainly appear a whole lot fancier than in past.
Some things are certainly better, and no doubt those improvements came through the 5-fold increase to the VA budget. Now we have another record budget.
Are more veterans and disabled veterans going to get more benefits as a result of the newest record budget increase?
Now for some bad news.
New VA Motto: Making VA Benefits Harder Since 1933
Let's start with an answer to where the money is not going.
The plan calls for a cost-of-living "round down" plan aimed at lowering monthly compensation by rounding all payments down to the nearest dollar. It will reduce budget costs by $2.2 billion over ten years by skimming the cream for other spending projects.
Okay, that may not sound all that bad, right? Veterans will see $12 less per year at most. Meaning, veterans receiving disability benefits will get a slight shave.
The plan also seeks to shave compensation to veterans by updating its compensation and pension benefits program to save $11.6 billion over the next decade.
Under the new proposed rules, VA would make it harder for veterans to get examinations and qualify for benefits. This is on top of the agency's recent Appeals Modernization Act that made it more difficult for veterans to get help from VA to fight their appeals after being denied benefits.
What do I mean?
Under the new rules, passed in 2017, VA no longer has an expansive duty to assist requirement to serve veterans in securing their benefits once denied in most instances. The new appeals process turned a straightforward process into a menu of options mired in legalese that makes pro se veterans dependent on VSOs and attorneys for help.
Many veterans will wind up being robbed of backpay they deserve if they are fortunate enough to properly address the errors in the appeals process.
Veterans frequently report that the new contractors hired to perform the disability assessments do a poor job and fail to report all the symptoms veterans attempt to address during the exams.
When combined with further attempts to restrict the agency's obligation to examine veterans claiming disabilities, the proposed changes in support of moving money from Peter to pay Paul will have an adverse impact meaning it is not a full win for veterans everywhere despite the appearance of such.
We Know Who Peter Is, But Who's Paul?
Peter is the group of veterans seeking benefits in the future through disability compensation and related programs. These veterans will have a harder time getting approved.
Here is a hint to where the money is going – – at least the discretionary funding increase.
During a White House event for American businesses, Trump boasted that "we're in the midst of a great American comeback" and said that his administration is "creating the most prosperous economy and most inclusive society ever to exist."
As you may have noted at the beginning, a record amount of money, under this budget proposal, will be poured into the discretionary spending budget largely for government contracting projects. All too frequently, these projects are IT related where the contract ends up not being properly fulfilled.
So, where is the money going?
It's safe to say the funding increase will not land in the pockets of veterans receiving benefits from the agency including compensation for disabilities.
RELATED: Record Cost Aurora VA Hospital To Serve Fewer Veterans
That much is a certainty.
Support For American Businesses
I support the initiative to support American businesses when it comes to contracting for necessary projects. If VA is going to spend the money, anyway, I would rather the money stay here where the companies exist and where their CEOs (hopefully) pay their taxes.
No doubt, the agency still spends too much of its contracting budget on companies based overseas to provide necessary services and products to American veterans.
RELATED: DOD/VA Not Sure Who Is In Charge Of Cerner Rollout
Rather than spend the money directly on veterans or to focus the budget on American companies that do help veterans, the agency appears all too happy to fund research and IT projects that frequently break. Veterans get trotted out for headlines each Veterans Day, and the systems designed to serve us never seem to quite get repaired or implemented on schedule.
Heck, we see the new Cerner electronic health record system hitting record costs while now being delayed before the initial roll-out, indefinitely. Isn't it such a coincidence the budget proposal contains record discretionary funding just after Congress learned the VistA replacement is not going as planned.
RELATED: VA Tells Congress Cerner Roll-out Delayed
It's so bad that Congress just passed a bill mandating that VA create a transparency portal to allow lawmakers to directly monitor how VA is doing with its IT projects when the projected budgetary cost is over $25 million.
Is funding for the overbudget health record replacement being financed on the backs of veterans being stripped of some of their due process rights and benefits they need and deserve?
Let me consult my Magic 8-Ball a second.
Drumroll… "Most likely"…
I Want The Blue Crayon
Based on the new numbers, it certainly appears the new expansive VA budget is not aimed at serving veterans seeking benefits in the future.
Likely, there are also other restrictive policies baked into the language of the budget that will shave benefits from veterans elsewhere suggesting the increase here has more to do with optics and funding new development and IT projects versus directly serving veterans.
These days, veterans seem to have a loud enough voice, and more leverage with social media than in any time in the past to expose scandals and demand answers.
Yet, the agency is running full tilt in the direction of new IT funding and projects at the expense of benefits for current and future veterans.
When will VA stop paying its new fancy computing systems on the backs of the same veterans those systems are supposed to serve? It is almost as if the veterans exist solely for the pleasure of the agency created to serve them.
Rather than listen to us, instead, VA is moving in a different direction.
Sit down. Shut up. And color.
For veterans with significant impairments such as traumatic brain injury, PTSD, and burn pit related cancers, it may be time to sharpen your Crayola.
It is this group of veterans and their families who stand to lose the most under the restrictive compensation policies VA is pushing.