Did RAND Alumni Take Swipe At Veterans Advocate Over Suicide Story?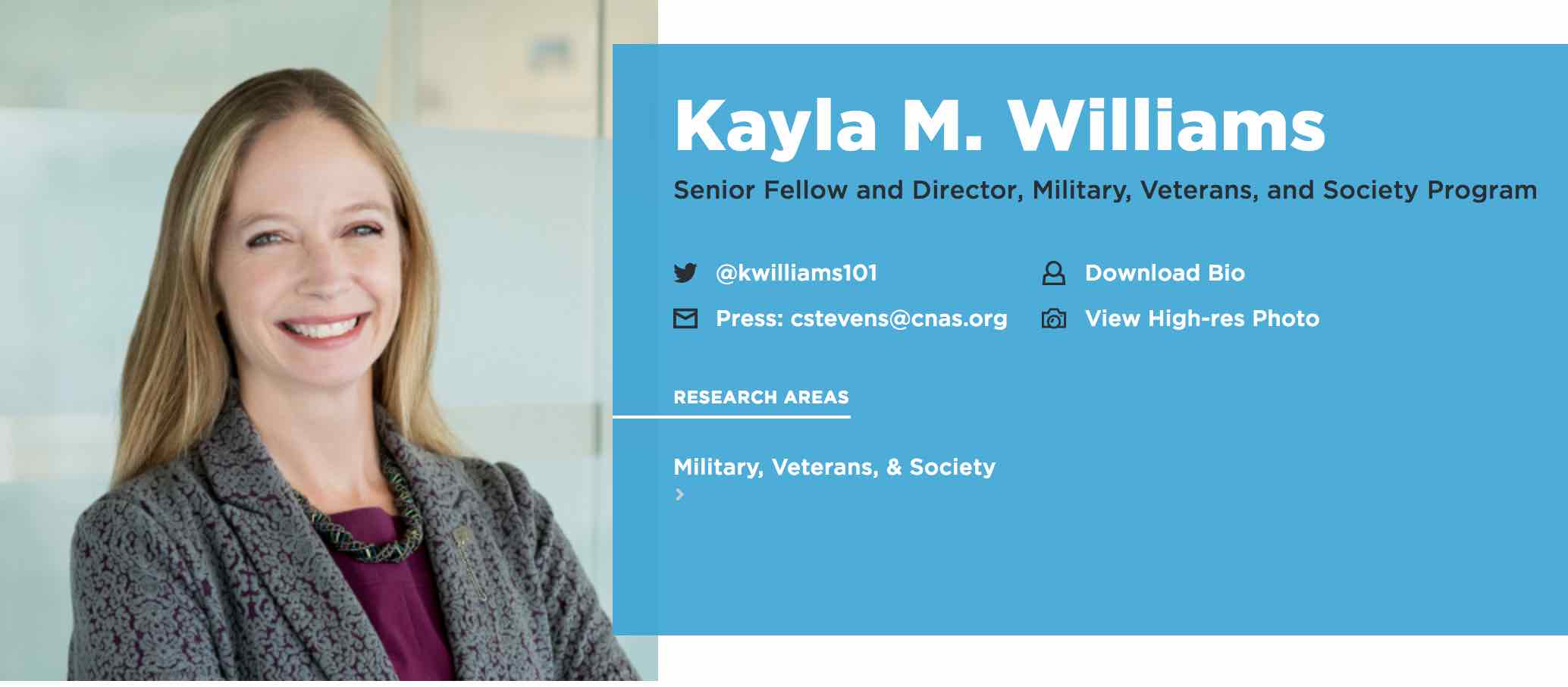 RAND alumni Kayla Williams took a swipe at my reporting on DisabledVeterans.org covering the Jim Turner veteran suicide in her call for VA to spend millions to counter the narrative using propaganda.
By implication, if VA followed her advice, it would spend millions it has withheld at the vender Reingold, Inc (aka JR Reingold).
Williams, the former VA director of the Center for Women Veterans, authored an op-ed published at The Hill titled, Veteran suicide prevention: Journalists and commentators have a role to play.
In the article, the current senior fellow at Center for a New American Security provided a critique about reporting on veteran suicides. She calls on VA to spend its millions on "pundits" and "influences" to combat the Col. Jim Turner suicide story and to educate reporters about how to do their job reporting on such tragic events before the end of the year – – I guess she wants VA to cut a check for millions… today.
Curiously, Williams focused on my recent coverage of the Col. Jim Turner suicide that included a quote from his suicide note. In that note, Turner wrote a scathing criticism of the Department of Veterans Affairs related to suicide prevention and his own treatment.
Williams apparently did not like my citation to Turner's suicide note that was also cited by Military.com and Task & Purpose from the original Tampa Bay Times news story:
"I bet if you look at the 22 suicides a day you will see VA screwed up in 90%," wrote Turner, who was well-known and well-respected in military circles. "I did 20+ years, had PTSD and still had to pay over $1,000 a month health care."
I may or may not respond on The Hill, which depends on my writing schedule over the next week. For now, I am curious about your feedback on her desire that reporters adhere to guidelines developed through RAND to curtail reporting on veteran suicide.
An excerpt of her op-ed that includes the link to my site follows:
The quality of reporting on suicide in the United States is worsening.
Newspaper coverage in Canada and New Zealand often follows established guidelines on reporting, but the US has seen a negative trend in the quality of reporting on suicide. Stories like the one in this link do not adhere to multiple recommendations for reporting on suicide that have been developed by experts specifically to decrease the likelihood of copycat suicides, which is particularly concerning given that the suicide rate in the veteran population is twice that in the civilian sector.
Rajeev Ramchand, Senior Vice President for Research at the Cohen Veterans Network (and my former colleague at RAND, where he did extensive work on military and veteran suicide), told me, "From a public health suicide prevention standpoint, we want to see reporters adhere to guidelines. It's difficult in today's competitive media landscape, but while sensationalistic coverage may draw readers in, it puts those who are vulnerable at risk."
(Kayla Williams' reference in "like the one in this link" was a link to my article on Jim Turner.)
Now, the purpose of her piece was not exactly to critique me. It was intended to influence VA, presumedly on behalf of a paid partner, to spend its allocated $20 million on veteran suicide propaganda. GAO just published a report showing VA has cut way back on spending on suicide propaganda since President Donald Trump was confirmed.
For whatever reason, (I explain possibly why below) she decided to take a swipe at my article instead of the multitude of other news media sources that covered it that also cited the above suicide quote.
SEE: Google Search On Turner Suicide
You may be wondering, 'Why is that?'
I wondered the same for a little while until I reread her op-ed. For the past couple weeks, I have been highly critical of the propaganda budget. The tens of millions would be better spent hiring more mental health professionals.
Kayla Willaims On 'Influencers'
We know what Williams really thinks within the first few paragraphs of her op-ed. She essentially stresses the importance of the Trump Administration telling VA to spend its millions on more pundits and influencers addressing suicide from a controlled approach:
This is particularly important during the stressful holiday season. It is critical that VA, which has vowed to spend its full suicide prevention budget outreach this year, include in its strategy targeted efforts to educate journalists, pundits, and influencers in the veteran space about best practices for covering suicide.
Said a different way, Williams strongly believes VA should spend millions more on suicide propaganda – – and that it must do so immediately – – without first addressing the massive problems with the program found by GAO two weeks ago. (Let's not forget that propaganda program has yet to demonstrate any appreciable impact on suicide.)
And, per Williams, it must do so because Christmas is even more stressful this year due to reporting on the Jim Turner suicide.
By the way, ever wonder if she is one of those paid "influencers" she is referencing?
Proffered 'Rules' On Suicide Reporting
Be sure to look at the advice of the website ReportingOnSuicide.org. This is the source Williams linked to in her reference about breaking those rules.
Do you like this homogenous reporting strategy, or would you rather have a better understanding of suicide by blunt and transparent reporting?
As it relates to my article, I mainly cited what Tampa Bay Times already wrote concerning Turner and incorporated the GAO report concerning VA spending $20 million per year on suicide prevention propaganda instead of hiring mental health workers.
What I wrote was in no way "sensational," but I did address poor use of taxpayer dollars on propaganda in light of the high suicide numbers for veterans. Reporting on facts is simply not sensational even if it makes VA insiders uncomfortable during the holidays.
That term, as applied to reporting, means:
Sensationalism is a type of editorial bias in mass media in which events and topics in news stories and pieces are overhyped to present biased impressions on events, which may cause a manipulation to the truth of a story.
Was Turner's suicide an overhyped event? Was the truth of the story manipulated?
It was not overhyped or manipulated on my website.
Turner's suicide was tragic, and I cannot imagine what his children must be going through right now. I do not condone suicide in any situation, and everyone writing about Turner likely feel the same way.
Nonetheless, this was a man who needed intervention and help. He obviously did not feel he received the help he needed from VA, and he told us as much in his suicide note. It would be improper to not address his critique of VA in this context.
I am sure VA does not like that his suicide received as much attention as it did. I am also sure the vendors, the ones that profit from selling suicide propaganda, do not like it, either.
Kayla Willaims Breakdown
Personally, I found her overall critique to be rather pedestrian. Further, her conclusory coverage of the issue, in itself, seems to be an attempt to "manipulate [] the truth of a story" by pointing fingers away from her former employer, RAND, and the vendors who stand to profit from both organizations. (We view RAND as a taxpayer-funded generator of propaganda, at least some of the time.)
Williams failed to support her allegations with a specific argument and generally circled around with one conclusory statement after another. She also engaged in a bait and switch and appeal to authority, both of which are logical fallacies.
Instead, she appealed to the authority of RAND without diving into the actual allegation concerning the specific breaches of suicide reporting suggestions, which in itself is a form of propaganda, when addressing my website. Further, the topic of the article suggests mainstream press is responsible for unsafe suicide reporting… to then highlight my blog.
My blog is an example of independent news media aimed at giving disenfranchised veterans like Jim Turner a voice – – albeit post-mortem in this instance. Here, we tell the truth regardless of whose feelings we hurt, and we shed light into the dark spaces.
My blog is literally as far away as one could get from MSM.
Why Is Kayla Willaims Blameshifting?
In 2012, during my time with Veterans for Common Sense, I became familiar with how far VA will go using propaganda and even lying to judges to obfuscate the truth regarding PTSD and veteran suicides. We lost that lawsuit, in part, due to at least one VA official lying about suicide benefits and prevention.
Now, VA is generally beyond the reach of the Article III courts for anything related to benefits including provisions of health care benefits. Veterans are far worse off, and it expanded the power of the Secretary over veterans, inappropriately.
Since 2016, I have been painfully aware of VA's approach that manipulates reporting on veteran suicide in favor of avoiding public scrutiny, all together. The agency spends tens of millions each year, at least until this year, on suicide propaganda including paying "influencers" to use targeted messaging to the American public.
Now, many in the American public are unaware of the problems veterans like Turner face seeking mental healthcare after retirement because reporters frequently avoid covering suicide due to pressure from RAND and academia.
And who benefits from wiping news of veteran suicide from headlines? Who has an easier time recruiting if the American public believes veterans are well cared for by VA?
In 2014, DOD became acutely aware of the negative impact negative news stories concerning veterans has on recruitment. The topic at the time was the wait time fraud where veterans died waiting for access to VA healthcare.
Over the past 4 years, vendors have profited handsomely by selling propaganda to the American public. Rather than hire more doctors, propagandists tell the American public to go back to sleep.
Should reporters follow the RAND approach to suicide reporting? To what extent should reporters curtail accurate reporting in favor of this other approach?
SEE: Recommendation On Suicide Reporting
Basically, the RAND approach literally believes reporting like mine is not "safe" and even "sensational," but who really benefits from any manipulation in this instance? I find relevant topics to write about every day, and VA is never short of some scandal of one kind or another to write about – – people read my website regardless of the topic to stay informed.
At the end of the day, I focus on giving veterans a voice, and I believe in doing so in a responsible way that is true to the facts written from the perspective of the disenfranchised veteran – – which I am.
Jim Turner, a veteran, had something he wanted the world to know concerning his views on VA and its failing suicide prevention program. Turner was also a disenfranchised veteran.
Tampa Bay Times wrote about it. I wrote about it. Many other websites wrote about it.
But, curiously, Williams selected my blog as an example of deviant reporting on suicide while suggesting VA waste tens of millions in tax dollars on more talking heads to better educate us and the public about, in my estimation, 1984 newspeak concerning suicide.
Who Profits From Kayla Williams' Approach?
What contractor profits if VA spends the millions it is currently holding?
JR Reingold aka "Reingold, Inc" is one of the primary contractors standing to lose millions if VA does not spend money on those pundits and influencers. I addressed this last week as it related to the former head of VA Public Affairs Rosemary Williams. (I have no idea if the two are related.)
RELATED: Is VA Playing Politics With Anti-Suicide Ad Budget?
Is it any wonder someone with Kayla Williams' connections would target my website instead of the many others that did, in my opinion, engage in more of what she references as "sensational" journalism?
If my views prevail, VA might reallocate the funds to hire more mental health professionals rather than purchase more social media ad spots to propagate the agency's agenda.
If we followed Willaims' suggestion to its conclusion, reporting on veteran suicide would be more minimalized than it already is. Many reporters never report on the topic due to pushback like this. VA would win with further manipulations as would the vendors who profit from selling their influence to VA.
Should VA spend its tens of millions on "influencers in the veteran space," or should they hire more mental health professionals? What "influencers" has VA already been paying? If the program was working, why are the numbers still at 20 suicides per day?
The reality here is veteran suicide is a blemish on VA that more spending has not resolved. And why? Because someone thought spending that money on "influencers" and talking heads would reduce suicide numbers, which it obviously failed to accomplish.