Guns For Vets A Sticking Point In Defense Bill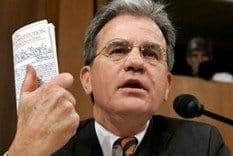 Whether veterans that are deemed incompetent financially should be entered in the gun background check system is becoming a hot issue in the latest defense bill in the Senate. Senator Tom Coburn (R-OK) wants to prohibit the VA from adding the names of veterans deemed mentally incompetent into the gun ban list. Senator Chuck Schumer (D-NY) thinks the provision should stay to protect veterans from endangering themselves and others.
In my opinion, this provision seems to unfairly single out veterans. Private physicians are in no rush to add their patients to this list and it could also have a chilling effect on veterans seeking treatment for their illnesses. Mental health issues all ready carry a stigma and it could be viewed as a punishment for getting help.
How do you guys feel about this one?