If This Were The Prompt, What New VA Slogan Would You Create?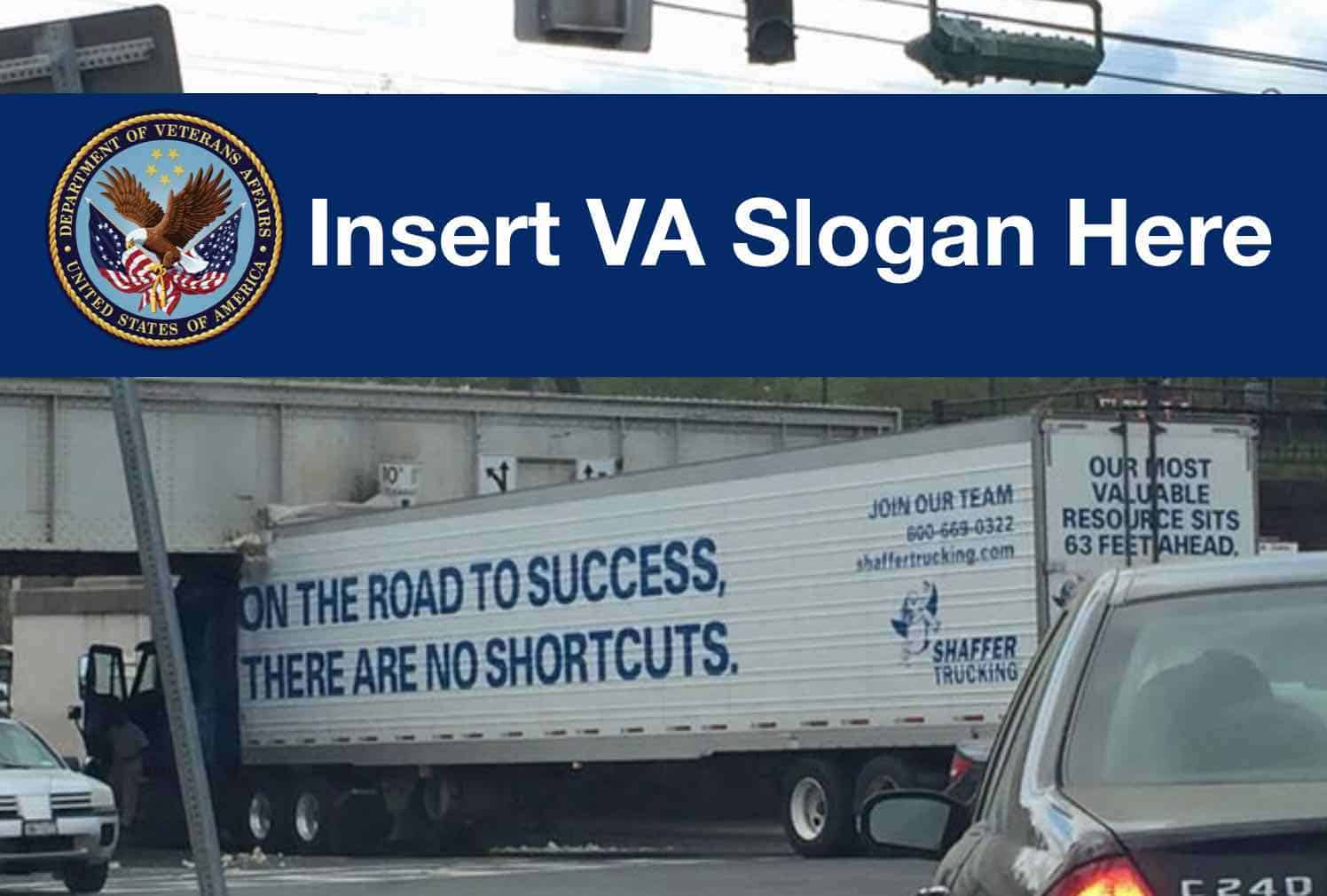 If you were one of the highest-paid marketing firms creating slogans for VA, what slogan would you create if this were the prompt?
Last night, a friend of mine posted this hilariously ironic picture on Facebook. In case you are seeing impaired, the image is of a semi-truck wedged under an overpass bridge where the semi-trailer reads, "On the road to success, there are no shortcuts." And, the driver tried to take a short cut and got stuck under a bridge.
If this were a prompt for high paid marketers coming up with a new VA slogan, what do you think they might come up with? Now, let's pretend the marketers are also being honest rather than selling spin – – let's say it's the first draft to warm up.
I came up with a few slogans for VA on my own, but I thought it'd be more interesting if you came up with some ideas we could share with VA to help them save taxpayer dollars.
VA Spends Millions On Spin
Each year, VA spends tens of millions of dollars on propaganda and marketing firms to convince veterans and the American public that its bureaucrats give a damn about you. Some do. Some do not. But VA nonetheless spends millions making it look good to the public.
RELATED: See Contracts To VA Marketing And Spin Firms
The agency presently spends over $15 million on suicide prevention without proof of any substantive improvement in suicide numbers.
It also spends millions promoting healthcare at VA medical centers and still more paying different nonprofits to create reports. And, it spends many more millions on artificial intelligence companies data mining our medical records.
RELATED: VA May Lower Credentialing Of TBI Evaluators
Awesome.
VA Spends Millions To Effectively Deny Benefits
Meanwhile, the agency spends millions fighting against veterans rightly seeking disability benefits, vocational benefits, and GI Bill benefits by creating software systems that implicitly hold back benefits due to error-prone procedures that manifest in unpredictable errors.
RELATED: VA Rated 'High Risk'
Billions in software spending but VA still maintains databases that do not talk to each other when veterans try to change their mailing addresses. How can the agency keep getting this wrong despite spending billions on software consultants?
RELATED: VA Violates Veterans' Privacy On Massive Scale
Or, are the errors and spin completely intentional? These systems mirror many used by totalitarian or Communist regimes that are otherwise classified as Satanic.
Anyway, I think you see where I am going with this prompt for Christmas Eve 2019.
RELATED: VA Wrongly Denied Veterans GI Bill Benefits
My Slogan Using Jan Black's LudiQs
If you were paid millions, or billions, but wanted to be truthful rather than spin, what would your ad prototype say? Using my friend Jan Black's LudiQs system, mine would be: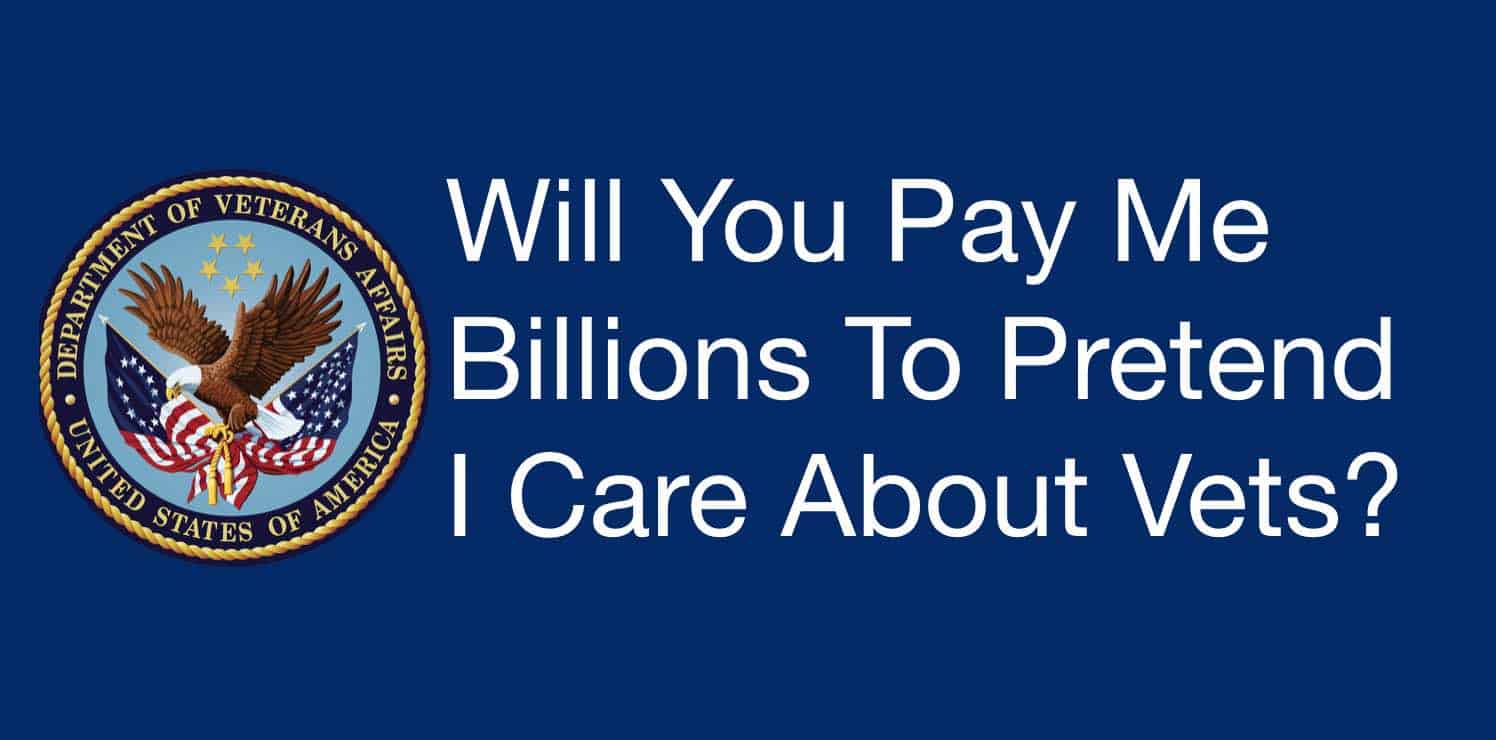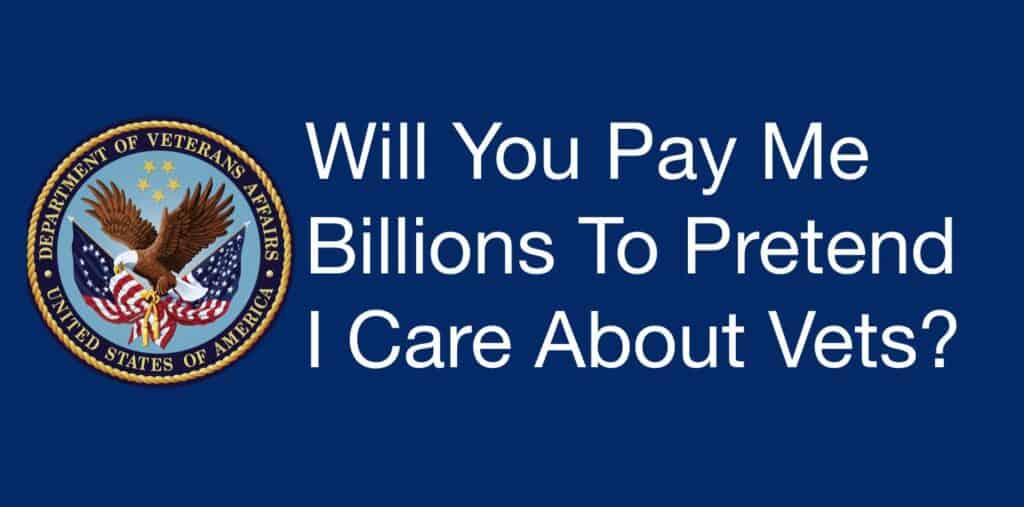 Jan is a dear friend of mine from my Portland years who helped me develop the initial ideas for the DisabledVeterans.org publishing platform, and it seemed worth mentioning how I came up with my own slogan.
RELATED: Veteran-Owned Businesses Snubbed In GI Bill Contracting
Her LudiQs system is great at highlighting abusers in a way that makes their abuse obvious and even more abhorrent. So, my reliance on Jan's system was only natural when talking about VA and creating slogans.
Anyway, I'm looking forward to seeing what else you all might come up with. Happy Christmas Eve.
Real-Time VA Slogans On Facebook
Many veterans took up the challenge early this morning on Facebook. We now have well over 40 slogans in just a couple of hours. Check out Jason Howard's creative spin on VA healthcare.