Dispatch from Washington DC
"I have been following your blog for some time," said Rory Riley, staff attorney for the Committee. I received a call before Christmas from the House Committee on Veterans Affairs to answer some questions they have about what disabled veterans think. "We need more input from veterans who know the veteran community." She went on to invite me to come to DC for a hearing in late January to talk with the committee about real time problems veterans are facing.
Everyone likes boots on the ground – and my boots are in the thick of things as a disabled veteran and investigative journalist. Armed with your letters and my own research, I took their invitation and booked meetings with over twenty Congressmen and Senators, plus one hearing for my first trip to the Capitol Hill.
Going to DC, I knew that this year the hot button issue for veterans' rights would center on the disability compensation backlog of over 1.3 million disability claims.
I knew that the "fix" for the disability backlog has been elusive and I took the trip to see for myself just how in the weeds the bureaucrats really were in finding a solution.
Despite my low expectations, what I found still surprised even me.
One Big DC Takeaway
For those who don't know – DC is hard. How could I get anyone to listen without seeming like a guy yelling in a room? Then there's the actual issue of just getting to twenty meetings on both sides of the Capitol Hill.
Any newbie to DC quickly learns of the obstacle course that is the Hill: tunnels, paths and metal detectors can trip up even the most skilled explorer. I was no different. Plus, finding your way between the offices proved at least as tricky as navigating the different personalities and partisanship.
As if juggling the different perspectives and running back and forth is not hard enough during your first trip, navigating one's way around the tunnels is something else entirely. I felt like a gopher on a golf course. All the tunnels look alike when you're in them. One staffer told me after working there for years that she still gets lost on occasion. I thanked her for helping me feel like less of an idiot for not using a map.
Once I got the gist of the tunnels and the Hill above ground, making it to meetings on time wasn't nearly as stressful as trying to think up ways to get staffers and elected officials to pay attention. At times, it turned into more of an educational opportunity than a meeting.
What I never realized before is that there's a constant fire within our nation, and Congress is our fire department. Congress and their staffers get pounded daily with calls and meetings requests. Putting out these fires requires long hours and constant meetings with numerous staffers and anyone under the sun with an issue or interest.
You can't put out one fire without pulling resources from another. Everyone, and I mean everyone, is aware that our veteran population is hurting, especially the disabled veterans. But, these days, everyone is hurting, whether you're unemployed or sick or homeless. It's not just a veteran thing. This creates a problem. How, when everything is on fire, do I convince a Congressman or Senator to focus on my fire? This is particularly true for Senators.
By the end of the trip, I figured out how to get people to care about our issue and solution for veterans – voters and dollar signs. My economic background came in useful to communicate numbers that everyone understood. "How big is that voting block and what kind of money does that bring into my district?
Meeting Breakdowns – Responses from the "Deciders"
Our first meeting set the tone for the rest of the trip. Steve Robertson with Senator Bernie Sanders' office told us straight off what the Secretary Shinseki was touting as the silver bullet – convert the paper files into electronic files. Once the files are electronic, the backlog will practically disappear.
Shazam. Problem solved. I guess the trip was unnecessary. Or was it?
On the surface, this appeared to be a reasonable idea. After all, isn't technology supposed to save us from ourselves? A quick "under the hood" during the Veterans Affairs Committee meeting and a little logic soon dispelled this myth of IT and electronic files.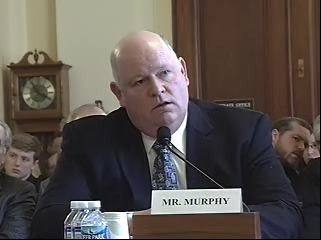 During House Committee on Veterans Affairs (subcommittee Disability Assistance and Memorial Affairs (DAMA)) hearing on the disability compensation system, we heard the Veterans Administration (VA) and Veteran Service Organizations (VSO's) dance around the central question. What will effectively solve the 1.3 million-claims backlog?
Director Tom Murphy, head of Compensation and Pension, articulated the best tap dance I've seen in some time. Even Gregory Hines would have been impressed. Mr. Murphy is certain converting from paper files to digital files will be the primary solution to the backlog. Meanwhile, he was unable to explain why VA disability ratings are so irregular. When pressed, he reverted into questions of semantics and stalling.
In my mind, I was developing a question of my own, "With low staffing, poor training, and questionable accountability, how can converting the same file into an electronic format somehow lower the appeals rate? "
As most people following the issue know, the pig in the python is really the high appeals rate due to poor decision-making. The problem causing the backlog is the poor quality of decisions with no accountability for making bad ones.
Unfortunately, no silver bullet was identified except one – that the paper to electronic file conversion would solve the crisis. I began to feel like everyone was really looking for the Lochness Monster – seriously.
The remainder of our meetings came up with a similar theme, "Electronic files will solve the problem because Secretary Shinseki says so." The person would go on to state, "We believe the Secretary is really trying to make it better." It was at this point I began to be surprised. While this may be true, everyone is ignoring the bureaucratic snafu that is the VA.
Secretaries come and go, but the people in the VA are there for life, not by appointment but by sheer willpower. Those are the individuals running each Regional Office like a sheriff from the Wild West. "Around these parts, this is how we do things." This explains "Twinkle Toes" Murphy and his tap dance around explaining why Regional Offices provide erratic disability claims ratings despite clear mandate from DC.
We spent the rest of our time as Myth Busters. Unfortunately, we did not have the power or time to bust this myth into pieces and convince lawmakers to look at realistic solutions that will work. But I'm not complaining. We did raise an eyebrow or two from key lawmakers and staffers, which is a great start.
Following the hearing, we met the House Committee on Veterans Affairs staffers. We talked about how to fix small problems to help veterans get their claims. The committee staff was concerned about disinformation online. Many people have played armchair lawyer and written a great deal of information that can hurt rather than help your claim. So, their idea was to create a site that provides accurate information to veterans and rates other resources.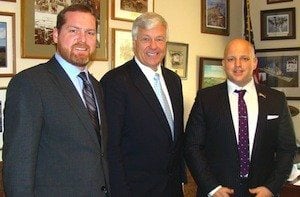 At a meeting with Congressman Mike Michaud, he expressed deep concerns about the veterans within his state. He pointed out that the Targus Regional Office has one of the highest ratings among all VA's compensation and pension programs. The Congressman attributes this to the fact that a VA job in Maine is considered a high quality job. After visiting with him and his office, I think it has more to do with the people of Maine. They have a clear commitment to each other and the success of those who serve.
Congressman Phil Roe from Tennessee, like all of the Committee members, was very concerned with the backlog and its impact on disabled veterans. VA Secretary Shinseki had just met with Dr. Roe earlier in the month and reassured him that the backlog would be solved with the electronic file transition.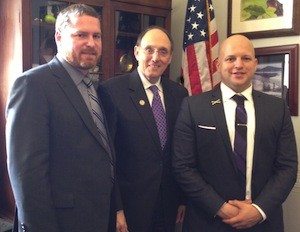 I asked Dr. Roe if he knew anything about the STAR quality control problem since its main office is in Nashville, TN. He, like most in D.C., was unaware of this audit program established by the VA because the issue has not been brought to the forefront by many DAMA hearings.
STAR is the VA audit program that makes sure the VA is accurately deciding disability claims, but this is a case of letting the fox guard the henhouse. While STAR claims an accuracy rate of 84 percent, audits from the VA Office of the Inspector General (OIG) and National Organization for Veteran's Advocates (NOVA) point to error rates as high as 80 percent of total claims. That is a lot of mistakes when the VA is deciding one million claims per year. The VA has not released specifically how STAR measures accuracy or what that really means.
We received a warm welcome from Senator Begich and his office. For those who are unfamiliar, Alaska has a relatively high veteran population when compared to other states. The Senator, being very familiar with the plight of veterans, was excited to help garner support for different solutions we discussed.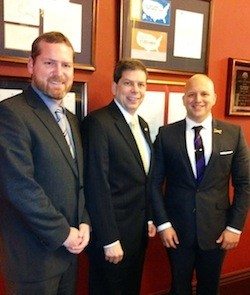 To start with, he vowed to speak with Secretary Shinseki to see how often the VA has awarded temporary ratings, if at all. VA has the ability to approve a temporary disability ratings for veterans when the claim has been pending for over 180 days. If they have not been using the authority in an effective way, the Senator said he would help veterans get relief in any reasonable way possible, including supporting an executive order to mandate early payouts.
The meeting with Congresswoman Linda Sánchez's office revealed that she is a woman who puts her money where here mouth is. Staffer Melissa Kiedrowicz stated the Congresswoman is particularly concerned about VetSuccess, commonly known as Vocational Rehabilitation & Employment. Constituents in her district in California requested improvements to the program that she has taken into consideration, such as increasing eligibility.
The Congresswoman is also considering other areas for improvement, such as creating greater benefit transparency through educating veterans about their benefits. DisabledVeterans.org will present her with a tiered approach to providing disabled veterans with a guide to help them get the most out of Chapter 31 Vocational Rehabilitation.
Senator Jay Rockefeller's Senior Legal Aide, Barbara Pryor, was kind enough to meet us before normal hours. This is very atypical for most staffers and was a clear display of Senator Rockefeller's commitment to his veteran constituency. Pryor expressed that the Senator is very concerned about Mental Healthcare and the sizeable lobby supporting For-Profit colleges.
She went on to treat me to the biggest "ah-ha" of the trip. No executive official will testify on anything unless it's cleared by the White House's Office of Management and Business. So, no matter what questions the Committees ask, the bureaucrats must tap dance. I guess that softened my opinion of Mr. Murphy's tap dance. "No wonder nothing gets done."
It made me realize much of these committee meetings is the merely have the illusion of progress and service. Not to say that is the case with DAMA and the hearing I attended, but it gave me a deeper appreciation for the process and the fight we veterans will have to engage in to get "change" to come to the VA.
Later, we made a point to take time at Senator Jim Webb's office to thank him for his hard work in passing the Post 9/11 GI Bill on our way to meet with both Senator Moran's office and Senator Johann's office.
From there, we moved on to Senator McCain's office, where we met with Defense Fellow Todd Ladwig from the Navy. These men and women who are participating on the Hill while on active duty are incredible advocates for military and veteran issues.
Meetings with staffers from the offices of Congressman Mark Amodei, Senator John Boozman, Congressman Doug Lamborn, and Senator Richard Burr all followed the pattern of sincerity in wanting to help, but not necessarily having ready answers or workable solutions.
Lastly, we trekked to Senator Isakson's office. I might add, true to good Georgia form, I had an ice cold Coca-Cola in my hand within seconds. It was a relief from all the running and a true example of charming southern hospitality. Our conversation with his office rounded out our day, talking about ways to help veterans while staying within the budget.
Now that is something politicians from both sides of the aisle can agree on.
Veterans as a DC Powerhouse
Here is what I learned. In DC, there are delays to talk about the delays. No one is giving an inch on fixing the problems with the VA and policymakers aren't even focusing on the right issues. The VA is completely controlling the ball and blocking and tackling those who attempt to gain clarity on the issues as though the VA is hiding some darker truth under the hood.
To solve this crisis, we as veterans will need to rise up and take a look under that hood. This can be accomplished through running for office, becoming advocates in our communities, educating non-veterans about the system, or thinking outside of the box entirely. I am a proponent of the latter since nothing has worked to fix this 60-year-old problem.
Meanwhile, many veterans don't understand how much power they have and neither does DC. The problem of VA backlogs and disability and benefit claims not only impact the veteran, it impacts the community and state where the veteran lives economically.
Here's what I mean. Veterans are voters. Many veterans have family members who care about veteran issues. Many small business owners are veterans or know veterans. Veterans' issues are a nonpartisan way to unify and vote collectively for real change.
Veterans and their respective family members comprise over 60,000,000 people in the US. This is approximately one-fifth of the total US population. Imagine if all these people consolidate votes and dollars behind politicians pledging to honor our country's commitments to veterans; things would get done. And one better, maybe a united community of active veterans could turn this country of ours around.
To do my part, I will be back in Washington DC during the week of March 10 to announce the Veterans Pledge. The Veterans Pledge will increase transparency by asking politicians on both sides of the aisle to support veterans and their veterans' benefits without typical partisan bickering and politics as usual. This way, veterans can vote for elected officials based on their actual support for this country's veterans.