Lede From DisabledVeterans.org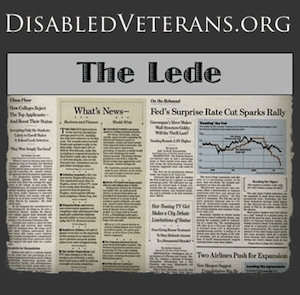 Welcome to The Lede.
Every week, I will be digging up interesting articles and stories relevant to veterans issues and being an American.
They will cover politics, productivity, employment, school, living and all things in between. If I think it's interesting, I will included it here.
You won't get commentary from me like you get during the week. This will just be the article titles, their first paragraph, and away you go.
I will also include upcoming hearings from the House and Senate Committees on Veterans Affairs.
________
VA just released its Strategic Plan to eliminate the backlog: https://bit.ly/14dnlNS
The Obama Administration has shown unwavering commitment to serve Veterans. VA has completed a record-breaking 1 million claims per year the last three fiscal years. But too many Veterans have to wait too long to get the benefits they have earned and deserve. These delays are unacceptable. This report outlines VA's robust plan to tackle this problem and build a paperless, digital disability claims system – a lasting solution that will transform how we operate and ensure we achieve the Secretary's goal of eliminating the claims backlog and improving decision accuracy to 98 percent in 2015 – to deliver faster, better decisions for Veterans…
Read more here: https://bit.ly/14dnlNS
Armed with the VFW Legislative Priority Goals for 2013, more than 600 VFW advocates will converge on Capitol Hill this weekend to begin visiting every congressional office to explain in detail the VFW's stance on a variety of veterans' issues, ranging from the impact of sequestration on military quality-of-life programs and future VA budget submissions to VA benefits, healthcare, wounded warriors, women veterans, education, suicides and homelessness…
Read more here: https://bit.ly/XJRkx6
A hilarious Rollins stand up video on YouTube on how to compete: Rollins vs Iggy Pop. From his spoken word tour "Live at the Luna Park". He's explaining in a very funny way that it is impossible to beat the master of rock Iggy Pop…
See more here: https://bit.ly/ZVbkzW
The hardest thing for most people, when it comes to building habits, is sticking to it long enough for it to become ingrained.
Duh, Leo.
It's why most people don't exercise or eat healthy, why people procrastinate or have clutter or debt, why people smoke and drink soda, why people don't meditate or learn new languages or write everyday or read more books.
Simply put: if you can learn to stick to a habit, you can do almost anything. I'm a good example of that…
Read more here: https://bit.ly/13wIkj8
The San Bernardino County Department of Veterans Affairs is trying to find Vietnam veterans and their survivors who are unaware they are eligible for benefits related to Agent Orange exposure…
Read more here: https://bit.ly/Wxgl0P
Upcoming Congressional Hearings
MAR 5, 2013 | Hearing
MAR 6, 2013 | Hearing
MAR 6, 2013 | Hearing
MAR 7, 2013 | Hearing
MAR 7, 2013 | Hearing
Joint Hearing of the Committee on Small Business Contracting and Workforce Subcommittee and the Committee on Veterans' Affairs Oversight & Investigations Subcommittee