MMQB: Better Check, DoD may Owe You over $100k in Back Pay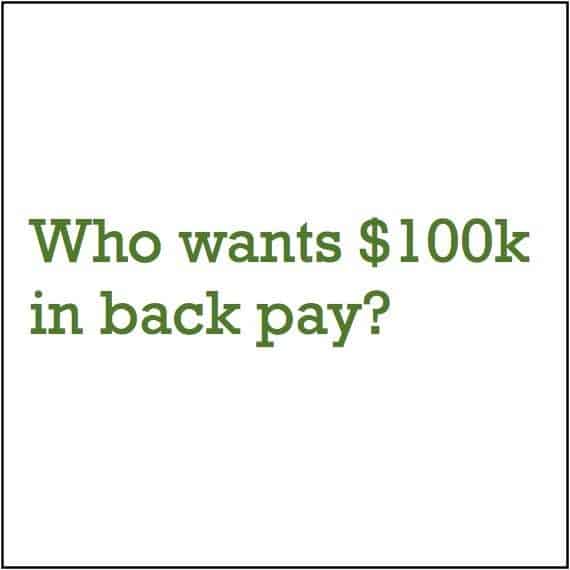 It could if you were medically discharged between 2001-2009. Some veterans who were medically discharged before 2001 may also be eligible.
Around 70k lowballed veterans are still eligible for medical retirement if they were lowballed during the discharge. This article tells you how to qualify.
For years, VA has been accused of lowballing veterans. They do this by assigning an artificially low disability rating with complete disregard for the record.
The DoD has also been the source of lowballing servicemembers during the medical discharge process.
This is the subject for today's Monday Morning Quarterback – DoD's former plan of lowballing servicemembers. Hi, my name is Benjamin Krause, and I am your host today.
For those of you who are unfamiliar, the effect of an artificially low rating is straightforward. A low rating makes the overall cost of war appear lower than it is. The cost is lower because veterans are paid less in disability, retirement pay, and/or benefits.
The DoD practice of lowballing mostly impacted Army personnel, but all branches were in on the game.
A significant area of focus would be veterans who were discharged with mental health issues that were improperly diagnosed in service.
For this MMQB, I planned to write about the fact that neither Congress nor the Executive know what a website is, and that this lack of knowledge allows taxpayers to be ripped off.
Instead, it seemed timely to inform my readers who were lowballed that they might qualify for retirement.
So here we go.
70k Veterans Still Eligible for Retiree Status
This weekend, I scanned through different news outlets and came across this article by Tom Philpott. It was titled, 70k Vets Still Have Chance to Gain Retiree Status.
Tom Philpott is a legend in journalism relating to veterans issues.
While I do not always agree with his slant, Philpott does tend to get the inside scoop. For that reason, what he writes has value even when slanted the wrong way.
Here is the gist of what he had to say about how the military lowballed active duty personnel during the medical discharge process.
I will insert my own legal and historical understanding into the conversation.
Statistics: How many veterans are impacted?
So far, DoD has acknowledged that around 70,000 veterans may be impacted by the manipulations of the military that defrauded veterans of retirement pay.
To date, 6,800 veterans have applied for review and 3,800 of those have received a final determination.
Initially, almost 50% of veterans files reviewed came back with an increase to 30% disability or more, as of 2011. This resulted in those veterans earning retroactive retiree benefits.
According to Philpott, around 25% of applicants are receiving a favorable determination after 2011.
Benefits of Military Retiree Status
Successful applications for review will receive retirement back pay to the date of discharge minus any relevant payouts.
Beyond this, the benefits of retiree status are numerous. The biggest advantage is that all retirees qualify for TRICARE. Qualified veterans are able to shop on bases, etc.
Problem: The Medical Discharge Lowball policy was a fraud against veterans
For many years, the Army and other branches tweaked their policy for discharge by improperly implementing VA disability combined rating scales when it would disallow retirement status.
Specifically, the services would combine rating when doing so would result in a lower than 30% rating. In other cases, they would separately rate conditions and ignore others that would also result in a lower than 30% rating.
In 2008, Congress learned that the military branches were lowballing their servicemembers to avoid paying out retiree benefits.
In 2011, it was revealed that the Army was intentionally lowballing military members with mental health disabilities.
These kinds of deception are a form of fraud and medical malpractice.
Fraud is defined as a "[a] knowing misrepresentation of the truth or concealment of a material fact to induce another to act to his or her detriment." (Blacks Law Dictionary)
Likewise, medical malpractice is a "doctor's failure to exercise the degree of care and skill that a physician or surgeon of the same medical specialty would use under similar circumstances."
When a group of people actively participates in a plan to commit fraud against disabled people, it is a conspiracy.
When a conspiracy works against the law in the military, it could be considered subversion. Subversion during a time of war is treason.
You get the picture. This is bad. Only by applying for benefits will the American people know the size of the fraud perpetrated against servicemembers.
How to Qualify for Medical Retiree Status
The Department of Defense implemented the Physical Disability Board of Review (PDBR) after Congress legislated its creation in 2008.
The PDBR was created to review medical discharges of veterans from 2001 to 2009. The PDBR specifically is reviewing disability awards of 20% or less.
The PDBR will review your file to see if you were incorrectly awarded a low rating. The Board cannot lower your rating, so applying for a review cannot hurt.
Instead, if they find that you should have received a 30% or greater evaluation when you were discharged, that recommendation is passed on to the relevant branch of service.
The branch then decides whether or not to approve the recommendation. If approved, you will receive Retiree status.
To date, all branches of the military have accepted more than 90% of all recommendations.
DoD believes that approximately 70,000 veterans are eligible for review. Only 6,800 have applied.
Here is the link to learn how to apply for review to the PDBR.