When Confirmed, Will Joshua Jacobs Need DelBene-Style 'Astonishing' Ethics Hall Pass?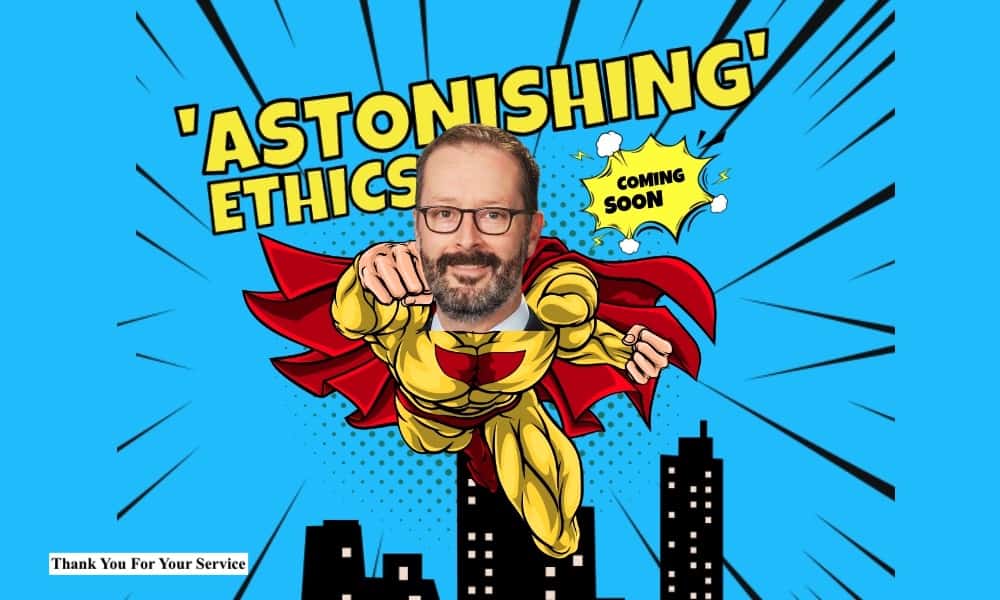 Despite a hold, nominee for VA Undersecretary for Benefits Joshua Jacobs will be confirmed Tuesday evening in a cloture vote.
No one I talk to seems surprised – like seeing LeBron James dunk a basketball to win a game.
But once the celebration is over, it could be that Jacobs requires a similar ethics hall pass to that of Kurt DelBene, VA's current Chief Information Officer, albeit for slightly different reasons.
The nomination for the next Undersecretary for Benefits was on hold due to evasive answers provided by Jacobs to questions posed by Sen. Chuck Grassley last month. The hold followed years of evasive answers from the agency, and Jacobs inherited the mess.
Jacobs then refused to provide transparent answers to some questions submitted by Sen. Grassley to address multiple misconduct and ethics investigations into prior leadership of the agency that will be addressed by Jacobs once he takes the helm.
And that's not all. Jacobs will also oversee a major overhaul of Veterans Benefits Administration's benefits management system being performed by his former employer to the tune of $1.1 billion.
Grassley was/is concerned about the possible conflicts of interest present with the nominee – – so much so that he did not really get into whether the nominee was qualified for the tasks at hand. Grassley accused Jacobs of providing "evasive answers" related to these concerns, and put his nomination on hold.
The Senate then yawned, apparently.
Despite the resulting dust up and hold, Jacobs will be confirmed by the Senate later today in a cloture: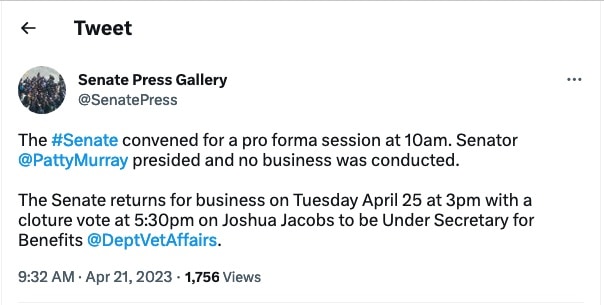 This left me, and I am sure some of you, wondering, 'What served as the saving grace for this Senate staff wunderkind turned super bureaucrat to get him through the confirmation, anyway?'
RELATED: 'Evasive Answers' From VA Undersecretary For Benefits Nominee
Jason Foster On Confirmation, Or, #Winning
Jason Foster, former chief investigative counsel to then-Senate Judiciary Committee Chairman Sen. Grassley, seems to suspect Joshua Jacobs smooth glide through confirmation is less about credentials and more about who you know, or knew, as is the situation is.
Foster noted Jacobs' prior service on the Senate Committee on Veterans Affairs under Sen. Patty Murray one decade ago linking to a recent Senator's tweet: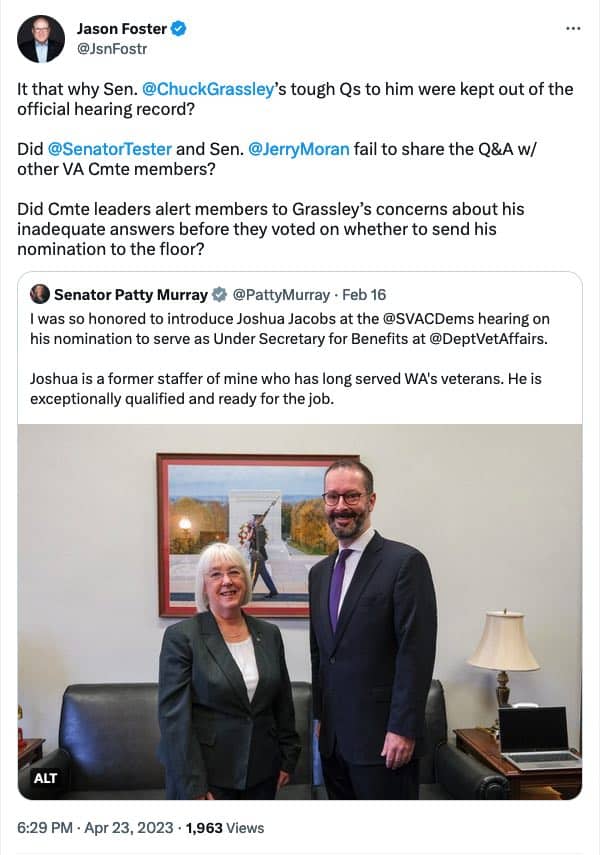 Joshua Jacobs is a graduate of the University of Washington.
He then served under Sen. Patty Murray, starting in 2004, and eventually worked his way up to deputy staff director for the Senate Veterans' Affairs Committee for two years in what appears to be his only experience directly managing staff.
Between those two points, he worked for around 18 months at VA as a special assistant from 2009 to 2011.
Now, should service to a Senate committee of any kind be a deciding factor to lead a massive sub-agency as its head executive?
Well, no.
So here is a summary of what happened from 2013 to now. You tell me what you think happened. Of note, Jacobs' VA biography page failed to mention Jacobs' connection with Sen. Patty Murray.
Joshua Jacobs' Qualifications 2013-2023
According to LinkedIn, Joshua Jacobs worked for six months in 2013 with Axiom Resource Management, Inc, as a senior research analyst, to its DOD/VA interagency program office.
From 2013 to 2017, Jacobs worked as a senior advisor to then VA secretaries Eric Shinseki and Robert McDonald.
When the Trump Administration took over, Jacobs went on to work as a senior associate for renowned government contractor Booz Allen Hamilton from 2017 to 2021.
Before leaving Booz Allen, Jacobs served on the Biden-Harris Transition as deputy team lead for the VA Agency Review Team.
And, as of February 2021, like many other senior officials at VA under former Presidant Barack Obama, Jacobs came back to the agency as a senior policy advisor. He first worked as senior advisor on policy until July 2022.
Then, Jacobs was placed in charge of Veterans Benefits Administration (VBA) the same month the nomination of Raymond Jefferson for Undersecretary for Benefits was withdrawn, July 2022.
RELATED: Nominee For Top VA Benefits Job Withdraws, Restarting Search
Jefferson possessed an MBA and MPA from Harvard University. He was a disabled veteran and alumni of West Point who was injured protecting teammates when a hand grenade detonated prematurely. His nomination was withdrawn after Senate Republicans raised concerns over allegations (deemed unsubstantiated by DOL IG in 2019) that Jefferson ordered his staff to steer contracts to a friend's company in 2011.
Jacobs' was nominated by the White House in January 2023 after running VBA for six months in what can be only described as his first substantive role managing a large organization of any appreciable size.
Once confirmed, Jacobs will lead Veterans Benefits Administration, which boasts 25,000 employees at more than 54 offices with a budget of $135 billion.
Between working at the Senate and today, did Jacobs manage a major bank or other large organization? Other than #winning as head of VBA for 8 months with no prior executive leadership experience of a major organization, not really.
Current VBA Pending Claims Data Under Jacobs
How is he doing at his current job?
VBA has reported to Congress and the public about its claims backlog, and the numbers are supposedly low, if you are interested in the statistics game.
Yet, the VA's website shows Inventory for claims as of 4/15/2023 is 801,295. Concerning, though, is it appears the actual VA Inventory of pending claims under VBA's control may be closer to 1,391,965 when you look over the numbers in the Traditional Aggregate of the Monday Morning Workload excel document.
Is VBA being straight with Congress about its workload or henpecking statistics to make Congress believe things are moving in the right direction?
RIght Credentials?
Is Joshua Jacobs a former general or other military leader? No, he is not even a veteran.
Does he have an MBA or other executive management training? Not that we can tell.
He appears to only have an undergraduate degree per LinkedIn possibly making him the lowest educated Undersecretary for Benefits since the position existed.
(Wikipedia has possibly scrubbed prior histories of Undersecretaries making background research using that website somewhat difficult.)
You may wonder what the magic sauce is that helped catapult Jacobs to such a stellar position as a nonveteran, non-business genius?
I am not sure of the answer (probably "no"), but enough Senators are confident he's the right choice.
But it if you ask Jason Foster, it may have to do with reading between the lines of Senator Murray's tweet from February 16, 2023. Who you know still matters for politicos.
Something In The Water
Jacobs will now serve as the second Seattle-area native at the highest level of VA under the Biden Administration.
The first that I am aware of under Secretary McDonough is Kurt DelBene who serves as Assistant Secretary for Information and Technology, and Chief Information Officer (CIO).
It was this common thread that led to a comparison between two individuals – one who appears so qualified that he's too qualified, and the other who is not obviously qualified – hailing from the same city now to be working in leadership at the same agency responsible for billions in taxpayer dollars.
Now, DelBene has the kind of pedigree one might expect to run something like VBA.
DelBene has an Master's in Operations Research from Stanford University and an MBA from the University of Chicago who went on to work for McKindsey & Co, AT&T Bell Labs, and then Microsoft where he worked as a senior vice president for the Microsoft Business Division.
He became very successful. In 2021, he retired from Microsoft, sold $25 million of his $40 million in stock, and he then took a major salary reduction/life change work as the CIO of VA. More on this in a second.
RELATED: An Ex-Microsoft Executive Got An 'Astonishing' Ethics Hall Pass To Join The Biden Administration
DelBene seems to have the background one might expect to be prepared to handle the issues within one of the most corrupt administrations inside Veterans Affairs. Yes, VBA is chronically corrupt. But, the bench may not be as deep for VBA as it is for whoever runs VA's IT division, for some reason, despite its own challenges.
Seattle Duo, and DelBene Ethics Hall Pass
Prior to joining VA, DelBene was a senior executive for Seattle's Microsoft, where he oversaw VA's transition to its current Microsoft Office software suite. According to Wikipedia, DelBene was President of Microsoft Office business in 2010. VA switched to Office 365 in 2012.
RELATED: HP Wins Contract To Move VA To Office 365
Shortly after VA's transition to Office 365, DelBene retired. He was then selected to oversaw the Healthcare.gov enrollment website fix for the Affordable Care Act for former President Barack Obama.
He later returned to Microsoft where he worked as an executive vice president of Corporate Strategy and Planning responsible for future investment opportunities. He was eventually given the title of Chief Digital Officer.
Notable is DelBene's wife is sitting US Congresswoman Suzan DelBene who represents Washington's 1st Congressional district, (Seattle-area), and who was also a prior Microsoft executive.
She is a committee member on the House Committee on Ways and Means – – coincidentally, this is the committee responsible for addressing taxes to raise revenue for the federal government. That revenue is used to fund executive agency programs like the Department of Veterans Affairs' IT contracts that pay Microsoft.
In 2021, when Kurt DelBene retired from Microsoft and moved on to VA, he sold $25 million in Microsoft stock, which did not include all of his stock options. While this was done to avoid conflict of interest ethics rule problems, the sale did not go down without some controversy.
According to Business Insider, the Congresswoman, who, as a member of Congress, was required to provide public notification per the STOCK Act of the transaction within 30 days of having knowledge of it, provided notice two weeks after that deadline, instead.
Some lawyers familiar with the reporting requirements believed the late notice violated reporting rules, but, the House's ethics committee ruled she complied with the law.
In 2014, while on the House Judiciary Committee, Rep. DelBene questioned then FBI chief James Comey about its investigation into the Waitlist Scandal where thousands of veterans died from an agency fraud scheme to cook its books to improve performance numbers.
Time reported:
"We will follow wherever the facts take us," Comey said, in response to a question from Rep. Suzan DelBene (D—WA) in a hearing of before the House Judiciary Committee.
Coincidentally, Jacobs was a senior advisor to VA secretaries Shinseki and McDonald during that period, 2013 to 2017. The investigation seemingly went the same way as the facts. Nowhere.
Secretary McDonough was chief of staff for the Obama White House at the time, and it would stand to reason Jacobs took his "senior advisor" marching orders from McDonough.
Many veterans, myself included, believe the nationwide criminal fraud was whitewashed by the FBI, VA OIG, and VA to help the agency save face. VA was long aspiring to be athe model for socialized healthcare for the United States prior to the 2014 scandal exposure.
But, the coverup irrevokably eroded veterans' trust in VA healthcare leading to the significant outsourcing of veteran healthcare services using Community Care protocol.
But, that is another story for another day.
Many of my readers here recall the mountain of scandals that came out of the agency during that time, 2013 to 2017, included:
Is Jacobs being brought in to fix the problems that led to the scandals, or will he sweep the remaining legacy scandals under the rug for good?
HuffPo Calls Out VA CIO Kurt DelBene Waiver
In 2022, well after the congressional ethics snafu covered by Business Insider, Huffington Post reported on some ethics questions about the conflict-of-interest deal struck between the Biden Administration and Kurt DelBene in 2021.
Word got out about the ethics waiver approved by the agency leading to new ethics questions from watchdog groups like the Project On Government Oversight.
DelBene received what HuffPo described as an "astonishing" ethics hall pass from the Biden Administration to join VA in his CIO role. The agreement allowed DelBene to keep $15 million in future Microsoft stock options for his family while overseeing a federal department with massive contracts going to Microsoft.
According to HuffPo:
The job of the Department of Veterans Affairs' chief information officer is obscure but mighty, with the ability to dictate technology and cybersecurity policy for one of the largest workforces in the federal government.

Since late 2021, that power has been wielded by Kurt DelBene, whom President Joe Biden tapped for the role because of DelBene's long career in tech as an executive at Microsoft.

But DelBene has not fully disentangled himself from his past as a powerful Microsoft honcho, HuffPost has learned: Since his confirmation, he has held on to roughly $15 million worth of future grants of Microsoft stock, even as Microsoft and its competitors vie before his department for massive government contracts.

For an appointee to keep such a massive financial stake in a company doing business with the government is normally forbidden by conflict of interest law. But in this case, according to a waiver reviewed by HuffPost, the Biden administration granted DelBene a broad exception because DelBene elected to sell the stock as it vests to an irrevocable trust that benefits the DelBenes' two adult children.
Jacobs Path To Ethics Waiver?
Like DelBene, Jacobs may (probably will) require a conflict of interest waiver or related assessment to fully accept his responsibilities given his prior working relationship with Booz Allen Hamilton.
Booz was recently awarded a $1.1 billion contract to modernize VA benefits adjudications systems, and it is one of the largest government contractors VA uses that also receives a 29% boost on its contracts.
It stands to reason based on a limited analysis of headlines alone that the new Undersecretary for Benefits would probably require a conflict of interest ethics waiver.
Jacabs worked for Booz from 2017 to 2021. He returned to VA as a special advisor in 2021, and for the past 8 months, Jacobs has run Veterans Benefits Administration.
From 2017-2023, Booz Allen Hamilton has been awarded a number of high profile contracts while also serving contracts linked to benefits adjudication problems:
In March 2023, Jacobs did answer a question from Sen. Grassley where the nominee provided some insight into how any potential conflict of interest may be addressed. His answer to question 9(h) reads as follows:
In connection with the nomination process, I have consulted with the Office of Government Ethics and the Department of Veterans Affairs Designated Agency Ethics Official (DAEO) to identify potential conflicts of interest. Any potential conflicts of interest will be resolved in accordance with the terms of an ethics agreement that I have entered into with the Department's DAEO and that has been provided to the Committee. I am not aware of any other potential conflicts of interest.
Reading between the lines, here, it would seem Jacobs may follow a similar route as DelBene in seeking a waiver from the administration to absolve any real or perceived conflict of interest concerns.
How Possible Jacobs' Ethics Waiver May Be Perceived
To learn more about a possible ethics waiver, turn back to HuffPo's coverage of DelBene:
"This is extraordinary," said Walter Shaub, who runs the Project on Government Oversight's ethics initiative and who reviewed the waiver for HuffPost. "Microsoft is so central to his duties, it's impossible to escape questions about whether this financial interest influences his judgment."

[…]

The waiver prohibits DelBene from weighing in on specific matters that directly involve Microsoft, such as contracting decisions where Microsoft is a bidder, although it frees him to work on general matters in which Microsoft is an interested party, including on general policy decisions "directly and predictably affecting the financial interests of Microsoft."

The waiver also bends over backward to attempt to downplay the scale of DelBene's financial interest, noting that the after-tax value of DelBene's unvested Microsoft stock is only $8.6 million, or merely 9% of his total investment portfolio.

"This is just an astonishing waiver to give a government CIO," Shaub said. "I get that he's so rich that this is a tenth of his wealth. … But the public is naturally going to wonder if he has an incentive to maximize the value of his Microsoft interests for his relatives."

Microsoft is already a behemoth of federal contracting and its alumni are embedded throughout the policymaking world. At least 20 high-level Biden appointees are former Microsoft employees or counted Microsoft among their corporate or legal clients in the private sector. In the past 18 months, Microsoft or its subsidiaries have won more than two dozen federal contracts worth more than $400 million to provide various federal agencies with software subscriptions and technical support.
No doubt a similar query from the press on Jacobs would raise no more eyebrows than that of DelBene. Some might consider Booz Allen Hamilton a kind of beltway behemoth for government agencies, especially given its recently secured $1.1 billion benefits management contract. That contract will directly impact Veterans Benefits Administration operations for years.
How VA Addressed DelBene Ethics Waiver
And, any news reporting on the topic would probably receive the same swift refutation DelBene received from the agency's top spokesperson, Terrence Hayes.
"As a practical matter, DelBene has no continuing financial stake in Microsoft. He will not, and cannot, make a penny from changes in the value of Microsoft stock," he wrote in an email. "He has avoided any decisions impacting Microsoft's business with VA and has not offered any advice that would bias members of his team toward a Microsoft solution."
This is a curious statement – perhaps not well thought out from the VA's lead spokesperson.
VA's entire business operation is dependent on Microsoft's business line and Office 365 suite of tools. If Microsoft shut off these capabilities tomorrow, VA could not function. The same is true for the vast majority of federal agencies, likely including the Department of Defense.
When it comes to IT management from the agency's CIO, do veterans benefit from a CIO who is unable to or avoids making decisions involving Microsoft solutions?
How can DelBene avoid "any decisions" involving Microsoft when even the act of typing or sending an email is wholely reliant on Microsoft's systems working well and being secure?
The fact is isues like conflict of interest , bias, and ethics are of utmost importance. Sometimes, there is a benefit to hiring an insider from a company like Microsoft. Somtimes not. Here, I doubt Hayes' assertion about DelBene is accurate. It cannot be true.
Likewise, can Jacobs, if confirmed, avoid conflict of interest challenges he may face when in addressing the allegations of misconduct against prior VBA leaders. When it comes to his former employer, Booz may make a fine VBA claims management widget, but can Jacobs steer that ship without bias or the appearance of bias?
A View From Outside DC
I have a concern about experience.
Unlike DelBene, Jacobs lacks the experience and credentials needed to steer a chronically broken and hopelessly corrupt VBA. Three of its past four undersecretaries (including acting or delegated undersecretaries) are linked to investigations of improper conduct, decisionmaking, contracting practices, and/or other investigations.
All too frequently in the minds of veterans: Undersecretary for Benefits = Scandal.
Many investigations are directly or indirectly the fruit of policy decisions made while Jacobs was advising the prior VA secretaries. I dare to count how many scandals were covered up when he was a senior advisor.
Jacobs may be a great guy. He may be brilliant. But is he the right guy for this job right now? Or, is he the only person available with enough political clout to move the ball forward the way the Biden Administration wants?
There appear to be a lot of close ties between Jacobs and stakeholders within the Senate, within Booz Allen and the contracting community, and many of the senior leaders involved in misconduct investigations ongoing from misdeeds committed two administrations ago.
Jason Foster already noted the current trend to omit challenging questions and "evasive answers" from Jacobs during the confirmation process. Why is the Senate throwing softballs at Jacobs right now? Is he really still the good ole boy who ran the Senate's Veterans Committee who worked at the Senate until 2013?
From 2013 to 2017, Jacobs was the senior advisor to two VA secretaries in the middle of some of the worst scandals in modern US history. Former Rep. Jeff Miller called VA the most corrupt agency in the federal government at the time Jacobs was a senior advisor. Is it too far of a stretch to conclude Jacobs was either giving horrible advice, ineffective, or in on it?
From 2017 to 2021, Jacobs worked for Booz Allen Hamilton. Numerous news reports show some of the pivotal the benefits systems Booz Allen worked on were riddled with problems including the Forever GI Bill debacle.
After coming back to the agency, in 2021, Booz Allen was awarded one of the largest if not the largest contract, $1.1 billion, to build the new case management system for VBA, the same agency inside VA that Jacobs will now run.
Can we trust that he will be objective in addressing scandals? Legacy scandals have yet to be fully disposed of including terminating those legacy leaders responsible after being in charge for 8 months.
Can we trust that, if the Booz Allen project falls into disarray (like the Cerner electronic health records mess), that Jacobs will be transparent with Congress? He was not transparent with the Senate this time.
Will the Senate even hold their wunderkind accountable if scandals like those circa 2014 happen again? The Senate deep-sixed Sen. Grassley's challenging questions and Jacobs' evasive answers from the official transcript per Jason Foster.
No Reason For Pessimism
I am sure everything will be fine. I just need to find a hole in the sand to stick my head in.
Veterans' benefits won't get cut. Money will surely go to the best qualified contractors. And veterans will get exactly what Congress promised.
Even a broken clock is right twice a day.
When the broken clock is wrong, given the other scandals Jacobs previously helped advise VA's numerous secretaries through, I am certain the next set of scandals (and there will be scandals) will be fabulously contained within the establishment narrative.
Nothing to see here.
And, until next time, be sure to drink your Ovaltine.