MMQB – Secretary McDonald Op-Ed Sparks Conflict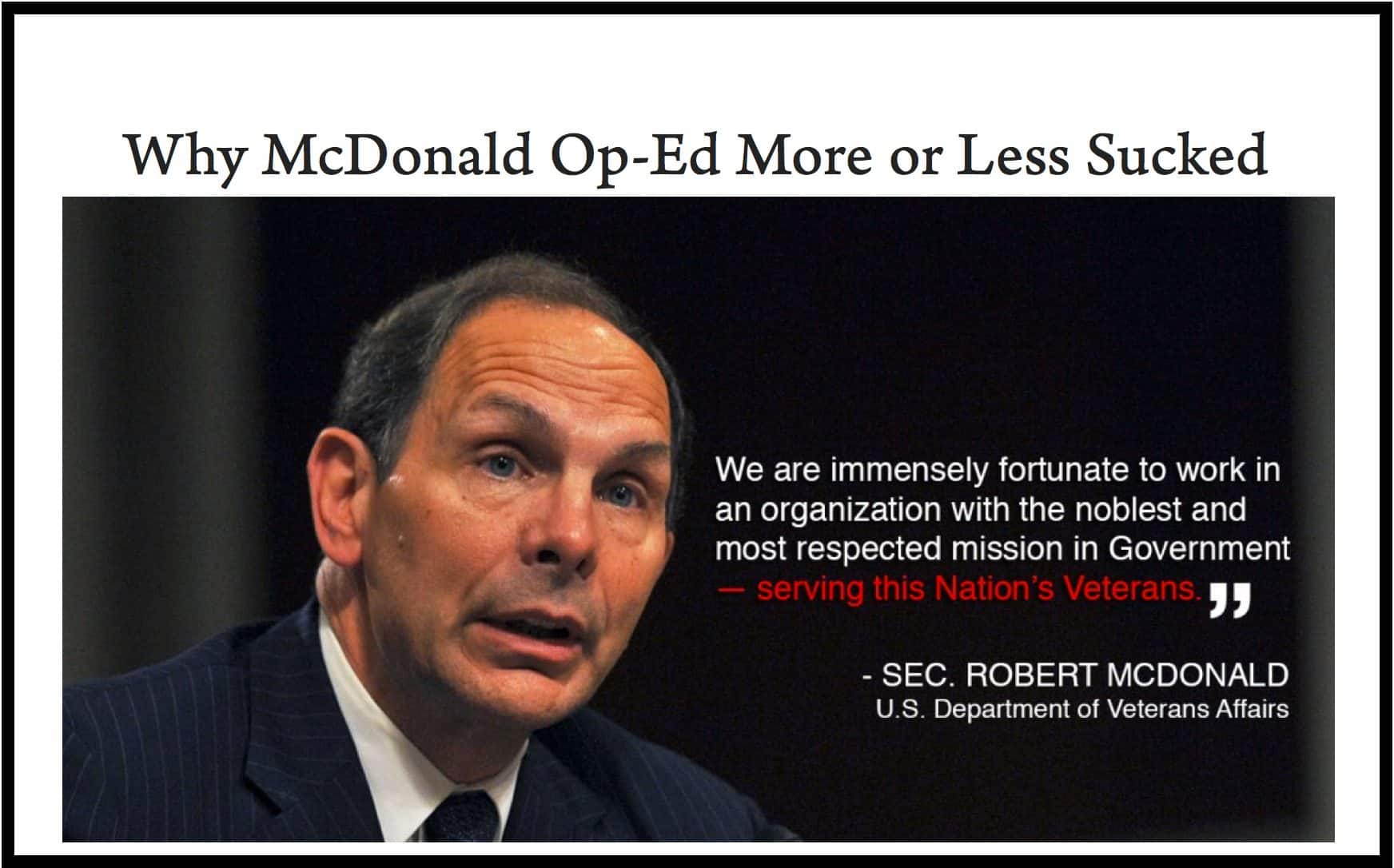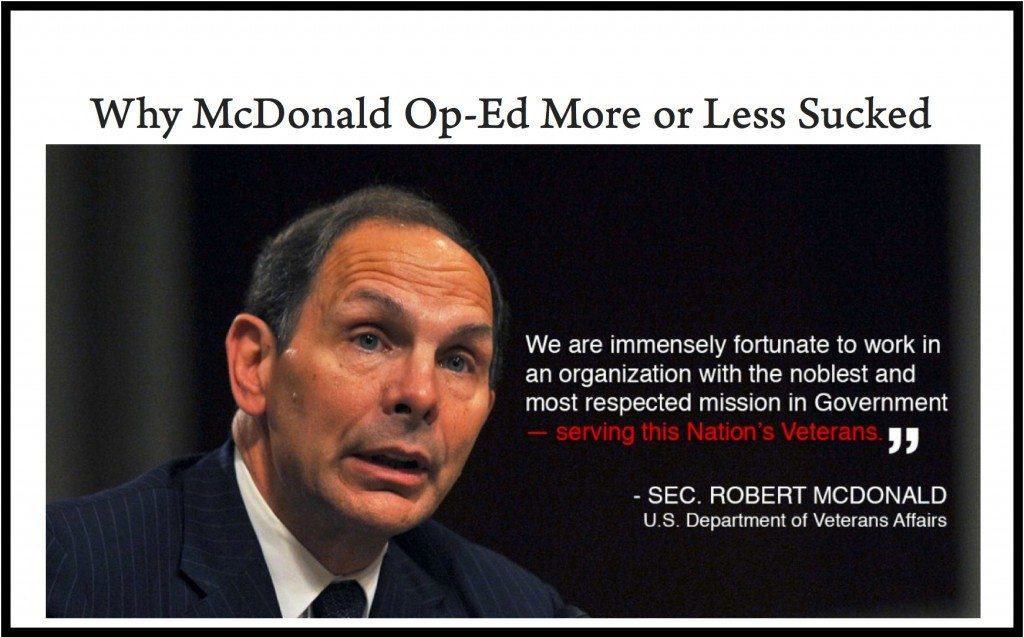 "Veterans need VA, and many more Americans benefit from VA" was the tweet from VA about the recent Secretary McDonald op-ed that sparked controversy among veterans online.
The Robert McDonald op-ed was titled, "VA is critical to medicine and vets." You can summarize the McDonald op-ed in 15 words or less. 'VA is big. VA health care makes neat stuff. Bob will fix VA health care.' Or at least that is the hope.
I first noticed this curiously titled op-ed on Twitter, which was followed by two sharp reactions that I posted below, and thought the op-ed itself was worth writing about here. I will get into what I think concerning Bob's op-ed in a second.
Welcome to this edition of Monday Morning Quarterback (MMQB) for Veterans. I am your host, Benjamin Krause, creator of the DisabledVeterans.org community. This is the number one place of unadulterated veteran centric news on the web. MMQB is where I hit on news from the weekend.
Here is what we will cover in brief today:
McDonald sucky pro-VA op-ed
Phoenix VA fraud known for years
Is McCain relevant on veteran issues?
MCDONALD SUCKY PRO-VA OP-ED
What do you think Robert McDonald should write about in an op-ed in light of new scandals coming up on a weekly basis about the wait list and related VA employee fraud?
Now, take that idea in your mind and add in a ton of nonsense about things no one cares about. Shazzam, you have the McDonald op-ed.
This is not my first read of pro-VA propaganda from its trained press manipulators. And that propaganda is always the same. The McDonald op-ed, like past VA propaganda, talks up how huge VA is and proceeds to list off a few things the agency has done that are pretty cool. It then concludes with a short comment about VA problems after everyone has gone to sleep reading it.
Since most people never read to the bottom of any article, this seems to be a great pattern VA has developed over the years. That way, skeptics cannot slam VA for totally lying and the majority of the public never reads what the problem actual is. Instead, they get caught up ready a bunch of  heady nonsense that has nothing to do with modern issues and walk away believing that veterans are in good hands.
My critique of the McDonald op-ed is simple. "Dear Mr. McDonald. I would like to read an op-ed that you personally write. This op-ed style and topic has been reused so many times that it lacks any real value. Next time, write from the heart and hit the problems head on. Please have some respect for our time and stop writing nonsense that has little to nothing to do with the actual problems in VA right now. Also, do not let your press office edit the op-ed. Thank you."
Apparently I was not alone. Some veterans were repulsed at the suggestion of tweet that passed around the op-ed around social media — that veterans "need" VA:
"@DeptVetAffairs: Veterans need VA, and many more Americans benefit from VA – You Fucks are so tainted it's disgusting!!!

— Ceilo Azule (@ceiloazule) October 24, 2014
@DeptVetAffairs @baltimoresun I'll take the voucher all day every day and twice on sunday

— Bill Ferguson III (@bferguson3rd) October 25, 2014
Do you think veterans need VA? Yeah right, like we need a bullet in the head.
I think veterans are stuck with VA but they really need a nonpolitical organization that merely does its job well. Wouldn't it be something if USAA started an insurance line for health care that then took over all VA's administration of fee basis health insurance and then offered that insurance to all of us?
Here is a shortened overview of what the article said regarding the cool things the agency accomplished:
VA is affiliated with over 1,800 educational institutions providing powerful teaching and research opportunities. And our research initiatives, outcomes and honors are tremendous. Few understand that VA medical professionals:
Pioneered and developed modern electronic medical records;

Developed the implantable cardiac pacemaker;

Conducted the first successful liver transplants;

Created the nicotine patch to help smokers quit;

Crafted artificial limbs that move naturally when stimulated by electrical brain impulses;

Demonstrated that patients with total paralysis could control robotic arms using only their thoughts — a revolutionary system called "Braingate";

Identified genetic risk factors for schizophrenia, Alzheimer's and Werner's syndrome, among others;

Applied bar-code software for administering medications to patients — the initiative of a VA nurse;

Proved that one aspirin a day reduced by half the rate of death and nonfatal heart attacks in patients with unstable angina;

Received three Nobel Prizes in medicine or physiology; seven prestigious Lasker Awards, presented to people who make major contributions to medical science or public service on behalf of medicine; and two of the eight 2014 Samuel J. Heyman Service to America medals.
After waxing poetic over these issues for around 700 words, the op-ed concludes by acknowledging that VA needs to fix access to care:
Fixing access to VA care is important; we have a plan to do that and are dedicated to implementing it. That process will take time — but it must be done, and we will be successful. Those who fully understand the value of the department in research, training, and clinical care understand that veterans and all Americans need and deserve their VA to continue providing exceptional care to those we serve.
Read the op-ed via the link below and comment. Do you think there is more to say?
Read the McDonald Op-Ed: https://www.baltimoresun.com/news/opinion/oped/bs-ed-va-secretary-20141023-story.html
PHOENIX VA FRAUD KNOWN FOR YEARS
The wait list cover-up was apparently only a cover-up to the American public. VA knew about it for some time according to recent revelations on the Hill.
One VA OIG report from 2008 found that workers at the Phoenix VA were manipulating records to improve performance reports for years. The manipulations focused on manipulating wait times to make it look like veterans were seen sooner than they actually were.
The report was not released under the ludicrous claim that it violated the Privacy Act. However, VA OIG has no problem redacting reports where personal information shows up, a reality that renders the agency's current excuse as a total farce.
The findings of the report were reiterated in a 2010 memo saying employees were gaming the system with the wait list manipulations. So how is it that the problem was not addressed before even more veterans were killed in the name of personal profit and fraud?
Politicians decried the cover-up, but no one will probably notice since Congress refuses to act to hold anyone accountable for failures to make true statements under oath.
Read More: https://www.tucsonsentinel.com/local/report/102414_phoenix_va/va-knew-phoenix-fraud-years-ago/
IS MCCAIN RELEVANT ON VETERAN ISSUES?
MY SHORTER ANSWER – No. That is all…
MY LONGER ANWER – No, Senator John McCain is not relevant on any veteran issues. And no, I still have no idea why veterans even bother to show up to listen to McCain at rallies, at least related to veteran issues.
He pushed against the new Post 9/11 GI Bill. He ignored thousands of calls about the fraud going on at the Phoenix VA. He likes to send America to war while cutting spending to care for vets at home.
My experience through the veterans McCain is supposed to help is that veteran problems are not well received by the Senator. According to these voters, McCain is out of touch and lacks true compassion.
Time to send that old duff out to pasture. That is all.