More Than 50 Percent of Veterans Surveyed Did Not Receive Monthly Pay In Time For February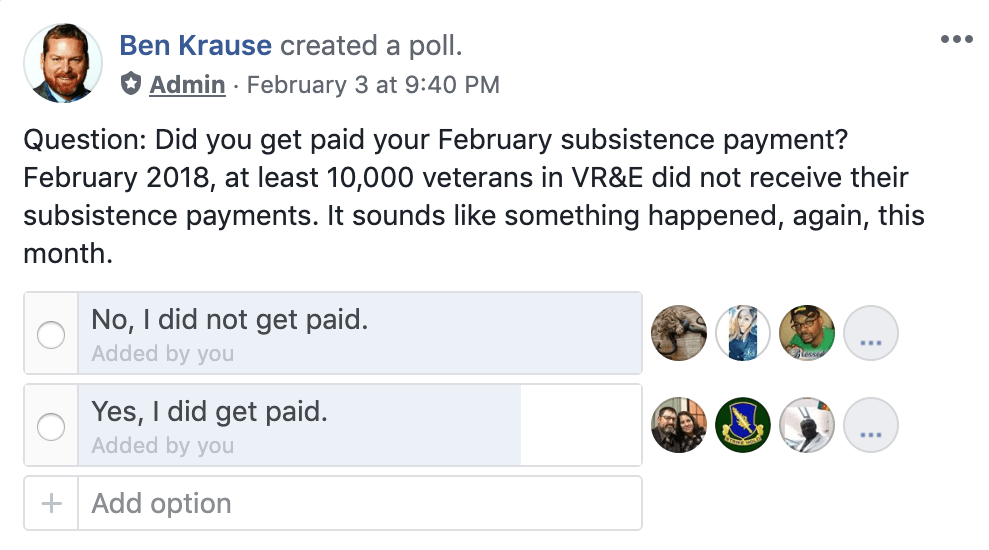 For the third year in a row, a significant number of veterans reported not receiving timely payment of their BAH in February 2020 resulting in hardship.
We ran a survey after numerous members in our Facebook group called Disabled Veterans – Chapter 31 Voc Rehab reported not receiving their BAH payment for February 2020. Those unfamiliar with this payment should note its a substantial payment many veterans rely on to cover things like rent and food while in college under VA Vocational Rehabilitation & Employment (aka VR&E, Voc Rehab, etc).
The nonscientific survey found that 184 veterans did not timely receive their BAH payment. Another 144 veterans answered that they did receive payment. Those who did not receive the money promised from VA reported numerous hardships including difficulty paying for rent and food.
This problem is not new. In 2018, the Washington Post reported over 10,000 veterans did not receive monies they were due while using Voc Rehab. Many veterans reported the same problem last year. And, this year, many more veterans reported the same historic problem.
A computer glitch within the federal government somewhere is at the root of the problem according to insiders. VA was supposed to implement new systems fully last year but delays inside the system when implementing other software programs have impacted disabled veterans seeking vocational rehabilitation benefits.
I started the survey almost three weeks ago. Some veterans still report not receiving the benefits they are entitled to while in a program of vocational training.
BAH Failure Testimonies
Veterans opting to state their concerns publicly reported the following:
Dan Owen: "I failed a quiz because I have been shoveling dog shit at a kennel to make money, instead of studying… my hands hurt badly from the work and I can barely handle my lab equipment when in class. Try doing an acid test on a specimen after shoveling for 4 hours straight Mr. Streitberger! Pay me so I can graduate and get out of this forsaken program…"
Joshua Sooklal: Unfortunately I have not been paid and it has extremely affected my ability to concentrate and I have been on a constant state of anxiety due to it. Please, do not aggravate my service connected disability with your inability to get this program in order.
Tyler Wagner: This has been the most exhausting week trying to figure out where my bah is. Also it is pretty sad that when we contact our vrc who is to be our guide through this program we are met with hostility and talked to like we are stupid I had high hopes for my vrc and was very optimistic but feel like after talking to her twice that I would rather talk to a wall then my vrc if you can't fix the problems with the program then fix the people who are the face of voc rehab I've met many veterans who have had bad experiences with voc rehab and very few that have had a positive experience.
The agency's continued problem processing monthly payments to veterans in training is almost looking suspicious after three straight years of problems with computer system automated payments each February.
Will anyone be held responsible? I think if Andy McCabe is any example, it's safe to say now one will be held responsible for the underlying error – – at least not in the normal way.