VA Reverses 100% To 0% PTSD Reduction, Then Lies About It To Press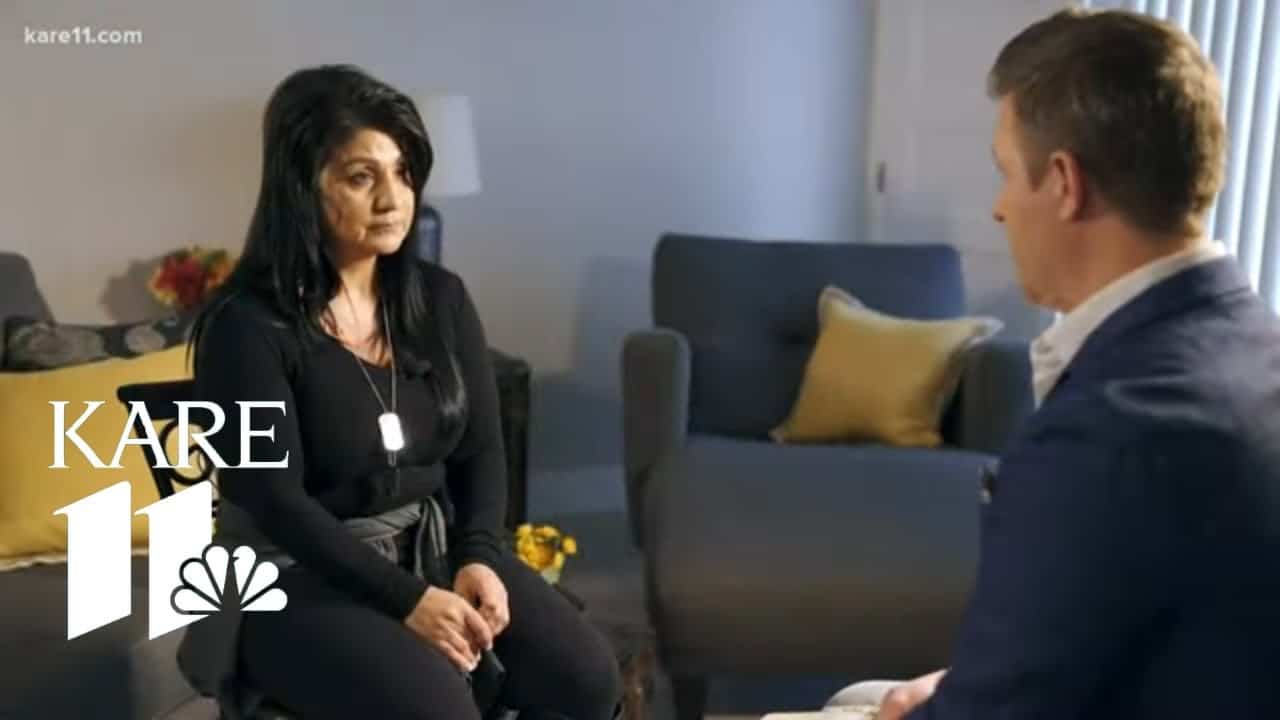 The Department of Veterans Affairs got caught with its pants down after reducing one MST Marine veteran's 100% PTSD rating to 0% after botched reexamination scheduling.
When questioned by Kare 11 investigation journalist AJ Lagoe, VA made a response of the special type of manure that "helps make my flowers grow," according to one attorney.
Head of VA Media Susan Carter told AJ the claim that VA dropped Marine veteran Maria Jewell's PTSD rating to zero from 100 was "false".
"There was absolutely no point in time where her PTSD rating dropped to zero."
The agency's spokeswoman not only denied the allegation in a bald-faced lie but also chastised AJ saying, "The allegations you are citing are misleading to the point where repeating them for your viewers would be highly irresponsible."
But here is what the black on white VA decision letter stated: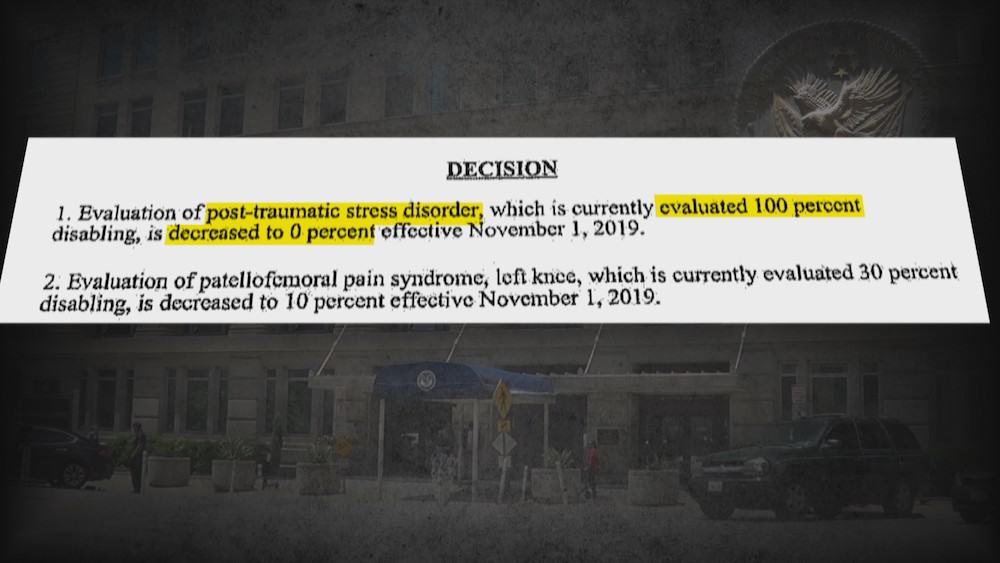 You tell me what it said? Did VA lie? Most certainly.
What happened to ICARE values and the basic ethics required of all federal employees?
Just because Carter is in charge of media outreach does not give her the right to make false statements about a veteran or the agency's unlawful reduction.
Period.
Other False Statements Recently Made
But that is not the only false statement VA has dished out recently about its female veterans who were victims of sexual assault or harassment. So, I guess we should expect the agency to handle issues like this without tact.
Some of you may recall that former VA deputy secretary Jim Byrne was dismissed on Monday. Initially, it was reported his dismissal was for failing to appropriately address a false narrative about a female Navy veteran who was sexually assaulted at a VA facility.
"Today, I dismissed VA Deputy Secretary James Byrne due to loss of confidence in Mr. Byrne's ability to carry out his duties. This decision is effective immediately," VA Secretary Robert Wilkie stated in a terse mid-day press release.
However, the agency responded the next day to various news reports that the "loss of confidence" was not due to the sexual assault investigation but someone else the agency would not disclose.
The core issue was a statement issued by Wilkie about the investigation wherein Wilkie told Congress the allegations of the Navy veteran were unsubstantiated. However, that was false. While IG did not recommend an investigation, the allegations were not deemed "unsubstantiated."
Now, for the female veteran involved was not just an ordinary veteran like most but she was connected with the House Committee on Veterans Affairs and was apparently assaulted while working by someone at a VA facility. Meaning, she has juice, and Congress was upset about how cavalier it viewed Wilkie's statements about the matter.
In this context, I am not sure what is better.
To let the country know VA stands behind female veterans who are victimized by the agency's employees. Or, to back peddle such a belief without any further explanation leaving veterans like me wondering if VA will ever get serious about protecting victims of harassment and sexual assault.
In our case, here, we have a Marine veteran whose PTSD rating is the consequence of a military sexual assault.
Do you think she felt victimized, as an unemployed mother trying to better herself through vocational rehabilitation, when VA dropped her PTSD rating from 100 percent to 0 percent?
Do you think she felt even more victimized when VA directly contradicted itself to save face at her expense trying to say the very real reduction that almost led Maria to being homeless was false?
Does the agency think we are all too stupid to read?
I guess.
Say What?
AJ's reporting on an unlawful reduction of an MST female veteran's disability rating is "irresponsible" despite being supported by VA's own documentation, according to VA's propaganda machine.
Irresponsible? Does VA use dictionaries?
–>So says the agency that wrongly reduced Maria from 100% SMC S with compensation of $3,500 to 40% without sending the notices to the proper address… that later increased it back to 100% SMC S once attorneys and the press got involved?
–>So says the agency that scams veterans out of billions in emergency room bills… including this veterans rights attorney (I helped expose that scandal with Kare 11).
RELATED: Poor Staffing Behind Community Care Scheduling Delays
–>So says the agency that, for nearly a decade, pushed its unqualified nurses and doctors to incorrectly diagnose veterans seeking benefits and care for traumatic brain injury (I helped expose that scandal, too, with Kare 11).
–>So says that agency that got caught wrongly releasing PII of millions of people to third parties that lacked necessary access to that PII (the agency exposed this scandal on its own at the IG).
Who is really "irresponsible," here?
In this instance, the veteran and her teenage daughter were facing homelessness when Maria came into our office.
Wrong Mailing Address
That is when my friend Brian Lewis, a fellow veterans rights attorney, and I started looking into the matter. And, investigating issues like this has been where I've spent a lot of my time over the past couple of months instead of writing as frequently as I would like.
(Brian now represents Maria pro bono for the eviction action.)
On that fateful day in December, we traveled with Maria to the St. Paul Regional Office to dig into the problem at the center of the reduction.
For some backstory, it is vital to know VA has long struggled to correctly update and maintain mailing addresses of veterans and VA accredited attorneys representing them.
RELATED: Wrongful Emergency Room Denials Gets National Coverage
I have personally had my private health information – – thousands of pages – – sent by VA to the wrong address after updating my address at both VHA and VBA. I even contacted former undersecretary Allison Hickey to make sure it was updated… AND PROMISED IT WAS SORTED.
But that did not stop my local office from accidentally mailing my file to the wrong address when it then disappeared. Great. VA offered to provide credit monitoring but did not lift a finger to try to local the missing records.
Many of my readers regularly squawk about exactly the same problem. And it's not just veterans. Many law firms also regularly complain that VA reset their mailing addresses to an address from some random database years earlier.
What happens?
Impact Of Poor Mailing And Database Practices
Veterans and their representatives do not receive timely notices of VA decisions. It is safe to say that VA almost always is on the winning end of the deal, too. Rarely will you ever hear that because of a mailing glitch VA paid a veteran twice what was owed.
Instead, like the case with Maria, VA's error resulted in the veteran getting screwed out of benefits to which she was entitled in the dead of winter in Minnesota, right before Christmas.
Santa?
After Brian and I went to St. Paul RO, I got to work pushing out the story to help inform the public of what was going on. That is when Kare 11 stepped in.
RELATED: VA Considers Lowering TBI Examiner Credentialing
AJ got the story and started to dig.
That led to the news story he published Monday night. Again, another example of fantastic reporting from Kare 11 News.
Kare 11 On Veterans
For some of you who are new to this, Kare 11 is an NBC affiliate in Minneaplis that has worked tirelessly to expose problems veterans are facing nationwide, and frequently featuring research and stories I bring to them for further investigation.
The biggest story in the past couple of years was the Emergency Room scandal where VA was caught wrongly denying veterans reimbursement of non-VA ER bills originating with my own personal story.
This newest scandal starting with Maria likely will have long legs.
RELATED: VA Reverses Denial Of Kidney Transplant To Native American Veteran
In her case, VA had the correct address in its database.
Even the agency's scheduler had the correct address. But the notice of her appointment for a future exam was inexplicably mailed to the wrong address where Maria had not lived for 5 years.
How could VA have the right address internally but still mail the notice to the wrong address without verifying the address based on the inconsistency?
The error resulted in a massive reduction, shaving almost three thousand dollars per month off her compensation, and Maria did not receive the required notice prior to the agency dropping her rating. Compounding matters, VA even received a bounce back from the US Postal Service of a different letter to the same wrong address at the same time.
No one looked into it.
Fortunately for Maria, the rating was reinstated coincidentally after the agency learned we were looking into the matter with Kare 11. But that did not stop VA's spokeswoman of propaganda from lying about the substance of the reduction, as if AJ cannot read.
The story will not end with this singular example, though.
My favorite part of AJ's coverage was his quote of Brian about the flowers growing. Love it!
RELATED: VA May Cut Sleep Apnea Funding Due To Agency Mismanagement
What Is Behind Scheduling/Mailing Errors?
Many veterans are likely to come forward with other examples that demonstrate the agency, or its government contractors, are gaming the system to cut corners on the backs of veterans while also profiting handsomely off disability examination privatization.
You see, that is the other part of this story.
A private contractor was supposed to contact Maria back to address scheduling her appointment, but the callback never came.
Veterans being contacted by contract examiners are reporting the contractors are pre-scheduling the exams without first verifying if the veteran is even available.
If the veteran has a scheduling conflict, the contractor frequently informs the veteran they will be unable to reschedule. So, then what?
RELATED: Is VA Fairly Denying GI Bill Restoration?
Why are contractors not allowed to reschedule? What VA policy or arrangement is behind the rigid policies that do not put the needs of veterans first?
If there is more to this story, it is safe to say the Kare 11 NBC team will investigate.
Thanks again, AJ!
Kare 11 Dupont Award
Btw, in case you missed it, Kare 11 just won the prestigious Dupont Award from Columbia University for its reporting on VA scandals.
Check back here over the next few days if you are concerned about a future examination or a reduction threat because you missed an appointment.
I will roll out a free mini-course based on an audit I've been doing using VA education materials to help inform the public of how VA teaches its employees on various topics.
Tune in soon.