News Links on Shutdown and More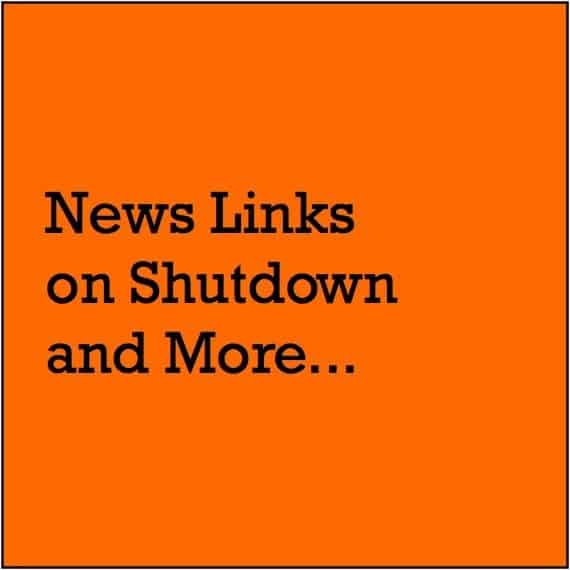 For those of you who are catching up on your research over the weekend, here are topics that are trending during the shutdown at the end of the week.
If you happen to find anything of particular interest that you'd like me to write about, please send me a note.
The sources are newsletters I get from Military.com, VA's VSO Newsletter, and elsewhere.
From Military.com
From Stars & Stripes
From Veterans Affairs
Deputy Defense Secretary Ashton Carter to step down.  In a surprise announcement Thursday, the Pentagon said the Defense Department's No. 2 official, Deputy Secretary of Defense Ashton B. Carter, will retire on Dec. 4.
2 of 3 ex-Navy football players to face court-martial in rape case.  Two midshipmen will face court-martial while a third will not in the case of three football players who were accused of raping a fellow student at the U.S. Naval Academy, it was announced on Thursday.
Navy pilot program shows dramatic gains in sex assault prevention.  As the Pentagon and the military services grapple with what appears to be a skyrocketing number of sex crimes within the ranks, the Navy has quietly been working on an extensive program it says has reduced the most serious sexual assaults by more than 60 percent at its largest training base — a decrease that has held for more than two years.
JPAC admits to phony ceremonies honoring 'returning' remains.  The Department of Defense unit charged with recovering servicemembers' remains abroad has been holding phony "arrival ceremonies" for seven years, with an honor guard carrying flag-draped coffins off of a cargo plane as though they held the remains returning that day from old battlefields.
Pentagon official: Lapse in death gratuity a 'tragedy'.  Defense Department Comptroller Robert Hale on Thursday told a congressional panel that the lapse in death gratuity payments was just one effect of the shutdown "tragedy" that wasted resources and resulted in secondary budget damage, such as interest payments and deferred training.
Exploitation of soldiers and veterans in shutdown fight is shameful.  Hyperlink to Article The Sacramento Bee:  Veterans Affairs Secretary Eric Shinseki told a congressional committee Wednesday that if the shutdown continues, about 3.8 million veterans will not receive their disability benefits in November, and pension payments would stop for 315,000 veterans and for 202,000 surviving spouses and children. The unconscionable backlog of claims for disability benefits is growing again because of employee furloughs.
Veterans cemeteries in line of political fire.  Hyperlink to Article Tampa Tribune:  If the government shutdown doesn't end by Oct. 22, national cemeteries will have to reduce the number of veterans they can bury every day, furlough employees and limit the care they give to gravesites, said Kurt Rotar, director of the Florida National Cemetery in Bushnell.
Broken Congress Turns Its Back on America's Veterans and Military Families.  Hyperlink to Article The Huffington Post:  In Montana this shutdown, caused by an irresponsible few, is also hurting veterans. Our small state is home to more than 100,000 men and women who served in our nation's military. Many of them struggle to get the quality health care they deserve — often because of red tape at the VA.
Millions of veterans' benefits –$6B worth — at stake if gov't shutdown continues.  Hyperlink to Article CBS This Morning (Video):  U.S. veterans are due $6 billion worth of benefits in November — checks that won't go out if the government is still shut down. Secretary of Veterans Affairs Eric Shinseki says a third of his employees are veterans themselves, facing a double whammy.
Benefits to disabled Virginia veterans in jeopardy.  Richmond Times Dispatch  In 2012, the U.S. Department of Veterans Affairs paid about $1.9 billion in disability payments to more than 137,000 disabled veterans and about $571 million in … 
Fallen troops now political pawns in shutdown fight.  The battle over deceased troops' death benefits was an emotional gut punch even for many beltway regulars used to bitter partisan bickering.
Medical Reports, Veterans' Families Suggest VA Is Overmedicating.  U.S. News & World Report  Families of many veterans say Veterans Affairs hospitals have been quick to … on Petit's death, which was obtained by U.S. News, ruled the death a suicide, …
House panel probes overmedication of veterans.  Hyperlink to Article The Washington Post (CBS This Morning – Video):  Congress wants answers as to why some veterans are being prescribed massive amounts of pain medication that could be leading to deadly consequences.
Veterans testify VA doctors increased meds without treating problem.  Hyperlink to Article CBS Evening News (Video):  A House subcommittee heard testimony Thursday on a problem CBS News exposed last month: Many returning war veterans are overmedicated, with some receiving lethal amounts of pain medication from Veterans Affairs hospitals.
Vets and Widows Blast VA Over Toxic Pain Killer Prescriptions.  Hyperlink to Article NextGov:  The widows of two veterans on Thursday described how Veterans Affairs Department hospitals prescribed deadly cocktails of pills to treat their husbands' pain.
Vets, widows say VA passes out pain meds too readily.  Hyperlink to Article Military Times:  According to media reports, the Government Accountability Office, and widows and retired troops speaking before a House Veterans Affairs health panel Thursday, VA physicians are over-prescribing medications, writing scripts for addictive drugs and issuing multiple medications to patients without regard to their distribution, side effects or potential lethality.
Columbus widow of veteran tells panel of husband's demise.  Hyperlink to Article The Columbus Dispatch:  A tearful Heather McDonald of Columbus said that during her husband's final weeks of life, he was taking massive doses of prescription drugs as he struggled to overcome post-traumatic stress disorder and chronic pain from his Army service.
Veterans finish program to avoid jail.  Hyperlink to Article Pittsburgh Tribune-Review:  Todd McCormick became one of the first three graduates of Butler County's Veterans Treatment Court, established one year ago to help veterans convicted of nonviolent offenses avoid jail time… Many have turned to drinking and drugs because of traumatic brain injuries or post-traumatic stress disorder, said Brad Schaffer, VA Butler Healthcare's Veterans Justice Outreach coordinator.
Brown signs bills to aid veterans, boost community college costs.  Hyperlink to Article Los Angeles Times:  Californians will be asked to make $600 million available to help struggling military veterans find housing under legislation Gov. Jerry Brown signed Thursday.
Biloxi VA's fight against homeless veterans more than just one-day event.  Hyperlink to Article The Sun Herald:  "Four years ago the Department of Veterans Affairs announced its commitment to end homelessness by 2015," [Anthony Dawson, the director of the Gulf Coast Veterans Health Care System] said from the stage. "Since then, the number of veterans that are homeless have declined almost 18 percent. As you and I both know, every veteran that is out there without a safe and stable household is one too many."
Military academy sports to go on despite shutdown.  Defense Secretary Chuck Hagel has decided that football games and other sports will go on at the military service academies this weekend, and continue through the end of the month, despite the government shutdown 
Sugar Land honors veterans with memorial dedication.  Community Impact Newspaper   Contact Us · Advertise With Us · Awards · In The News · Our Staff · Now Hiring … Nearly 1.7 million veterans live throughout the U.S. and more than 25,000 veterans reside in Fort Bend County, according to the U.S. Department of Veterans Affairs. … The memorial is meant to honor veterans through both celebratory and …
Patriots Point named Veterans Day regional site.  Live 5 News  Patriots Point named Veterans Day regional site … The Cherokee Nation says the biological father of a Cherokee girl will hold a news conference on Thursday to … Veterans Day National Committee of the U.S. Department of Veterans Affairs.
Hotel for veterans opens at Palo Alto VA.  Hyperlink to Article KGO-TV (Video):  A new state of the art hotel for veterans being treated at the VA in Palo Alto opened Tuesday. The best part is — it's all free.
New Veterans Affairs Medical Facility Planned for Huntsville.  Hyperlink to Article WHNT-TV (Video):  Venton Blandin was floored having to travel 98 miles to get some specific help, even though 35,000 people work on a 38,000 acre base near Huntsville. He talked to someone in public relations at the hospital to ask why. The hospital spokesman told WHNT NEWS 19 construction is set to begin very soon on a brand new facility here at home.