FAIL: Department of Veterans Affairs Totally Out of Touch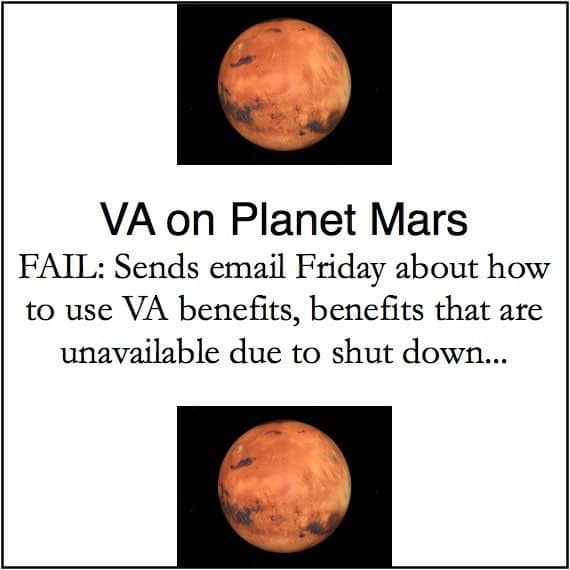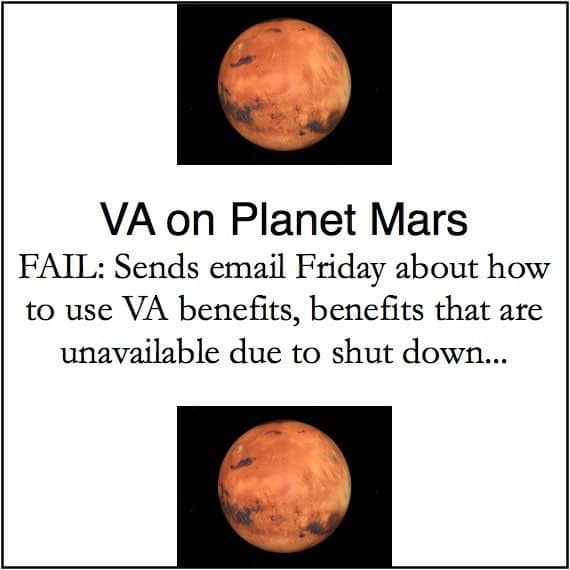 This one goes into the, "Epic FAIL" file. Check out this newsletter VA sent me today – I'm not sure what planet these guys on:
I'm a Vet, I'm Unemployed, Now What?  Veteran Service Representative, VA's Philadelphia Pension Management Center Veterans still have an edge over civilians when it comes to employment. Find out what you can do to land a well-paying job.  Read More →
The email links you to VAntage Point, VA's blog about veterans benefits, many of which are unavailable during this shutdown. On the surface, the post seems ill-timed in that it endorses finding government employment at a time when many employees are furloughed.
On the issue of government employment
Any risk-averse veteran getting relying on their benefits should think twice about relying on the government for both their benefits and employment. This was a point eluded to during the recent House Committee on Veterans Affairs hearing. Chairman Jeff Miller pointed out that disabled veterans who are also furloughed government employees are doubly harmed should VA cut benefits payments.
Out of touch
Sure, the email to the linked post dated August 30 was relevant then. If the VA was interested in staying relevant, however, they need to focus on the now. I'd say right now most veterans have other things on their minds, like how they will eat if their benefits get cut.
Why can't VA take a few minutes to write a post about that?
I find this to be symptomatic about how VA treats veterans, generally. Most veterans have been hopping mad about this looming VA shutdown and how it will impact our standard of living.
Instead, VA is sending out newsletters to unemployed veterans about how VA services can help… except, of course, when VA is SHUT DOWN!
I get that VA wants to keep veterans cycling through their own material. But I also think VA is totally blowing it by not equipping veterans for the reality that is facing us.
What VA needs to do is send a letter to all veterans that explains how best to cope if our payments stop.
Anyway, it's not like the sky is falling, but I thought VA's timing was comical enough to share.
Here is a screen shot of the email: