Bad Ass of the Week Award Winner Rep. Bill Flores (R-TX)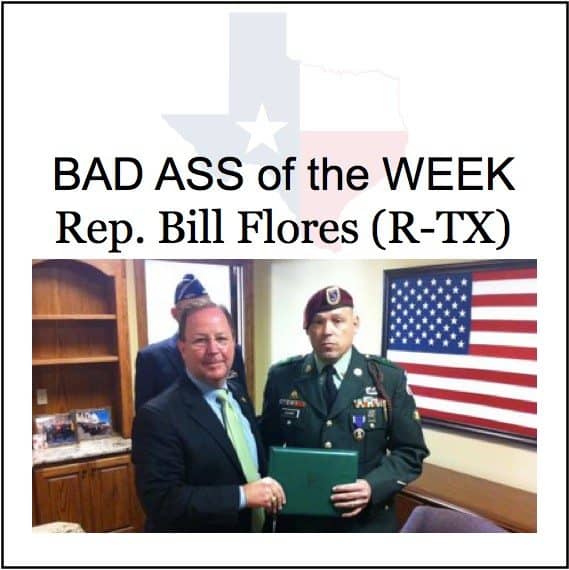 Rep. Bill Flores won Bad Ass of the Week because of his pointed and thorough questioning of VA Secretary Shinseki. His question focused on whether politics was coming ahead the needs of veterans in the shutdown.
Rep. Flores highlighted the many twists and turns in VA's message about how the shutdown will impact veterans benefits. Initially, VA said the benefits would be fine. However, just days before the shutdown, VA reversed its position.
Rep. Flores drilled down into the matter to raise the question, that the VA manner in which VA is shutting down may be putting politics ahead of mission.
VA's Secretary Eric Shinseki stated that the President did not influence how VA shutdown. Rather, VA was merely inept at preparing and planning despite having substantial notice than an issue might arise that could effect veterans benefit payouts.
In case you missed it, I included a clip of Rep. Flores' questioning.
I have had Shinseki's response analyzed by a psychiatrist to get an impression. That psychiatrist believes Shinseki was being less than truthful when he stated that the wind down and threat of benefits cuts was not politically motivated.
But regardless of what the doc says, watch the video and decide for yourself. To see all the highlight clips of the hearing, follow this link: https://www.disabledveterans.org/2013/10/09/video-highlights-va-totally-dropped-ball/
Rep. Bill Flores questions whether or not White House influenced VA Shutdown
Rep. Bill Flores: "There was a field guide that was issued by VA on September 27 that said disability claims processing would not be affected. Then on September 28 VA notified the Committee that they would not be able to send the November benefits checks because funding would run out in late October.
"Then on September 30, President Obama in an interview said that veterans will find their support centers unstaffed. This is in direct contradiction to the Field Guide that said vet centers would not be affected. During that same interview, the President intimated the shutdown would affect somebody in a VA office who is counseling someone with PTSD.
"On September 30, VA updated the field guide… This goes back to my question.
"Did someone at the White House or Office of Management and Budget or Treasury or any other federal agency or federal employee ask you or anyone else to modify the timetable with which VA was going to begin its operational wind down?"