RED TAPE: VA Stalls PACT Act Benefits To January While Veterans Die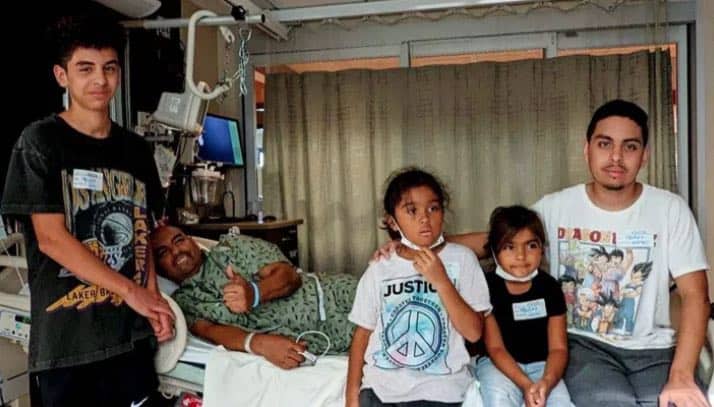 With two weeks to live, VA told one veteran's advocates that it would not process his PACT Act benefits until January 2023, at the earliest.
It always amazing me how often VA red tape gets in the way of an otherwise good deed by Congress. Citing to that same red tape, VA says it's unable to process PACT Act claims for at least three months past the initial start date of October 1, 2022.
Subscribe to our weekly newsletter and stay up to date.
In most companies and governments, especially in an election year, this kind of major error would get someone fired. These mid-terms are supposed to get hot, and blown lay-ups like simply processing PACT Act claims should stoke any fire for change making it a bit hotter for administrative insiders and Congress.
We shall see…
Latino Veteran On Death Bed
Today, Rudolfo "Rudy" Ruiz, Sr is one of at least 4 veterans in Brown County of Minnesota dying from toxic exposures trying to win PACT Act benefits claims. The veteran's uncle, Gabriel Rios, said a County Veteran Service Officer has Rudy's claim fully developed and ready for an adjudication since August. Many other veterans are in a similar boat.
Rather than process the claim under PACT Act benefits requirements, VA told the family and those helping that it will wait until January 2023 at the earliest to process the claim under the PACT Act. With only two weeks to live, Rudy "is on death row" according to his uncle Gabriel.
"A lot of people compare the Army with prison," Gabriel said on The Richard Leonard Show. "The way I am looking at this, these soldiers are on death row."
Gabriel is now caring the 4 minor children of the single dad.
Rudy's metaphoric sentence?
Death From Lymphoma
He was convicted of serving honorably in the Minnesota National Guard for 14 years with 2 tours to Iraq. At 44, the dying veteran is now paying the penalty for his service.
Death from lymphoma without benefits for him or his children. That is, not until January 2023 at the earliest so the family was told.
His 4 children will now live without their dad while the mom is basically out of the picture. They probably won't have VA death benefits until VA finally processes the matter next year (unless a VA official is able to process the claim through other method). Gabriel will not get support from VA for his sacrifice to care for the children, either.
The process of the illness was quick with symptoms first happening a short time ago.
Doctors gave Rudy only a few months to live. While trying to get his affairs in order for his children, doctors shortened their prognosis to two weeks or less as of this writing.
Lymphoma of any type is listed as a presumptive condition for those veterans exposed to burn pit toxins while serving in Iraq. While VA is stalling the process processing under the presumptive, it could be possible to process under direct exposure based on evidence in the record.
It does not sound like VA has addressed that option, at least not for Rudy, but hopefully someone in VA will get this sorted out before his death using available methods.
Gabriel created a Go Fund Me to help support Rudy's minor children, but no amount of money will replace their dad and sole caregiver.
GO FUND ME: Help The Rudy Ruiz Family
Interview With Rudy's Uncle
Leonard set up time to interview Gabriel shortly after learning about Rudy's situation. While there is not much time left for Rudy, this video will help get the word out not only about what happened to Rudy but the gameplaying going on within the walls of 810 NW Vermont at VA Headquarters.
While VA was busy grabbing political headlines with its announcement ti will start processing abortions for veterans for the first time in history, agency leadership apparently dropped the ball on PACT Act claims.
RELATED: VA Processes First Abortion
Priorities, priorities.
Now, get this.
VA Says It Lacks 'Systems'?

After all the hoopla of the Biden Administration and Congress in August about the PACT Act, VA now alleges it lacks the funding, systems, and policies needed to grant Rudy's benefits.
We received information from a comment sent by VA about claims like this stating, in part:
"We must wait for funding approval from Congress and to put the needed systems in place before we can process these claims. If VA cannot award entitlement to service-connection for the claimed condition under the current authority, then we must hold it until we receive additional PACT Act processing policy guidance."
Here is a copy of the complete excerpt we received:
Taxpayers have spent billions of dollars on IT systems to help VA Benefits Administration process claims quickly. Those systems seem to work on other claims including adjuidcating burn pit related cases like Rudy's prior to the PACT Act's passage.
What's the problem now?
Congress said it allocated $400 billion in nondiscretionary spending for the PACT Act.
Where's the money while our lawymakers are gladhanding for votes?
VA has known the PACT Act was coming for a while. It already has sufficient policies in place to allow adjudication for some terminally ill veterans like Rudy without further delays.
RELATED: Was Burn Pit Registry Effective?
What's the hold up on doing the job of helping veterans? Need more union employees?
Did VA get the big $400 billion headline without the bag of loot at the other end from Congress? Why not use some of the discretionary funding sent to VA for its chronically busted IT systems to help fund these benefits?
We have lots of questions with no answers other than this smells a lot like BS.
RELATED: DOD A No-Show At Burn Pit Hearing
When you see your Senator or Congressman campaigning before re-election on November 8, be sure to tell them about the case of Rudy Ruiz.
As for the assertions from VA, it sounds like these bureaucrats are posting excuses that defy the campaign boasting we've been hearing about the PACT Act and its passage.
Burn Pit Death Penalty On Kids
There could be an easy fix with substitution for the veteran called DIC so the children can move forward with the claim. The challenge will be that the veteran is a single dad, so some steps may need to be taken first to ensure the kids are able to move forward as minors.
Some of you may recall my daughter lost her mother to burn pit linked pancreatic cancer in 2017 leaving our daughter without her mother as a teenager.
That is a tough time for a daughter to loose her mom.
As the father picking up the pieces, the death of a parent at such a young age will have a lasting impact. The children will need significant levels of support from their family, the community, and the agency presently dragging its feet.
Let's get this done for Rudy Ruiz and the other veterans impacted by the PACT Act. If you have heard similar stories, let's get the word out.
VA Public Affairs did not respond to our request for comment.