SHOCKER: Denver VA Director Late To Work 508 Times In 4 Years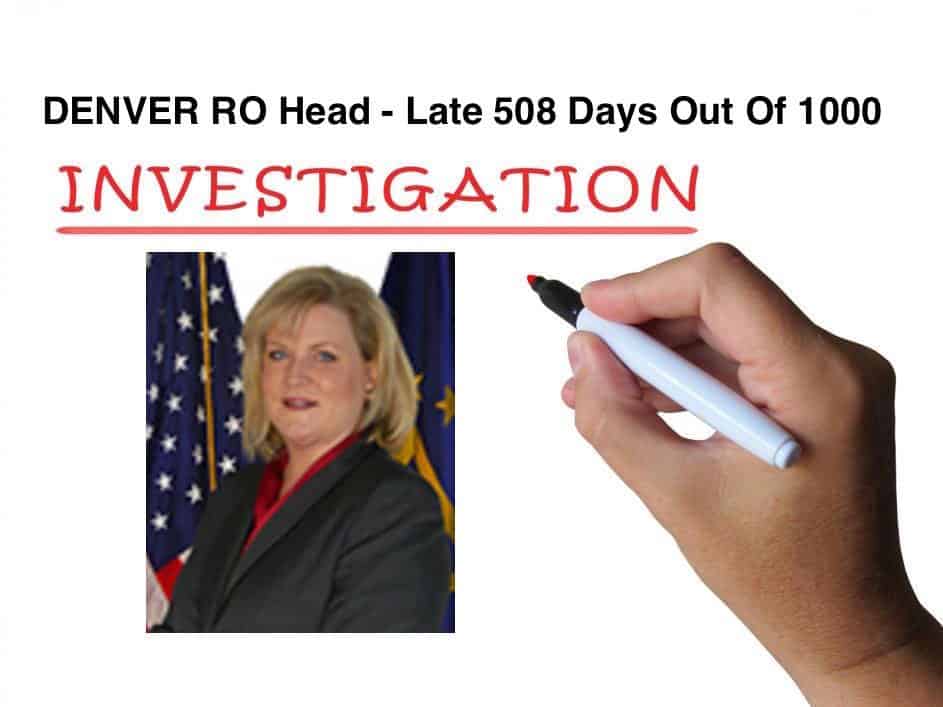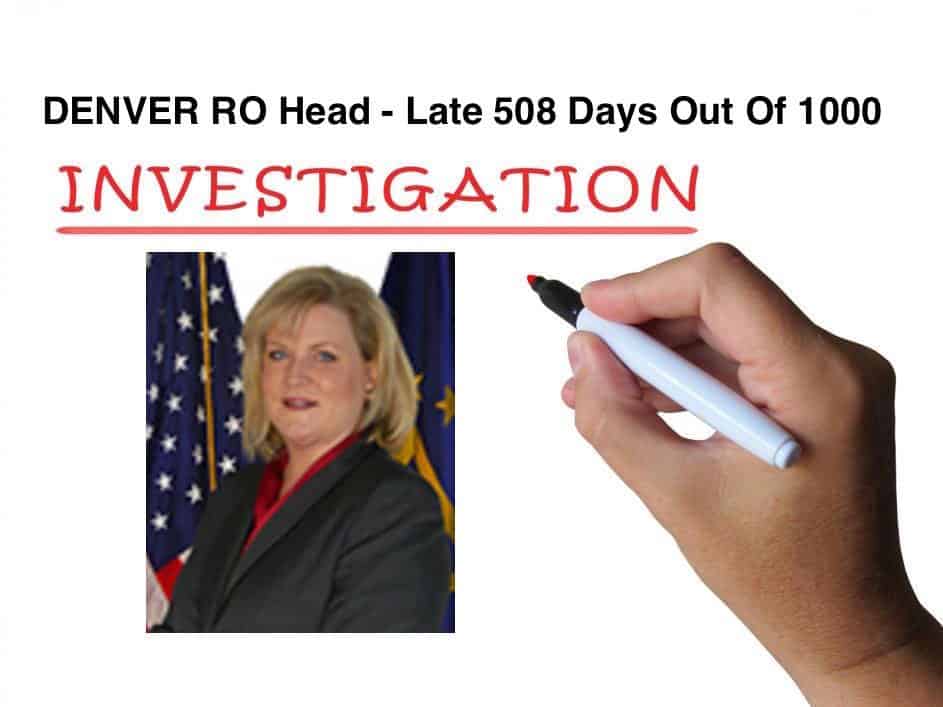 Agency investigators caught the director of the Denver VA evading her work responsibilities and cited for being late 508 days from 2011 to 2014.
According to IG, Melanie Renaye Murphy, who apparently goes by "Renaye," is the director of Denver Regional Office (RO).
During her time in the position, she habitually showed up to work late 508 days out of 1000 days between 2011 to 2014. Of those, she showed up to work at least 30 minutes late 90 times. She also supposedly teleworked for 180 days but could not prove exactly what she was doing while not at the office.
Who in the hell would keep their job in this context? Murphy clearly did not give a damn. We'll just call her "Do Little Murphy."
VA OIG provided the following assessment:
"The below table reflects, with reasonable certainty, the number of days, based on ETA, PAC, and travel records, that Ms. Murphy was at the facility, out of 250 workdays per year, and entered the building after the start of her official start time."
So from 2011 to 2014, there were 1000 workdays. Murphy was late 508 times – more than half the time. She was also teleworking for 180 days without required tracking to verify she was working when she was supposed to.
How the hell did it take 6 years to catch this fraud scamming the taxpayers and likely veterans?
Here is the chart breakdown of her absentees: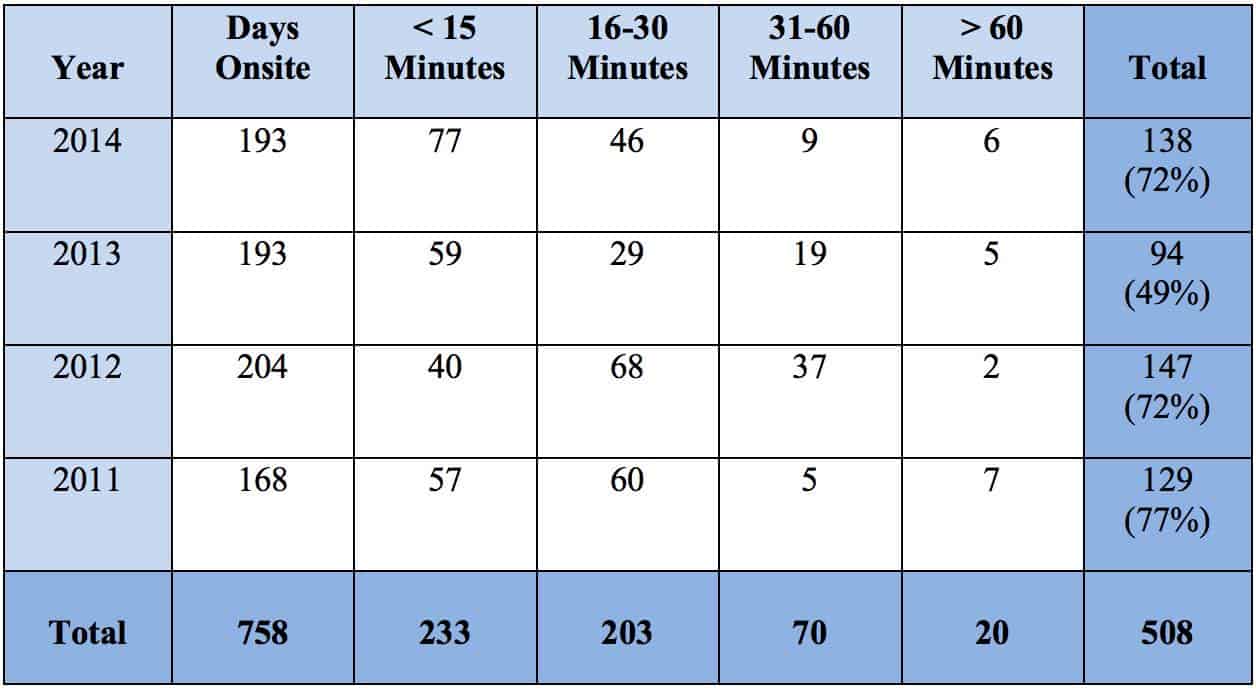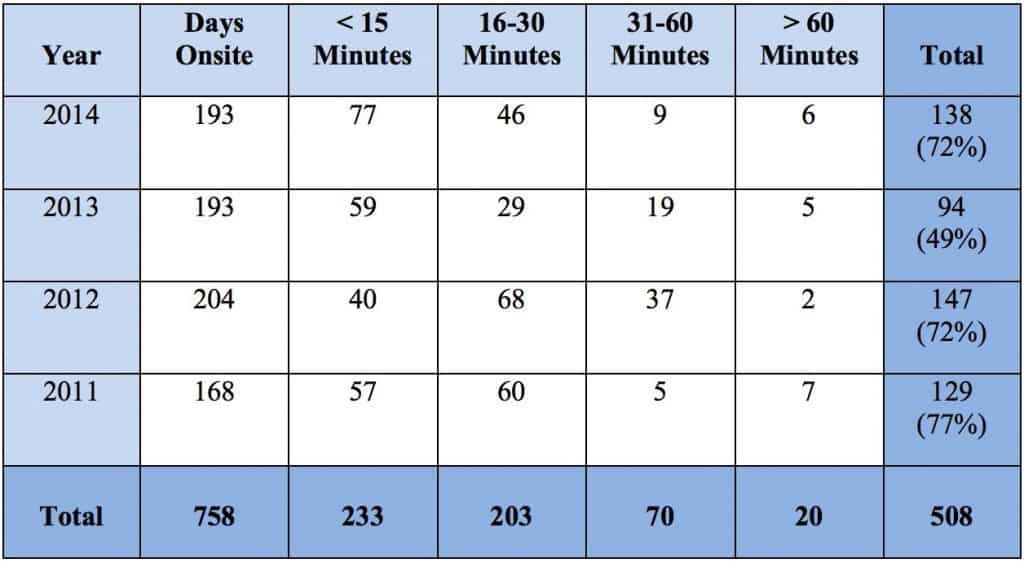 According to the Denver VARO website bio:
"Ms. Renaye Murphy was appointed Director of the Denver Regional Office effective May 2014. She is responsible for administering Compensation and Vocational Rehabilitation and Employment benefits to approximately 447,000 Veterans and their families living in Colorado and Wyoming. She oversees the delivery of Loan Guaranty benefits to Veterans in an eight state region including Colorado, Wyoming, Montana, Washington, Oregon, Idaho, Alaska and Utah. Ms. Murphy is an executive board member of the Federal Regional Interagency Council on Homelessness. She serves as the Field Leader for the Veterans Service Representative Skills Certification Design Team. She previously served as a Carey Award Examiner. Ms. Murphy received a bachelor's degree from San Francisco State University. She is a graduate of VA's Assistant Director Development program, and previously participated as a mentor for VA's Leadership Development program. She is a graduate of Office of Personnel Management's Management Development Seminar and the Federal Executive Institutes's Leadership for a Democratic Society.

"Ms. Murphy began her VA career in 1998 at the Regional Office in Oakland, CA, and worked in Regional Offices in Portland, OR; Houston, TX; and Seattle, WA before moving to Denver in 2010."
Shouldn't we all be terrified at the level of her authority over the claims of veterans while sluffing off at her job?
DENVER VA INVESTIGATION CONCLUSION
"We concluded that Ms. Murphy misused her official time by frequently arriving late to her duty station between January 1, 2011, and December 31, 2014. Although she was permitted to flex her day by up to 15 minutes, we were unable to determine if she worked later to compensate for her late arrivals, whether 15 or more minutes. Further, this time was not entered into her ETA. As a senior leader, Ms. Murphy is held to a higher standard and should set the tone for her subordinates to follow, and arriving late to work over 70 percent of her workdays diminishes her position and authority as a senior leader.

"We also found no or insufficient records to support her arrival at the facility or that she worked the entire day for 14 identified workdays. Subsequent to our interview with her, Ms. Murphy amended her ETA to retroactively take leave for 2 full days and 7 partial days not related to these 14 days. We gave Ms. Murphy ample opportunity to provide evidence that she worked these unaccounted for days, and the most she provided us was one email or email chain for 5 of the days in question. Although she may have worked extended hours to compensate for these days, she failed to properly record her time through the use of VA Form 5631 or in the ETA as required by VA policy.

"Additionally, we found that Ms. Murphy improperly teleworked for about 6 months. She not only failed to take the required training, she split her workday to care for a family member and did not take the appropriate paid and/or unpaid leave to cover her personal travel time and the time she spent caring for the family member. Ms. Murphy, as the most senior leader within that facility, has a duty and responsibility to set the highest possible example for her workforce by adhering to Federal laws and regulations, as well as VA policy. Unfortunately, she failed to establish a culture of accountability for time and attendance, and time and attendance recordkeeping was too lax to provide an accurate accounting of the time she worked.

"Moreover, we found that Ms. Murphy and her staff improperly used a local credit hour policy, which was contrary to VA Policy. Employees maintained an off-the-books credit hour spreadsheet, did not notify supervisors in advance when credit hours were accrued, and did not record these hours as required in ETA. In addition, the former VARO Director, Ms. Murphy, and the Assistant Director failed to establish a culture of time and attendance accountability, which is a primary responsibility of senior management.

"We discovered that OAR began an investigation concurrent to ours. In coordinating with OAR and to avoid any duplicative efforts, we accepted the misuse of time and incorrect timecards allegation, and OAR investigated all other allegations."
VA OIG also made the following recommendations. Normally, the director of the facility provides comment. As you can imagine, there were no comments from Do Nothing Murphy. Maybe she did not even show up.
DENVER VA RECOMMENDATIONS
"Recommendation 1. We recommend that the Director, VBA Continental District, confer with the Offices of General Counsel (OGC), Human Resources (OHR), and Accountability Review to determine the appropriate administrative action to take, if any, against Ms. Murphy.

"Recommendation 2. We recommend that the Director, VBA Continental District, review whether the privilege of credit hours and telework should be revoked and ensure that Ms. Murphy receives refresher training on VA's policy for time and attendance, credit hours, and telework.

"Recommendation 3. We recommend that the Director, VBA Continental District, confer with OGC and OHR concerning the 14 days in which Ms. Murphy was unable to fully account for her activities, determine whether she was absent without approved leave, and initiate action to recover pay she received when she was not present for duty.

"Recommendation 4. We recommend that the Director, VBA Continental District, ensure that any VARO local policy for credit hours complies with VA policy and that employees use VA Form 5631 or the ETA system as the official means to record, certify, and report their time and attendance, to include any compensatory or credit hours earned or used."