#1 Unofficial Guide – Get Smart On Your VA Chapter 31 Voc Rehab Claim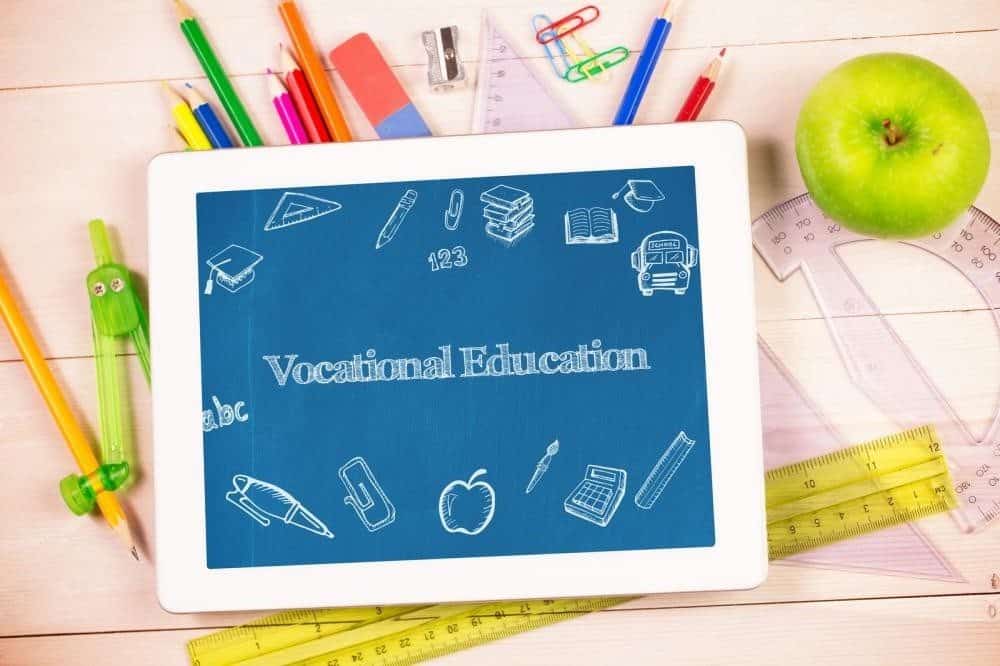 Cliff Notes from the Voc Rehab Survival Guide
 Here's what they should be telling you:
If you're one of the thousands of disabled veterans reading this, you're likely looking for help through this crazy Voc Rehab process designed to serve our nation's disabled veterans. This process, formally called Chapter 31 Vocational Rehabilitation and Employment (VR&E), has the least amount of published information of all Department of Veterans Affairs programs on the web, from what I can tell.
Read on and you'll get your square deal from Voc Rehab for your training.
Here's what this article covers:
What do I do before my first meeting?
What will Voc Rehab pay for?
How much will it pay?
Where can I go to college?
What degrees can I get?
GI Bill versus Chapter 31 Vocational Rehabilitation
For each of these topics, there are "asides" that need some explaining. The links below take you to more detailed information about your benefits claim development.
First VA Vocational Rehabilitation Meeting
First: Before that initial meeting, you (the disabled veteran) will need to prepare a basic case supporting what you want to do. Do not go in there with no idea of what you would like to do. It's probably really annoying to the counselors, but more importantly, it makes you appear directionless. Take the time to sort out what you might want to do for the rest of your life, or at least the next few years. Click here for the Voc Rehab Survival Guide.
What Voc Rehab Will Pay For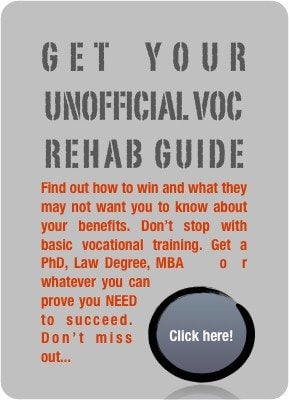 Second: VA Vocational Rehabilitation will pay for anything from vocational training to medical school. If you can "prove" there will be a job waiting for you when your program is over, and the program is from an "accredited" program (i.e., a university or similar), your Vocational Rehabilitation Counselor (VRC) will likely approve it. Proof here means something like "more likely than not" versus absolute proof like a video recording of Timmy stealing a candy bar.
Now, you also need to prove to your VRC that you can successfully complete the training. Just walking into the office and declaring you want to be a doctor will not suffice. You will need satisfactory marks on your standardized tests, like SAT, ACT, GMAT, LSAT, etc. These tests will show the counselor you mean business.
RELATED: Biggest Lies Voc Rehab Tells Veterans
There are other ways too, such as doing well at a community college before transferring to a university. Other issues may also play a factor, such as PTSD and anxiety type disorders. Depending on the degree to which you are impacted by these conditions, your VRC may determine your "Limitations" are too great for a particular area of study. For information on how to get around denials given to many disabled veterans, click here.
RELATED: Self-Employment Approval Just Got A Little Easier
How Much Voc Rehab Will Pay
Third: VA Vocational Rehabilitation will pay for many things ranging from startup costs to a law degree. The magic limit is $25,000 per year. If your rehabilitation plan is more than this, it will require additional approvals. As you can guess, getting additional approvals is very difficult to accomplish. Your "call-to-action" better be spot on. Otherwise, you may get denied and piss off your counselor, should you re-apply.
Where You Can Go To College On Voc Rehab
Fourth: You can attend college anywhere, so long as you can support it with documentation. Things get sticky when disabled veterans want to get a four-year degree or graduate level training paid for. The counselor will balk at the idea of sending any disabled veteran to a private college or university. Voc Rehab is required to provide a training environment that is appropriate for training and the least financial impact to taxpayers. This means they are required – so they say – to send you to a public university when a program of study is offered that satisfies the goal of the veteran.
RELATED: Top 5 TDIU Misconceptions
For example, in Chicago, there is the University of Chicago (referred to as just "Chicago" in academic circles) and the University of Illinois – Chicago (called UIC). Chicago is a MUCH better institution than UIC on all levels, especially in areas like Economics and Public Policy. In fact, Chicago is rated 8th nationally, and UIC is Tier 3 (not even in the top 150) – no comparison. Let's say disabled veteran Bob gets into both for an undergraduate degree. Bob wants to study Economics. Well, both UIC and Chicago have Economics programs. Guess where Bob has to attend? UIC. Now, there's a little insider secret, or "workaround" for the politically correct reader, that is outside of the scope of this discussion. Click here to get around this issue and attend Chicago (or Northwestern, or Stanford, or Harvard), if you want.
Types Of Voc Rehab Training
Fifth: you can get college degrees in anything that would lead to a job somewhere. The obvious choice would be getting a degree in Business, Information Technology, Engineering, Accounting or something similar. These degrees give you specific job function type skill sets that most companies need. Degrees that do not have specific applicability are English, History, Economics, Art or similar. These degree paths give you general skills such as critical thinking, writing, and problem-solving. The disabled veteran may find the subjects interesting, but she will not know the difference between credit and debit or how to create a Pivot Chart in Excel. An easy solution would be to get a Business major with a minor in History or whatever one chooses. Here is a breakdown of earnings by degree type.
GI Bill vs Voc Rehab
Sixth: should you use the Post 9/11 GI Bill or Chapter 31 Voc Rehab? Great question. I wrote a little blog post for Military.com on the subject. Voc Rehab recipients have been screwed by recent legislation. In it, Senator Akaka and company have decided to discriminate between newly disabled veterans and disabled veterans who exited the military before 9/11. The newly disabled veterans can receive up to $2,800 per month in stipend funds while older disabled veterans in that same region can only receive $570. For disabled veterans with the option to choose, if you attend private school, it's still probably better to take Voc Rehab. If you are attending a public school, the new GI Bill is the best bet, or at least it used to be.
After 2013, Voc Rehab started letting veterans opt for the higher Post 9/11 GI Bill amount while using Voc Rehab. It is a great option and allows veterans a chance to use benefits longer than 36 months while simultaneously getting higher subsistence payments.
RELATED: Voc Rehab Counselors Pushing Veterans Out Of Program Early
Feel free to post questions about these six issues or others below.
About the author: Ben is a disabled veteran from the Bosnia War era and served with the U. S. Air Force Special Operations Command in England. He has used Chapter 31 Vocational Rehabilitation twice.
The first time, he attended Northwestern University, a premier private university in Illinois. He later received his law degree from the University of Minnesota, where he graduated magna cum laude. Voc Rehab then paid for Ben's law firm that focuses on helping veterans sue the Department of Veterans Affairs. Here's a link to his story.