Updates on the Voc Rehab Guide
Here are a few things going on with the website here and within the local community in Minneapolis. I wanted to take a second to write to you about it. First, we will get into the guide. Then we will talk about farmers markets and programs for veterans who are incarcerated.
Updates on the Voc Rehab Guide
The new edition of our book on Vocational Rehabilitation is about to go big. Last March, I was able to convince the Dept of Veterans Affairs to help me edit the beast.
Here is a little story about the Voc Rehab Survival Guide and how it made its way into the 4th Edition. It's getting pretty good now, after my most recent additions using legal research techniques from law school. It seems to help.
Recent Voc Rehab Testimonials
Here are a couple testimonials from the past two weeks. I have left the names off for their own privacy.
VA Vocational Rehabilitation Approves Disabled Veteran for Dental School
Hello Ben,
I contacted you earlier this year with a question about Voc Rehab, and now have some great news.
I used the GI Bill to pay for a bachelor's degree in chemistry, which I graduated with 2 weeks ago, and was hoping to use Voc Rehab to pay for dental school, which I have already been accepted to and starts this Fall, since I only have 9 months of GI Bill left. I spent weeks of my free time reading your Survival Guide over and over again earlier this year putting together a three ring binder with all the information you recommend having and documentation to counter any arguments a counselor might use to disqualify me. During my appointment with the counselor I heard all the same excuses that everyone else hears about the 48 month rule, and that dental school being too expensive, but I persisted and would tactfully provide a printed out and pre-highlighted copy of title 38 for every road block he put in front of me.
It has been five months since my first Voc Rehab appointment, and many tests, emails, and appointments later, but I have finally received my rehabilitation plan. My program goal states "To obtain and maintain employment as a dentist." Voc Rehab is going to pay for all $200,000+ of my four year dental school, plus books, fees, and equipment while I will be receiving GI Bill BAH all thanks to your help. Nothing would have stopped me from reaching my goal of becoming a dentist, but it was your Survival Guide, and reading about your story that gave me hope that it could be paid for by the Voc Rehab program that I knew I qualified for.
I appreciate your help and the work you have done more than I could every put into words.
Thank you,
VA Vocational Rehab Approves MBA
Dear Benjamin,
I bought your Voc Rehab Survival Guide, and it worked out very well for me.  I am eager to give you something to post on your site, since this is probably the most valuable book I ever bought. The VA will fully fund my MBA at one of the most prestigious universities in the world.
Thanks Again.
The Voc Rehab Guide Story
During my first year of law school, I wrote 7 different "primers" for disabled veterans. The primers were short guides that helped disabled veterans get their Vocational Rehabilitation benefits. These have become the guide we sell here.
The proceeds from sales went to pay for webhosting, site development and costs associated with investigative journalism. That is where the sales are still used for today.
My goal was and is to reach as many veterans as possible. Given that goal, I approached the Department of Veterans Affairs last August. I wanted them to buy my guide and deliver it to all disabled veterans who apply. This way, no one is in the dark during the process.
Unfortunately, the Director of Vocational Rehabilitation was not interested. I asked instead if Vocational Rehabilitation would be interested in helping me edit the guide, to at least be sure everything is accurate. They refused. "You are a for-profit."
During a trip to Washington DC, March 2012, I met with Director Fanning again. We talked about numerous issues disabled veterans are struggling with while using Vocational Rehabilitation.
We sorted out a couple issues relating to information and problems veterans have in getting straight answers from their Voc Rehab counselors. I was also able to get the VA to agree to pay for health insurance for all disabled veterans who are in Vocational Rehabilitation should the school they attend require it.
Last, I revisited the guide issue and requested that Director Fanning write some posts on my website. They started off, "we cannot help because you are a for-profit."
I responded, "Well, Director Fanning did write some articles for Military.com, which is owned by Monster.com. Both are for profit, and Monster.com is publically traded. Why won't VA help a small business owned by a disabled veteran in Vocational Rehabilitation? Plus, you helped Military.com compete against me with Search Engine Optimization, and all they are doing is selling adspace to for-profit colleges, many of which may have questionable practices."
This got the pot stirred a bit. Imagine how this would look. VA will help a nonveteran owned business over a service-disabled veteran owned business. The argument of "for-profit" began to fall apart.
I went on, "Doesn't Voc Rehab have a duty to ensure I succeed? I want to publish a guide for veterans to help them get their benefits. That is my business. Voc Rehab is supposed to help veterans succeed. And, what better an opportunity to help a veteran but to help them get their benefits?
After browbeating for a while, they agreed to have a look. Two months later, I received a letter from VA Vocational Rehabilitation that they agreed to review the guide. Here is a link to the Voc Rehab Survival Guide for those interested:
Things Outside Disabled Veterans
I want to start writing about things outside of the VA once in a while. After all, only a part of who I am is a veterans advocate. If you guys like reading my musings, I'll keep it up. Let me know.
Minneapolis Farmers Markets
I have decided to start shopping at farmers markets with the extra money I receive for my disability from the VA. It seems like a good idea. I get better food and support my local economy. In exchange, I make friends with local farmers and get healthier. Not a bad deal.
As I write this, I'm thinking about my walkabout earlier today.
I just walked back from a local farmers market here in Minneapolis. It was great to have a chance to talk with some of the farmers about issues on their farm. I'm trying to find someone to buy meat from where the meat isn't loaded with chemicals, at least more than necessary.
There was a man there from Peru highlighting how he makes rugs using a loom. His name was Wilbur.
Amazing. I cannot even begin to express how incredible it was to watch. The colors are vibrant and the materials last a lifetime or longer.
Wilbur was homeless at 8 years old and slept in the tree next to a bakery. Every year, he comes back to America to work and sell these amazing rugs for two months. Then he returns to Peru and feeds his family for a year. The company that supports him is Art Andes.
I'll tell you one thing, rather than buy a moderately priced rug from the Room & Board Outlet, I will pay a little more for a rug that will last a lifetime. My purchase along helps that man support his family for a year. There's not Wall Street. There's no Dow Chemical. It is just a man on a loom making a rug to feed his family.
Maybe, as I get older, these things matter to me more. Being connected. Caring about those around me and helping them to succeed.
Minneapolis "No Coast Craft-o-Rama"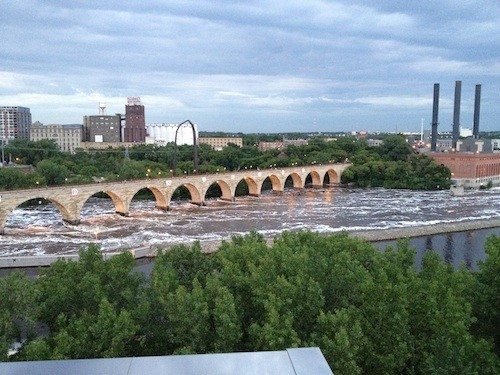 Afterwards, we walked across the Stone Arch Bridge, which crosses the Mississippi River, to look at the crafts and arts festival.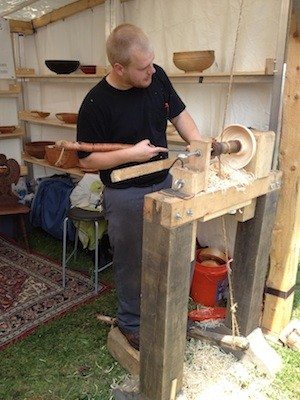 As I get older, my appreciation for people who work in the trades and crafts has grown. A part of me wishes I still had my wood shop to make cabinets and other things. Maybe some day.
I have been working on ideas to help with veterans who are either unemployed, recently released from prison, or severely disabled. Areas of work veterans seem to enjoy tend to center around working with their hands. While at the No Coast Craft-o-Rama, it occurred to me that may a solution would be to start some woodworking businesses for vets.
I started thinking about it when stumbled across Cooper Ternes with Nordic Woodenware.
I ended up buying some prints from a guy named Jeff Leedy, a great guy and artist out of Texas. He specializes in art that cracks you up. I laughed my ass off and bought a couple prints from the guy. My favorite was "The Trouble with Big Dogs" followed by "Heaven."
In all, it was a nice day. Relaxing.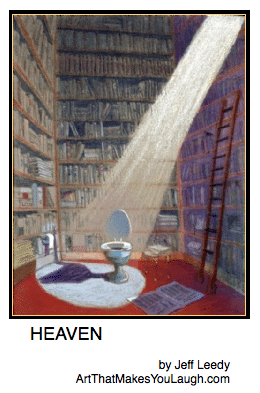 Some things next week on Veterans Benefits
Next week we have a few things coming up that I'll talk about tomorrow. The subjects relate to Vietnam Veterans and Veteran Employment.
I've been working with many for-profits and nonprofits to figure out how to help lower veteran unemployment here in Minnesota. I think we have a good, sustainable model that I will unfold online. My hope is to get feedback from all of you.
Last week, Veterans Justice Corps and AmeriCorps
I met with some veterans working within the Veterans Justice Corps. The Veterans Justice Corps provides help to veterans who are incarcerated and the Veterans Courts. These men and women provide services to veterans who strayed a little too far from the law.
Their goal is to help these same veterans find jobs after serving their time. Right now, the job market is tough, which makes finding work tricky. It also makes recidivism an issue, though veterans struggle with repeat offenses less than civilians.
Anyway, I wrote my first speech as to why veterans should be treated differently than other criminals. First, the United States did train them to become good at committing acts that would be against the law off the battlefield. Therefore, since we training them to commit acts of violence, we should also train them to be good civilians after service to country.
Second, if our country does not take care of veterans, families will not be as likely to allow their children to enlist. This would cause the quality of our Armed Forces to be diminished. Therefore, caring for veterans is a National Security issue.
I'll post the speech in its entirety next week. I'd like to get feedback regarding crime and veterans.
Have a great Saturday night! I'll be back tomorrow, Lord willing.