Should VA Health Care be the U.S. Model? Sound Off!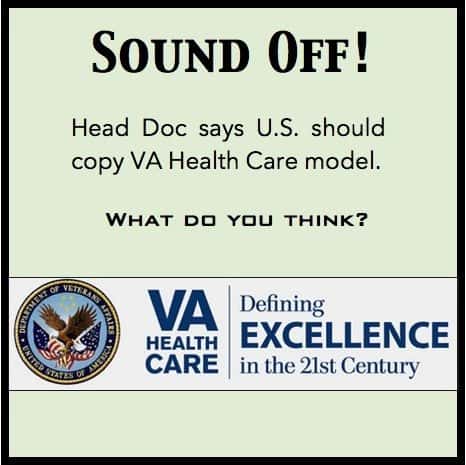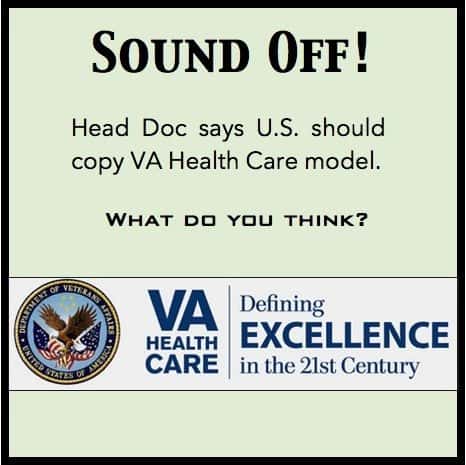 I need your help. VA is claiming the United States should follow its lead. I need you to tell me whether or not you agree.
Today, VA circulated a new article written by one of its doctors, Dr. Kamal Itani. Dr. Itani is a head surgical doctor working for VA Health Care, located at that Boston VAMC.
In Dr. Itani's article, he highlights one example of how VA strategies resulted in savings of $1 million. He sites this success as the primary reason why the United States should follow VA as a leader in health care.
However, he fails to mention how VA's search for cost savings has likely resulted in the deaths of many veterans, such as in the Buffalo VHA office. There, VA was reusing tainted insulin pens and exposed many veterans to Hep B and Hep C.
I have a theory. That theory is that this article is a public affairs article published for the purpose of improving VA's public image. If true, then what Dr. Itani is saying below could be the position of VA, more broadly. I want to know what you think.
Here is the summary of his article linked within VA's newsletter:
JAMA Surgery: This Is Not Your Father's VA
For many years, perceptions of the VA were crystallized in Oliver Stone's 1989 movie Born on the Fourth of July. In that movie, a VA hospital was characterized by apathetic staff, disengaged physicians, rampant drug use among patients, and old, malfunctioning equipment. The image of the VA was further tarnished in 2007 with the revelations of unsatisfactory conditions at the Walter Reed Army Medical Center, a U.S. Department of Defense medical center that is not part of the VA. Finally, the recent, highly publicized concerns about delays in the processing of veterans' benefits have been incorrectly assumed to imply delayed or inefficient care in VA hospitals. In fact, the VA's health care system has become a model for the transformation of American medicine in the 21st century (Dr. Kamal M. F. Itani, 9/11).

Sources:
If you read the bottom link, it will give you the first page of the article, to view free.
My assumption is that VHA endorsed his position based on the following: that standard policy rules apply to Dr. Itani – meaning he cannot publish anything on policy bordering on public relations outside of VA without approval.
Further, if the publication talks about governmental policy changes rather than medicine, the agency would generally not allow it unless it was for public relations (PR) purposes. This is generally known to be the policy of all government agencies.
I suspect his article is part of a PR campaign. If true, it would likely be one of two things: 1) to counter VHA's recent negative press and current Congressional investigations; or 2) to actually propose that U.S. health care providers emulate VA's system and delivery of care.
Here is a recent press release from the head of VHA, Dr. Robert Petzel on the health care issue dated 9/9/2013.
Your Assignment
My goal in this post is to give you enough facts to do your own research. Check out both sides and let me know what you think. Either email me directly (Contact page) or post a comment below.
I will write about this on Monday.
My preliminary take on it is as follows:
The goal of this campaign appears to be to sell the American public the claim that veterans are universally treated well while in VA care because VA saved $1 million while blowing through billions.
I think the real question is this. Should taxpayer dollars be used to finance VA's propaganda campaign if indeed this is one?
Learn more about the issues:
Suspended and Unlicensed VA Physicians Receive Pay Bonuses (by Eric Katz, Government Executive)
GAO: VA Gave Doctors Bonus Pay without a Clear Link to Performance (by Steve Vogel, Washington Post)
VA Health Care: Actions Needed to Improve Administration of the Provider Performance Pay and Award Systems (GAO) (pdf)
VA Office Gave Bonuses While Disability Claims Piled Up (by Noel Brinkerhoff, AllGov)