Today's VSO Rally a Bust – Great Sound Bytes Though
In the audience, more reporters where present than veterans. The message: VSO's do not like it when the government is shut down; so, please re-open.
Duh.
I know of very few people who really think the government should be shut down and that veterans should go without their benefits. That would be a breach of confidence and a breach of basic contract law.
What the event today indicates is an inability of VSO's to respond quickly to organic veteran movements outside the confines of the VSO Board Room. As a result, VSO's allowed the message of the Million Vets March to be eroded through lack of involvement.
On Sunday, veterans showed up in Washington D.C. to rally against the memorial closures. Initially, the Million Vets March was slated to be a nonpartisan rally in support of veterans and the troops.
Rumors from VSO's in social media pointed out that the event had been co-opted by Right Wing politicians. As a result, veteran organizations like DAV refused to participate. Word of this co-opting rumor spread like wild fire, and it resulted in veterans being divided across party lines.
Had VSO's united behind the charge, the partisan split would not have occurred and the event would have been even bigger. Instead, VSO's held their press conference today and called it a rally. And, Tea Party Conservatives were the only political entities that showed up on Sunday – though, any other groups could have been there.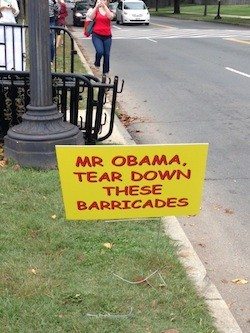 The cited reason for not participating was that VSO nonprofit status prevented organizations like DAV from attending because of its perceived partisanship. However, many nonprofits that are more right leaning organizations did attend.
Instead, what appears to have happened is that VSO's were unable to respond to the organic needs of veterans who rallied after two weeks of a shut down. Since the event did not originate with them, VSO's spun a few excuses for non-participation.
This "spinning" did undermine the overall impact of the Million Vets March by pitting Conservative Veterans against Liberal Veterans.
What VSO's should have done is embrace the movement and then control the message for Sunday's event. Then, the cameras would have at least captured VSO's with all the veterans who were anxious to participate.
Unfortunately, VSO's opted to respond to the March by having a rally of their own, without the larger group of veterans, which was more of a PR stunt than a genuine rally.
Today, persons on the ground reported that only 50 veterans were actually in attendance in the audience. In fact, there were more camera crews than there were veterans watching the VSO's perform for the camera.
This division, as illustrated between the two "rallies", is a good example of the problem with veterans advocacy. VSO's are more concerned with looking good to the press and getting sound bytes than they are with being effective for the sake of veterans.
If they were concerned with being effective, they would have assisted the Million Vets March by helping organize it and keeping the message on point. This would have allowed the message to stay focused on veteran issues, and provided greater clout within all circles.
What did happen on Sunday was that some Conservative politicians were able to get sound bytes. This went on for a few minutes at the beginning.
As the event progressed, it was reported that most of the attendees were merely pro-America. They sang patriotic songs and waived flags. I have no idea how waiving flags can be deemed partisan, but shame on VSO's for checking out on an event that could have been even bigger.
Without the weight of the VSO's, the event's influence was smaller. Nonetheless, it was evidence American and the veteran community that veterans are moving toward a post-Veteran Service Organization world.
It is, after all, the 21st Century.